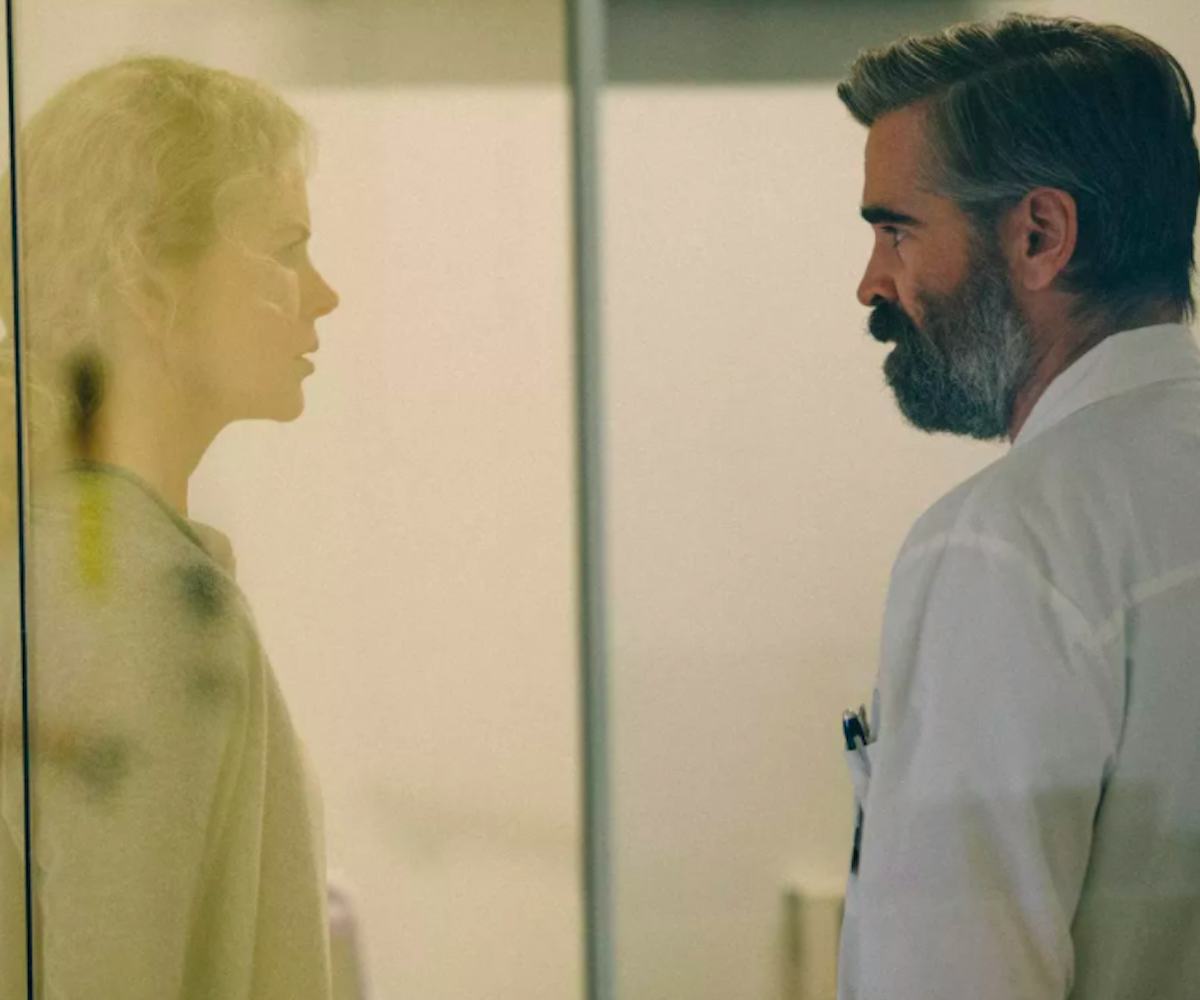 Photo courtesy of A24
'The Killing Of A Sacred Deer' Is The Year's Most Unsettling Movie
Although his breakout feature Dogtooth garnered numerous plaudits on its debut in 2009 (including the Un Certain Regard prize at Cannes and a Best Foreign Language nod at the Oscars), Yorgos Lanthimos took the public consciousness by storm with his last film, The Lobster. A highly disturbing and visually idiosyncratic watch, The Lobster also represented a return to form for Colin Farrell after years of tepid indies and middle-of-the-road comedies. (Remember Horrible Bosses? Neither do we.) And now, with The Killing of a Sacred Deer, Lanthimos and Farrell cement themselves as a pre-eminently compelling auteur-muse duo, creating one of the most unsettling and memorable films of the year.
It's best not to give away too much of the plot of Killing, as the film hinges on a series of twists even more shocking than The Lobster's wildly bleak ending, but the premise is akin to the darkest of fairy tales. Farrell plays Steven, a prominent surgeon, father of two pubescent children, and husband to Anna (played by Nicole Kidman). Their picturesque life is torn apart by Martin (Barry Keoghan), a mysterious, soft-spoken teen who places a curse on the family, forcing Steven to make an unthinkable choice.
As with The Lobster, Lanthimos creates a world that initially seems naturalistic but soon is overrun by elements of the weird and the uncanny, both narrative-wise and cinematically. Beyond Martin's apparently supernatural powers, the characters employ a stilted, Beckettian style of dialogue, repeating lines back at each other in dull, affectless tones, while Lanthimos' wide-angle shots result in locations as intimate as a teenage bedroom dwarfing the figures within. The overall effect is thoroughly eerie, a Brechtian act of alienation that leaves the viewer in a state of discomfort throughout. Coupled with the film's dual modes of slow-burning domestic conflict and intense, brutal acts of violence, Lanthimos' idiosyncratic style seems tailor-made to unsettle and disturb.
While performances from Raffey Cassidy and Sunny Suljic, as the children, portend a bright future for both young actors, it's the central triad of Farrell, Kidman, and Keoghan that truly brings Lanthimos' vision to life. Farrell's pain as a father faced with the inevitable death of a family member is utterly enthralling, even as his dark past and murderous tendencies are slowly revealed, while Kidman imbues the role of Anna with a tormented subtlety typical of her late period renaissance. A relative newcomer, Irish actor Keoghan follows up his memorable role in Dunkirk with a distinctively creepy performance, his blank monotone belying the vengeful spirit within. 
With The Killing of a Sacred Deer, Lanthimos not only furthers his fruitful partnership with Farrell but thoroughly establishes himself as a direct descendant of genre-bending auteurs like Stanley Kubrick and Nicolas Roeg. It'll be a shock more jarring than the film's own ending if the movie doesn't get significant attention this awards season.