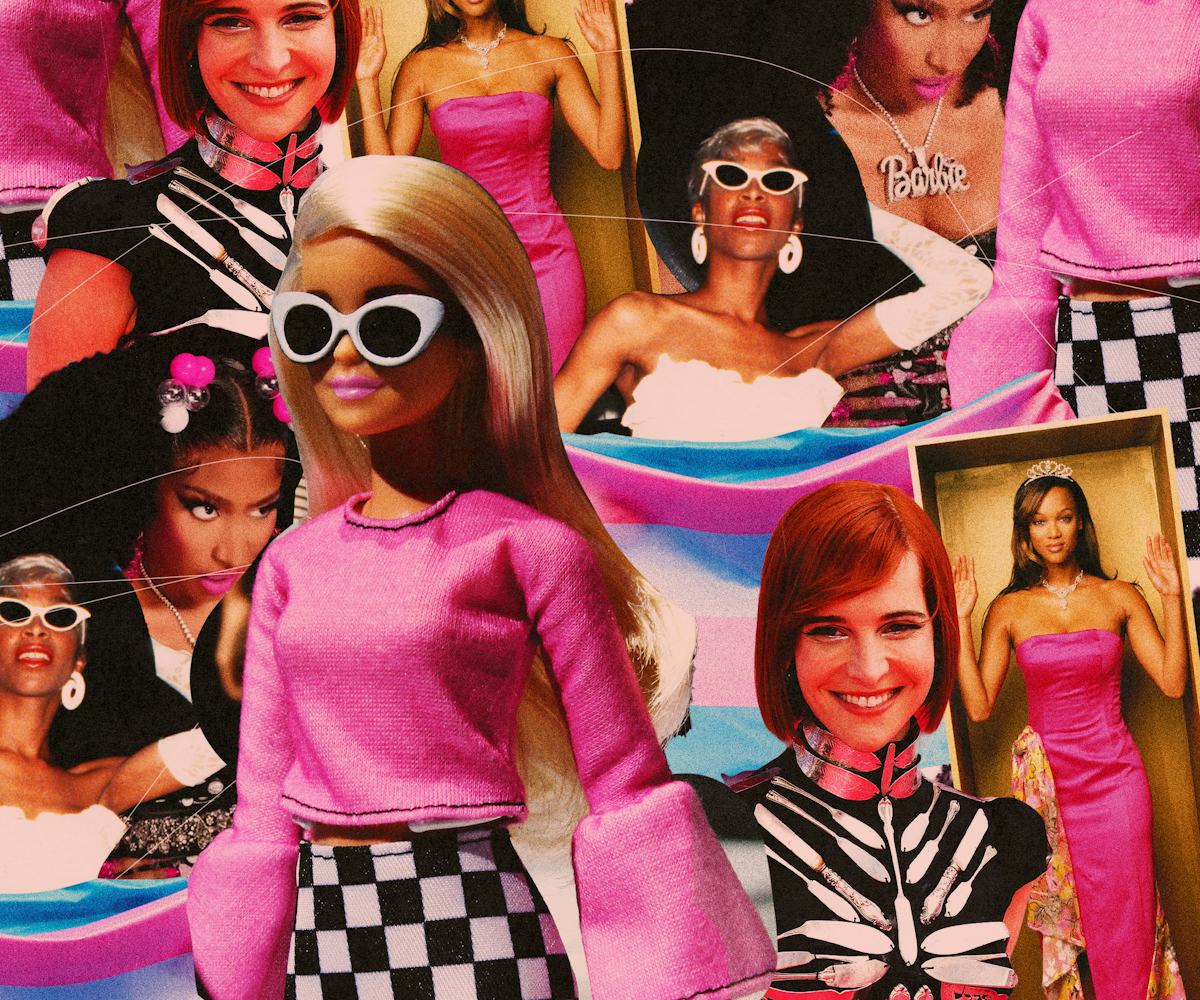 NYLON, Getty, Shutterstock, YouTube
On Barbie, Femininity, & The Year Of The Doll
Greta Gerwig's Barbie is poised to empower a new generation of girl-power enthusiasts, but is the very idea of a doll something the movie can fully encapsulate?
In one of the first scenes from Greta Gerwig's Barbie, the titular doll's permanently arched feet step into high heels, leading us into the surreal Barbieworld. The live-action movie hits theaters on Friday, and the iconic doll protagonist, created by Mattel in 1959, is played by Margot Robbie, and her would-be boyfriend, Ken, by Ryan Gosling. The Barbie universe is filled with a diverse cast, from Issa Rae to Dua Lipa to Hari Nef; the latter, a trans actress, spoke with the film's producers about the importance of that representation. Nef wrote, "We call ourselves 'the dolls' in the face of everything we know we are, never will be, hope to be. We yell the word because the word matters. And no doll matters more than Barbie."
From customizable posters that were practically tailor-made for virality to Barbie and Ken's Malibu DreamHouse being available to rent on Airbnb, the marketing around the movie has been nothing short of glittering genius. Even Nicki Minaj, veritable queen of the Barbs, was tapped for the film's theme song along with Ice Spice, an update of Aqua's 1997 international Eurodance hit, "Barbie Girl." However, what is the significance of the Barbie doll in 2023? Despite its standing as a symbol of traditional, Eurocentric beauty standards, Barbie remains a force within popular culture at large, and the new film is poised to empower a new generation of feminists and girl-power enthusiasts alike. But is the very idea of a doll and all that it represents today something the movie can fully encapsulate?
Many trans women refer to themselves as "dolls" — a term that takes on a very different connotation when used by cis people. In the words of model and activist Gia Love, a doll is "That Girl — something every individual has the space to define for themselves." She continues: "However, there's more room for exploration in my gender identity and my sexuality as a woman and that terminology ... to me, a doll is something you play with and throw away, or you leave it in a box as a collector's item. I struggle too much in this world to ever be characterized in such a way."
My own first memories of Barbie go back to when I was 12 years old, after I went to the Dollar Store in my hometown of Gary, Indiana, with my father. I had five straight A's on my report card, and my father promised to buy me five toys that cost one dollar each. I came back with three tubes of pink Lip Smackers lip balm, a Hot Wheels car, and a miniature Black Barbie doll with aquamarine hair, complete with a metallic blue skirt, matching crop top, and a teal plastic hairbrush.
My father surveyed the toys in my cart before we hit the register. He looked down at the Hot Wheels car approvingly and cocked his head to the side when he saw the Barbie and the lip balm. "Absolutely not," he said, shaking his head, his eyes widening with exasperation. In a rare standoff, I asked, "Why not?" My father bared his teeth, and although he spoke under his breath, his words reverberated through my soul: "I'll slap the sh*t out of you if you don't put that doll back, son. That's for girls."
I never forgot this as I grew up. Exploring femininity, whether for fun or for real, was punishable; to do anything that was "for girls" was forbidden. I suppressed my own girlishness for many years. Now, as an out and proud trans woman, I love that I can create my own existence, and it can be filled with fantastical, playful interpretations of womanhood as I see fit.
"I'm not really interested in seeing a white cis woman play Barbie. For me, as a Black trans woman, the space that Barbie has held in my life has been associated with a lot of trauma."
The Barbie aesthetic takes on a different meaning when women and femmes of color embrace it — from TikTok stars like Devin Halbal (aka HalBaddie) who helped make "the dolls are dolling" reach viral heights, to comedian Ziwe, who said on Emily Ratajkowski's High Low podcast that her own use of a bubblegum Barbie-pink aesthetic for the set of her Showtime talk show was a subversion of femininity, performance art, "a form of drag," even. There is also a valid argument to be made in how someone like Minaj uses Barbie as a postmodern means of establishing feminine dominance in hip-hop culture, advocating for women to reclaim their own autonomy. Does anyone remember Tyra Banks' 2000 portrayal as Eve the singing doll in Disney's Life-Size?
But the doll is, and has always been, primarily, a projection of our ideas, fantasies, and beliefs. For Grace Lavery, associate professor of English, critical theory, and gender and women's studies at the University of California, Berkeley, whose research explores, among other topics, the history of aesthetics, queer and trans cultures, and psychoanalysis, it is helpful to think about what the very existence of dolls potentially represents in society when talking about Barbie.
"The doll is an interesting and challenging figure because it looks like a thing it is not," Lavery tells NYLON. "It can look or be like a woman, but it's an object. And that can mean that a woman is not a woman — and the doll can be a malevolent version of that." Of course, the idea of "woman as object" is not new; women and femmes have long fought against the ideas and values projected onto them by patriarchal societies.
Dolls can also impact our relationship with our bodies from an early age. A June 2021 study published in the scientific journal Body Image found that dolls remain highly popular toys in both the United States and in Europe. Researchers of this study, comprised of girls aged 5 to 9 in the United Kingdom, also found that when girls played with ultra-thin dolls as opposed to dolls with more regular proportions, they were more likely to want thin bodies, with psychological repercussions of this following them well into adolescence. In a later report from CNN, the study's author, Lydia Boothroyd, notes that "body dissatisfaction in childhood can persist into adolescence and later on and can contribute to weight gain and eating disorders."
I love the idea that a doll is a concept, something you try on as part of play and exploration. It can be an embodiment if you wish, and it can be a plasticine commentary on perfection.
The traditional beauty Barbie often plays a major role in why some people, such as Love, are not looking forward to Barbie's big-screen, live-action debut. "In today's culture, we're considering representation in a different way, whether these considerations are intentional or for profit," she says. "I'm not really interested in seeing a white cis woman play Barbie. For me, as a Black trans woman, the space that Barbie has held in my life has been associated with a lot of trauma. If I played with a doll, I would get hit."
Love says the very ubiquity of Barbie adds to harmful social paradigms that we should want to do away with. Consider also how trans people have been scapegoated for far-right politics in anti-LGBTQ legislation, and the discussion of dolls can hardly be had without talking about transfeminine people, whether they self-describe as dolls or not. Currently, 550 anti-trans bills and counting are up for legislation.
Love is Black, trans, over 6 feet tall, and plus-sized, and navigates both the fashion and social justice worlds. The very idea of being a "doll" is not one she naturally relates to, and the doll trope promotes an unhealthy homogeneity.
"I've never fit that Barbie prototype or the way she looks," Love elaborates. "In a lot of spaces, I've been deemed not attractive, but in those same spaces and in others, I've been deemed the most attractive, and grappling with that experience as a child was really difficult." To Love, learning how to embrace her individuality, and the idea that she is "one of one," is "a very anti-Barbie message."
Indeed, trans women can often be viewed negatively as a would-be pinnacle of femininity. As a result, ultra-specific presentation becomes not only a norm for trans women to pursue but a certain pressure they face to feel more affirmed by society at large. As Lavery put it, "Trans women are often unfairly scapegoated for femininity, which people argue is an inherently diseased or false sense of consciousness."
For me, Barbie was once something I wanted to play with as a child but couldn't. Dolls were also every female pop star I grew up loving, from Britney Spears to TLC. I love the idea that a doll is a concept, something you try on as part of play and exploration. It can be an embodiment if you wish, and it can be a plasticine commentary on perfection (look no further than the prosthetics worn by trailblazers like the late SOPHIE, whose innovative hyperpop matched her intentional artificiality). That said, I also like dollhood as performance art, as a method of subversion. I like that it can transcend boundaries of gender or it can expand them. Dollhood is malleable. And, as Aqua once sang, perhaps presciently now, "Life is your creation."