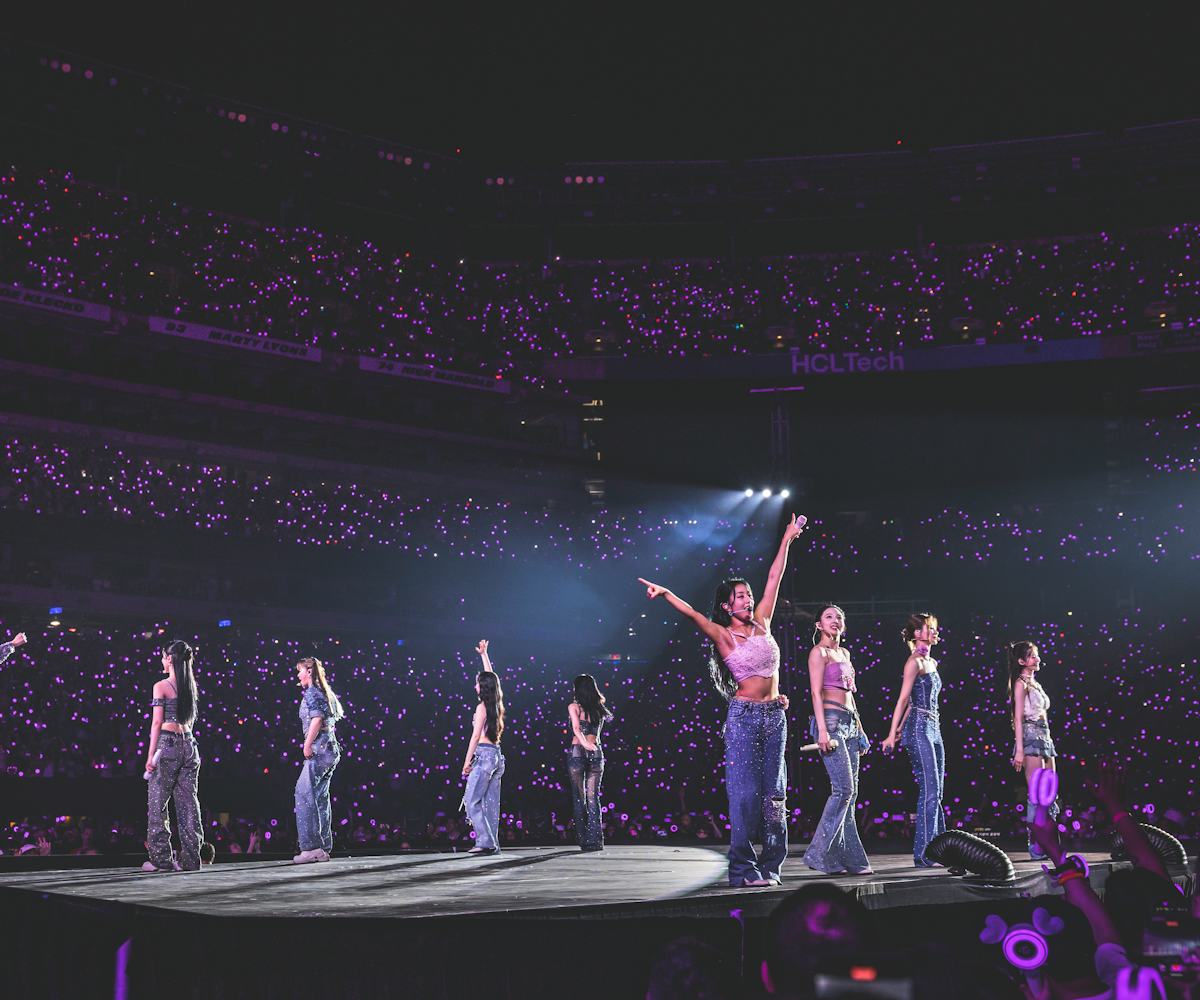 On The 'Ready To Be' Tour, TWICE Embraced Individuality
For the first time, TWICE debuted solo stages: a big change for the history-making girl group.
A small hand waved to the side of the stage. Fans inside MetLife Stadium erupted into cheers, rising to their feet and peering into the void next to the platform. You could see a wisp of Chaeyoung's blonde fringe as the nine members of TWICE prepared to make their grand entrance, bedazzled to perfection, at their historic, nearly three-hour set on Thursday night, July 6. The concert hadn't even started and TWICE was already putting on a show.
As the first girl group to ever sell out and headline the gargantuan, 80,000+ capacity stadium, home to the New York Giants and Jets, they made it count. In the sweltering heat of a humid summer evening in New Jersey, TWICE commanded attention, emerging onto the stage in a blur of rhinestones and hair extensions. Performing the English version of their single "Set Me Free," a song about taking what you want, as lights danced around them, they explained that what they want is to show fans a new side of TWICE. It's why they named their fifth world tour Ready To Be: "It means we're ready to show you who we are, just as we are," said Dahyun, the night's unofficial emcee.
And to do so, for the first time in its prolific career, TWICE arranged solo stages to highlight each member's strengths and skills.
Dahyun, looking like a fairy tale princess draped in green tulle, sat at the piano to play a snippet of Frozen's "Let It Go" before singing a gentle cover of Colbie Caillat's "Try"; youngest member Tzuyu infused Charlie Puth's "Done For Me" with Michael Jackson-like dance finesse; Sana took on Dua Lipa's "New Rule" with honeyed vocals and a slinky dance number; dancer Momo let her body do the talking, combining power and sex appeal for a thrilling performance of Beyoncé's "Move" that included pole dancing ("I was worried about pole dancing because it's really hot and my hands were sweaty," she confessed after); soft-spoken Mina unleashed her inner baddie with a rousing cover of Ariana Grande's "7 Rings," to which she enthusiastically twerked; Chaeyoung strummed her guitar and performed an original song, "My Guitar"; powerhouse vocalist Jihyo made the entire stadium glow red with the debut of an unreleased track off a forthcoming solo EP; Jeongyeon ramped up the energy in neon green with Lizzo's "Juice" and committed to the bit with a mid-performance "flute" solo; and Nayeon premiered the live performance of her first solo single, "Pop," with a full band and a whirlwind of pink confetti.
After years of emphasis on TWICE's bond as a group, it was liberating to finally see the members express themselves freely and give a glimpse of what (possibly) lies ahead. Mina, Sana, and Momo teased a forthcoming MiSaMo release with sinuous body rolls. Jihyo especially sparkled in ways only a true pop star can, with ease and allure, clearly ready to embark on her solo journey later this summer.
TWICE proved that its real attraction lies in the multifacetedness of its idols.
Eight years into their careers, TWICE as a group is embracing a more mature, dynamic sound, but as individual artists, they're still developing, and performing in front of tens of thousands of people is like diving into the deep end of self-discovery. It offered the members an opportunity to introduce themselves to fans and onlookers on their terms, defying expectations of what TWICE can be and prioritizing their own idiosyncrasies. In the West, K-pop is often criticized for its synchrony. Listening to the screams as Chaeyoung picked up her guitar, TWICE proved that its real attraction lies in the multifacetedness of its idols.
"This isn't easy for us, either," Nayeon said, standing in awe of the enormity of the venue. "It's huge."
But TWICE hasn't lost the bubbly charm that made them the "nation's girl group" in South Korea. There's a reason TWICE was the first girl group to sell out MetLife and Sofi Stadium in the U.S., and the audience experienced that magic for themselves during the group's vibrant title track medley.
Accompanied by their excellent touring band, who appeared midway through the show, TWICE rolled through all the hits — "Heart Shaker," "Cheer Up," and "What Is Love?" — while vibing on the extended stage. The atmosphere was loose and forgiving. There was glitter in the air, enhanced by the members' light-reflecting jeans, eye jewels, and shimmery Y2K 'fits. The vibes were silly, carefree, and vibrant. Jeongyeon grabbed her pigtails and whipped them around like propellers. Nayeon attempted to twerk to varying degrees of success. Momo danced around the stage, posing for fans' photos and completing their hearts. Chaeyoung continued to wave.
The closing set included the breezy "Alcohol-Free" and playful crowd-pleaser "Dance The Night Away." Then, TWICE lit up the sky — fireworks and all — with "Talk That Talk." They departed the stage in a cloud of smoke before coming back out for a playful encore performance that kicked off with "When We Were Kids" as their baby photos were projected onto the large LED screens behind them. Written by Dahyun, the song was a poignant way to close the show: because you can't fully understand who you are now without reflecting on who you were before.
A year ago — to the day, reminded Dahyun during final remarks — the members of TWICE renewed their exclusive contracts with JYP Entertainment, the group's longtime home in the South Korean entertainment industry. At the time, they called the move a fresh start, a chance to challenge themselves and try new things, to seize more opportunities like this one, to make history. On Thursday, as a waning orange moon hung in the sky, TWICE looked out to a sea of twinkling lightsticks in the kaleidoscopic galaxy they'd formed and must've realized that they had. Taking it all in, Dahyun smiled amid a chorus of cheers and barking, and said, "My dream has come true."