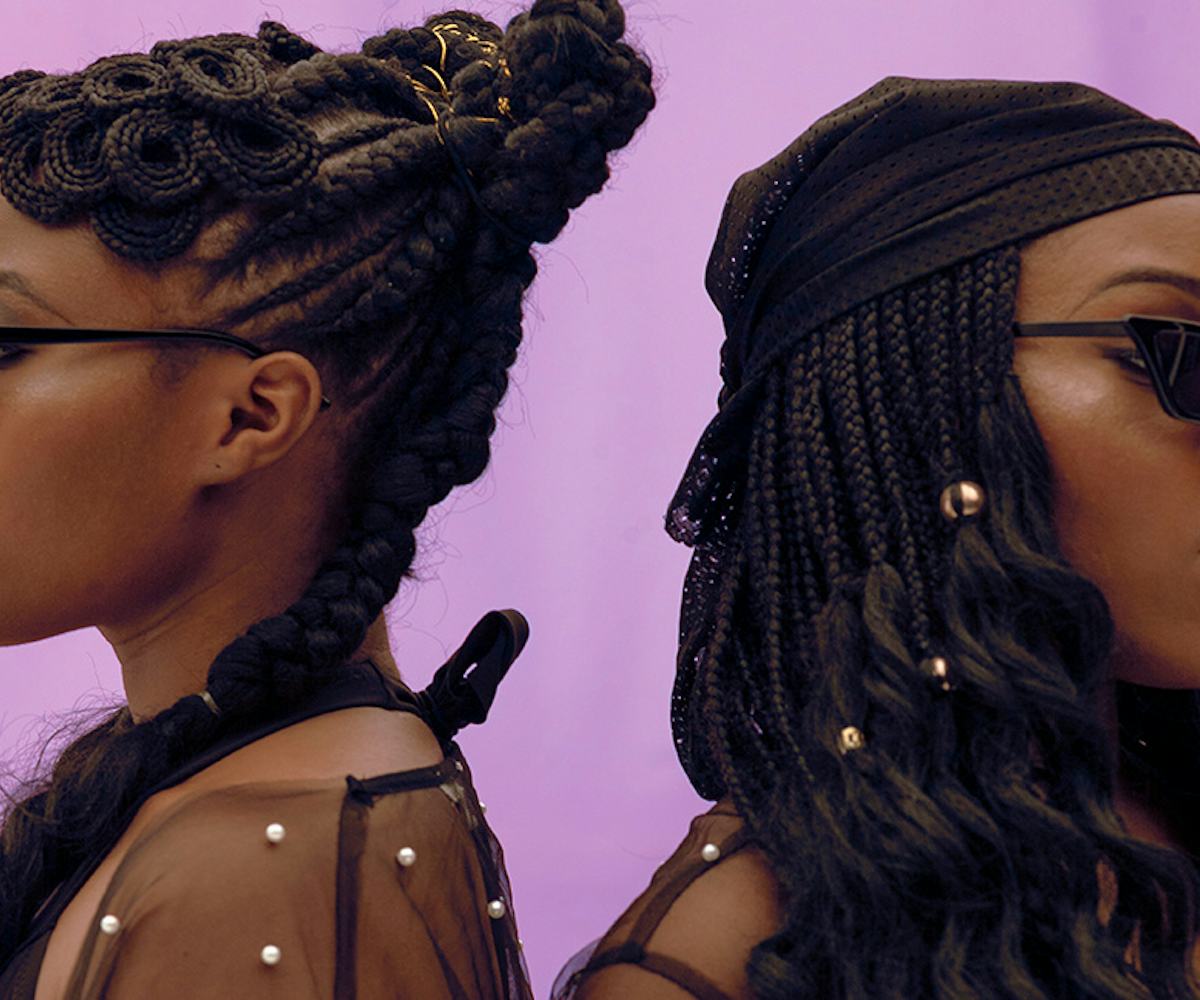 Photo by Micaiah Carter
VanJess Is Taking Control Of Their Own Story
Talking to sisters Jessica and Ivana about their skyrocketing musical career
Sisters Jessica and Ivana Nwokike, also known as VanJess, make music that lives at intersections: Sometimes they channel traditional '90s R&B, sometimes they venture into ethereal electronic, but it all harmonizes into a singular, boundary-expanding sound.
After moving from Nigeria to the United States as children, Jessica and Ivana used their vocal talents to assimilate into their new home. Singing in church and high school choirs, the two began to realize just how seamlessly their voices melded together. By 2010, all the praise they received from the talent shows and holiday concerts they performed at triggered the transition to their next move: YouTube. They'd get home from school and pour their hearts into singing covers of popular songs behind their keyboard. Back then, the online platform wasn't yet a potential source of revenue, but the increased attention they received there gave them the fuel to carry on.
"At that time it was hard to think about it as more than just a website; there were no ads, and you weren't able to monetize things. So it wasn't even a feasible thing to do as a career then," Jessica says. "But it helped us continue to foster our talents and abilities because we were seeing the positive feedback we were getting. It gave us confidence to continue building our craft and pursue that, fully." It wasn't long before the world caught onto the whimsy of their sisterhood and buoyant synergy that is VanJess.
A few years later, with their mother dealing with health issues, the two found refuge in composing their own music, a creative cauldron into which they could pour their emotions and channel their energy. The resulting sound—a unique combination of R&B, soul, and electronic—is the product of days spent listening to their mother's eclectic record collection and nights consumed watching endless music videos on MTV.
"We wanted to do something a bit more energetic to remind ourselves to celebrate life. But we were overthinking too much, worrying about what other people expected from us," Jessica says. After years of being recognized for its YouTube covers, the duo worried that doing a cappella versions is all they would ever be known for.
"We wanted to let go of that feeling, so that's when we decided maybe we should just be creating based off whatever we were feeling rather than restraining ourselves," Ivana says. "We wanted to control our own narrative."
Fast-forward to 2018 and the release of their debut album Silk Canvas, where VanJess are doing just that. "Silk is known for its smooth, lustrous texture, which is how we hope our voices feel when you hear us sing," Jessica says of the album's title. "And the canvas represents that stage of our lives: We were starting over and wanted a blank slate to create something completely new".
The record is equal parts sensual and spiritual, ample and intimate; these are songs ready for crying or dancing. Their soft and poised ways of addressing vulnerability, nostalgia, and romantic relationships while exploring futuristic sonics position the sisters in both a hybrid and radical context.
As equal parts students and artists, VanJess operate from a position of respect for those who came before them and their contemporaries alike. From Little Simz's stage presence to Diana Ross's pen, VanJess have no shortage of women influencing their work. On Silk Canvas, the sisters called on producers IAMNOBODI and Kaytranada, as well as recording artists like Masego and Goldlink to add a fresh touch to its underlying '90s R&B base. With their contributions, the album acquires a rare ability to embrace modernity while still remaining familiar. But the sisters' technical growth cannot be ignored; "Cool Off the Rain" and "'Til Morning," in particular, flaunt just how much their voices have matured since their YouTube days. VanJess are playing with their sound, pushing themselves to be greater and more ambitious—not just better, but more layered.
Ivana, a Sagittarius, and Jessica, a Taurus, balance each other effortlessly. When I ask them whether the featured acts played a role in challenging the sisters out of their comfort zone, they answer with an inspiring deliberateness. "I'd say it was mostly coming from between us, to be honest. While one of us was in the booth, the other was suggesting different ideas for the producers to experiment with," Ivana replies. "That's one of the perks of working with your sibling; if something sounds whack, they'll let you know!" The foundation of Silk Canvas lies in the sisters' shared desire to treat this album as a source of therapy and healing, but it is their uniquely profound bond that makes it so special.
VanJess also cite their sisterhood as the reason they manage to remain grounded amidst the glamour and pressures of the music industry. "We give each other the courage to stay humble and strive for progress," Ivana explains. In an industry that is so keen to fit artists into marketable boxes and genre categories, women in the industry tend to fall victim to being pigeonholed and sexualized, women of color even more so. "It's easy to feel like you need to look or act a certain way," Jessica admits.
It would be presumptuous to assume that VanJess have successfully dodged these categorizations, but it is precisely by being so transparent that they are able to take ownership of that. Rather than comparing themselves to their peers, the sisters found inspiration in other black, female vocalists. "Sza is a great example, she's unapologetically herself and her attitude gave us the courage to show the world a more realistic picture of our experiences navigating life," Ivana says.
Both through their music and in everyday engagements with fans, VanJess make a point not to create a false sense of ease or effortlessness when dealing with life's adversities. "It's important for us to be open in admitting that our confidence comes through being able to not feel perfect," Jessica says. "But that we're still gonna go on stage and face the public." Part of the desire to be brutally honest stems from an awareness of the power they have to influence younger generations. "We want to use our platform to talk about these different experiences of love and healing and vulnerability in the most genuine way we can," Ivana explains. "We want young women to feel comfortable with being their own authentic selves, too." And the sisters' honeyed voices, at once tender and taunting, sincere and defiant, is their vehicle to do just that.