Victoria Pedretti On 'You' Season 3 Predictions
VICTORIA PEDRETTI
It's the first Monday of 2020, second and third cups of coffee are being poured, and Victoria Pedretti is cracking jokes. The Golden Globes were the previous night and Once Upon A Time… in Hollywood, in which Pedretti has a small role, was the big winner...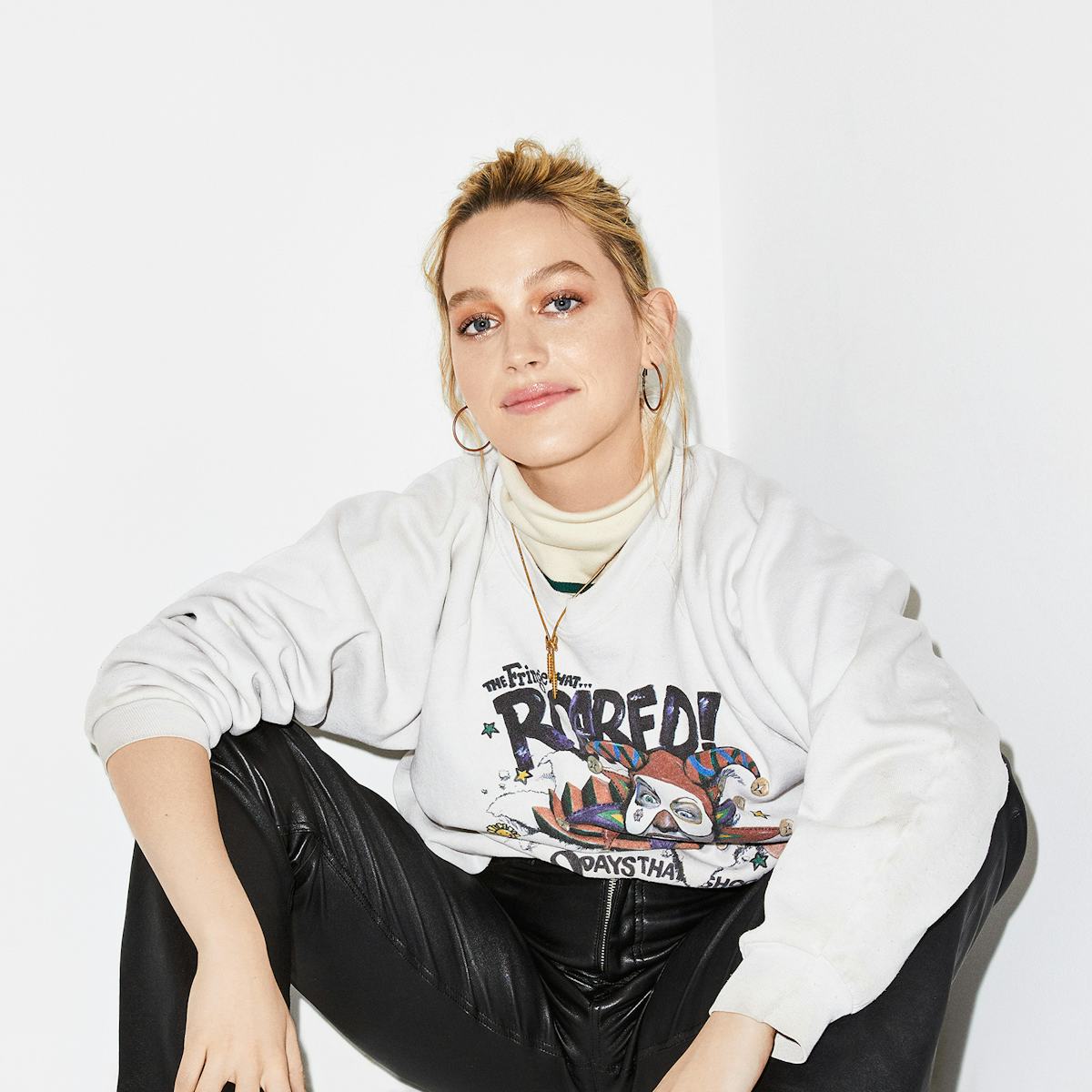 Photo by Aaron Richter
It's the first Monday of 2020, second and third cups of coffee are being poured, and Victoria Pedretti is cracking jokes. The Golden Globes were the previous night and Once Upon A Time… in Hollywood, in which Pedretti has a small role, was the big winner, Best Picture - Comedy or Musical. Pedretti wasn't there but, she deadpans,"It's all me. All of that movie's success is me."
Watching Pedretti, one gets the sense she won't be able to make this kind of joke for long. She had a lot to do with two of Netflix's biggest recent successes, The Haunting of Hill House and You: In both roles, Pedretti brings a vulnerability to complicated characters that the audience can't help but be immediately drawn to. And as one of just two actors announced as coming back for season 2 of Haunting, you might call her the rising Queen of Netflix. But she'll still try self-deprecation for now. "That's nice of you to say," she says at mention of the made-up title. "I don't really believe in oligarchies."
It's easy to forget the 24-year-old is just two years out of Pittsburgh's Carnegie Mellon School of Drama. During a school trip to Los Angeles senior year, she auditioned for a role on You, as season one's heroine Guinevere Beck. The part went to Elizabeth Lail, but to hear it from Pedretti, it was all part of some cosmic design. "I could not have done Beck," she says in retrospect. "Beck is Elizabeth Lail. And if I had done that, I couldn't have done it now and I couldn't have done The Haunting of Hill House. It all happens the way that is meant to be."
Instead, Pedretti joined the second season of the stalker drama starring Penn Badgley, which finds Badgley's Joe in a new city, unhealthily obsessing over a new woman. But unlike the innocent Beck, Pedretti's Love is no damsel in distress. When we first meet the character, she's rapturously gazed upon by both Joe and the camera as she examines a display of vegetables, before quickly make a few unexpectedly dirty jokes involving bell peppers and vaginas. It's all very manic pixie dream girl, until it isn't. And that was the point. "She's a person, not a stereotype," says Pedretti. Pedretti is a big-time gesticulator and, as she makes this distinction, she rolls up the sleeves of her vintage sweatshirt to better free her hands for emphasis. "I wouldn't allow her to be something as shallow as a manic pixie dream girl. It's not something that exists in the real world. Even if somebody thinks of themselves as that way, it's impossible."
As the season progresses (spoilers ahead), it becomes clear that Love has more in common with the show's serial killer male protagonist than any female ingenue stereotype. It's a twist the audience never sees coming, and a prime example of why You has enraptured the Internet.
"I wouldn't allow [Love] to be something as shallow as a manic pixie dream girl."
For her part, Pedretti was worried that viewers might not take to a murderous love interest as much as they did, but after reading reactions online ("I don't want to admit how much," she says. "Probably more than I should."), she's feeling "relieved." "It was really nerve-wracking, especially having not been in the first season," she says. "Taking the place of somebody who is, in a lot of people's minds, a really beloved character, there is going to be comparison. I was really scared because the character is really different [than Beck]. I was scared not because Love isn't likable, but because it's not the show they expect to see. There was a chance that once she started killing people, people wouldn't like her anymore, but people amazingly seem drawn to her character and this insanity. The continued discussion is interesting."
While many devoured all of season two when it dropped over the holidays, the show continues to be a trending topic as fans debate what is to come in season three. For the record, Pedretti knows nothing. But she can comment on some popular fan theories.
Is Love faking that pregnancy?
"Do I think she's potentially lying? I have no idea. I didn't play it that way."
Okay, but is the woman Joe watches from next door his estranged mother?
"He's like, 'Hello, you.' Why would he say that to his mother? Or it's his mother and he doesn't know it? Or his mother has somehow gotten out of the habitual natures of her entire life and finds herself living in the suburbs?"
Being coy is just part of the job description for Pedretti at this point; she's just as vague when it comes to discussing details of The Haunting of Hill House's second season. Here's what we know, per scarce details Netflix has shared: season two is officially titled The Haunting of Bly Manor and will feature a whole new story and mostly new cast (as of now, Pedretti and Oliver Jackson-Cohen are the only returning season one actors). The story, loosely based on The Turn of the Screw by Henry James, centers around two orphans cared for by a young governess named Dani, played by Pedretti. Here's what Pedretti will say: "I'm really excited about it. In some ways, it is [more intense] than season one. It's its own thing. Even though it's the second season of a show that I've been in before, almost everything is different."
One spoiler, however, is impossible to hide: Pedretti, a brunette, is currently sporting a previously unseen honey blonde hair color. And it is, indeed, for the role of Dani. "She's completely different; nothing like [her season one character] Nell," she says. Told that it looks natural, she starts to laugh. "I don't know why that's so funny to me. I am not a blonde."
The show still has a few months left of shooting in Vancouver, and, when she's not decompressing with The Great British Bakeoff, Pedretti is meditating on what is still to come. Right now, she's got no set plans of how her career will play out in the grand scheme of things — and that's exactly how she'd like it. "There's a lot of things I want to do," she says. "And that has been expanded upon because I have had the amazing gift of being able to do things I never imagined I would be able to do. The possibilities of what I want to do with my life has expanded."
Photography by Aaron Richter; hair by Rebekah Forecast at The Wall Group; makeup by Mia Jones at The Wall Group.