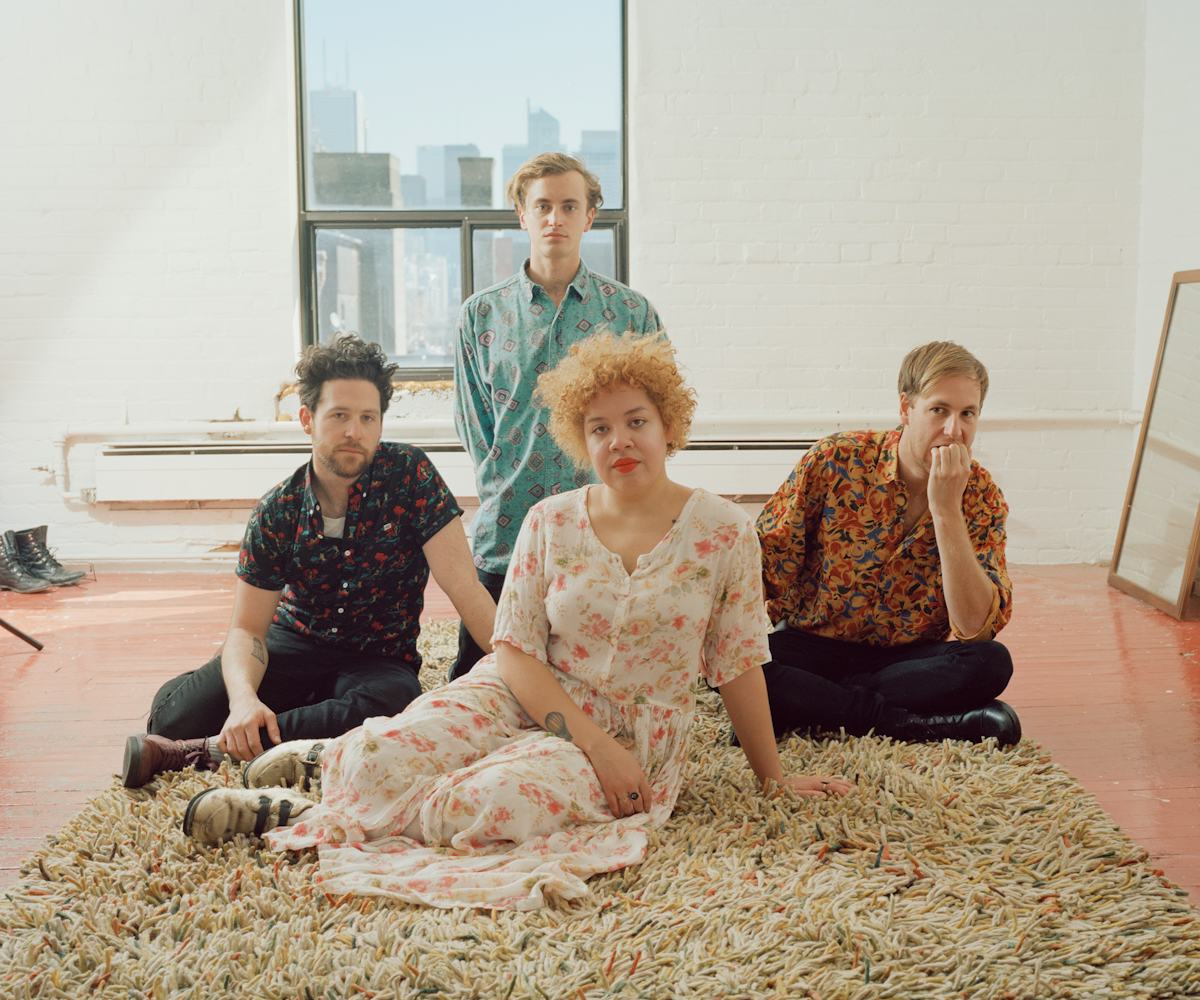 Photographed by Brendan George Ko
Meet Weaves, Your New Favorite Band
Their thoughts on hair, sound, and shitty tattoos
1For the past two years, Weaves has been working non-stop, shooting videos, recording new music, and touring across the world. The Toronto-based band consists of Jasmyn Burke (vocals), Morgan Waters (guitar), Zach Bines (bass), and Spencer Cole (drums). Together, they have somehow managed to create a sound they can distinctly call their own while still maintaining a pop foundation at their core. In basic terms, the band's sound is a mixture of pop, rock, and dynamic guitar riffs. 
Two summers ago, Weaves released their debut self-titled EP. This past March, the band shot a music video for "One More" in the City of Rocks State Park in New Mexico. The track will be featured on the band's self-titled album, which recently dropped on June 17 via Kanine (US), Buzz (CA), and Memphis Industries (RoW).
A few weeks ago, we had the chance to talk to these guys on a big comfy couch in Brooklyn. Unfortunately Spencer couldn't make it, but he was there in spirit. Check out the interview below to learn more about Weaves and their eccentric sound.
So how did you all meet?
Jasmyn Burke:
I was out of a band and didn't know what I was doing. So I started playing solo shows, and Morgan came to the second one.
Morgan Waters:
We had sort of met years before because she acted in this comedy video that I was working on, and she did this thing where she was in my bed shaking a weird tambourine. It was a really bizarre piece. I didn't know her musically, and then I saw her show three years later. I was fresh out of a band too, so I asked, "Do you want to collaborate and make music?" She didn't know me, so we had awkward first music dates.
JB:
We tried figuring out if we got along or if our music would work. Then, we started recording some stuff and started working on the EP pretty quickly.
MW:
It was the two of us, and then we brought in Spencer, who's on drums. Spencer knew Zach because they played together in a band. No one was friends before this band. Now we're like some dysfunctional family.
Have you always been interested in music? What projects were you involved in before the band came about? 
JB
: I played guitar secretly from 15 to 19 in my room. I didn't let anybody hear. Then, my friends and I started an all-girl band. None of us really knew what we were doing, but we started playing in the city pretty much every week. Leading into this, I had my main band, which was called Rat Tails, another hair band.
MW:
I played guitar in fiddle groups, which is crazy. It's just kind of weird. Later, I was in a band called Sweet Thing, which was a straight-up pop band. I was playing bass in that. I usually was a bass player, but in this band, I get to play guitar and really go nuts.
Zach Bines:
I started playing bass in a really weird way. I got a gig on a cruise ship six years ago, and they needed a bass player, so I lied and said I played bass. I bought a bass; the bass that I use today. I ended up falling in love with it. I've been playing bass ever since.
What inspired the name of your band?
JB:
Hair is interesting and it grows. You can cut it. You can shave it off, and you can dye it. I always liked having that association with something that's malleable. It was a natural progression from Rat Tails. Morgan and I debated for a while. He wasn't a big fan of the name, but then he came around. Now it's here.
MW:
Here to stay. Hair to stay!
You don't fit into one genre, so how would you describe your sound?
JB:
I think with the name we did like the idea of weaving in and out of genres and being open to different styles. There was no particular sound that we wanted to have.
MW:
It's pop music with soul in the vocals and some punk elements, but at its core, it's structured like pop music.
ZB:
If somebody asks me, the short answer is noisy pop music.
JB:
I think everybody likes a variation of music. It wasn't like, "Hey! We're a bunch of punks trying to make punk music." There was never really a specific idea. There never has been. I think it helps us to make whatever song feels good. In the future, we just want to be able to release anything that we feel proud of. Sometimes having labels puts you in a box.
MW:
It's more personal because it's centered around Jasmyn's voice and the crazy rhythm section. Everyone has their own room to be expressive and when you put all those different voices together, it kind of makes Weaves.
Has growing up near Toronto influenced your sound at all?
JB:
I don't think it's impacted the particular sound. I think by way of living there, you're in a place that's very vibrant with music. For me, I turned 16, and there was already a place that I could go and listen to music and feel part of a community. So, maybe that's a particular thing to our city that I've always enjoyed, but I don't think our sound necessarily stems from the scene. None of us were even in the same scene. Spencer and Morgan grew up on the West Coast.
MW:
It's a different energy. We've got that Earth Mother energy.
ZB:
We've got that real metropolitan vibe.
How does your upcoming album differ from the EP?
ZB:
The album is definitely a different sound than the EP. It sounds more like a band, which makes sense because we've gotten so much more comfortable playing with each other. In that way, it's certainly changed. It's more honed in.
MW:
Everything is just a little clearer.
JB:
I think touring has really helped us. We love to challenge each other on stage, and there's a lot of improv that happens. When we were recording, we realized the EP didn't sound like what was happening on stage. So we decided to record live off the floor and improvise more in the studio. One of the songs "Two Oceans" is completely improvised.
MW:
She just made up all the words on the spot about drinking wine. It's a wine anthem.
Do you have any traditions or rituals when you go on tour?
JB:
We get tattoos every time we go on tour.
MW:
Zach got an almond.
ZB:
Isn't this the shittiest almond you've ever seen? You can say it. It's not even negative for me anymore. It's just like, "Ok, well, there's that shitty almond."
JB:
It's the shittiest almond. The tattoo artist was very negative, and he didn't like our tattoo ideas. He didn't like us when we walked in.
ZB:
Yeah, I think we were an imposition on his lunch break. 
Catch Weaves on tour at the following gigs: 
August 22 - Chicago, IL @ Schubas
August 24 - New York, NY @ Mercury Lounge
August 25 - Brooklyn, NY @ Baby's All Right
August 26 - Philadelphia, PA @ PhilaMOCA
August 27 - Toronto, ON @ Horseshoe Tavern