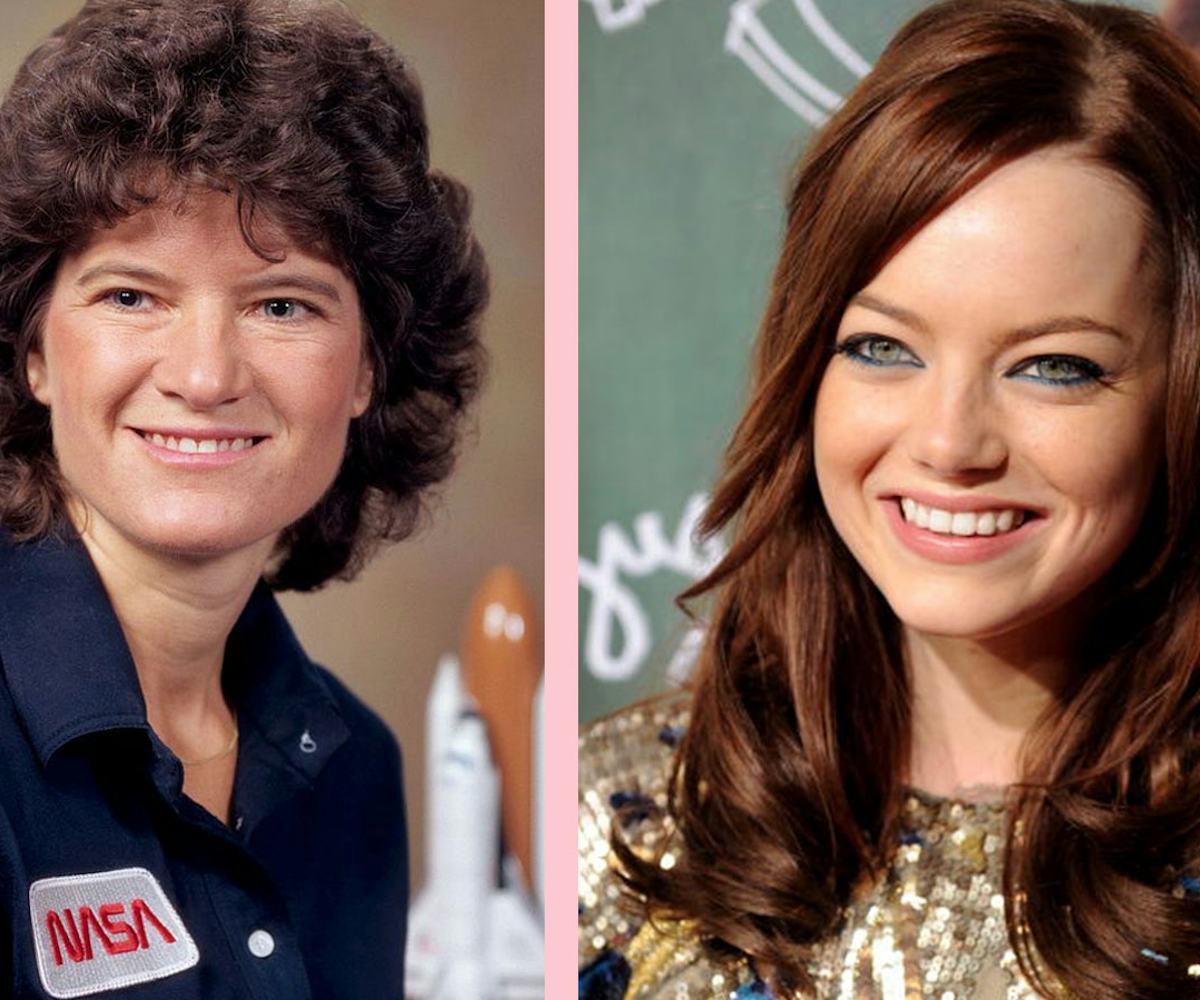 Photos via Nasa.gov and by Getty Images / Kevin Winter or Alberto E. Rodriguez
7 Hidden Figures: Unsung Women Of History Who Deserve Their Own Movie
Are you listening, Hollywood?
Hidden Figures, out this Friday, chronicles the real-life efforts of three African-American women, who, as expert NASA mathematicians, played key roles in major missions throughout the Space Race. But despite their integral place in history, their stories were often overlooked and never told. And they're not the only ones. Throughout history, women have played major roles in shaping our culture in countless ways, and it's about time Hollywood takes notice. Here, seven unsung women heroes who deserve their own movies (and the actresses who should play them). 
Sally Ride
Who is she: Whenever Hollywood dramatizes America's legendary space program, women are often relegated to the sidelines as the doting wives left to worry and wait for their husbands to return home from exploring the great unknown. But just because we don't see any stories about female astronauts, it doesn't mean that they don't exist. A good place to start would be with Sally Ride, the first American woman who went to space, whose 27-year relationship with another woman was revealed only after her death in 2012.
Who should play her: Emma Stone
Wilma Rudolph
Who is she: Rudolph was just 20 when she became the first ever woman to win three gold medals in track and field at the 1960 Summer Olympics in Rome. But what makes the sprinter's story truly big screen worthy is the underdog journey she took to get there. After being born prematurely, Rudolph's bout with polio left her in metal leg braces until she was 12. Her life was immortalized with a TV movie in 1977, but after U.S. track hero Jesse Owens got his own feature film (Race) in 2016, it's about time his female counterpart gets one too. 
Who should play her: Tessa Thompson
Ida B. Wells
Who is she: Before there was Rosa Parks, there was Ida B. Wells, a woman whose life as a civil rights pioneer began in 1884 when she refused to leave a first-class train car reserved for white people only. Wells then began documenting the plight of African-Americans as a journalist and campaigned against lynching, which was an epidemic in the South. Her work was vital in bringing to light the racial injustices occurring in a country that was willing to turn a blind eye. Wells also went on to become one of the founding members of the NAACP, and it's about time people knew her name. 
Who should play her: Octavia Spencer
Alice Guy
Who is she: The only thing more scarce than women directors in Hollywood are movies about women directors. Though we've seen multiple big screen incarnations of revered auteurs like Alfred Hitchcock and Charlie Chaplin, we've yet to see an entire film devoted to the women who helped shape the art form. One of those women was the French-born Alice Guy, who's not only considered the first ever woman director but is also widely credited for being one of the first filmmakers to sync sound with picture. But despite having a hand in more than 1,000 films over her 20-year career, most of her oeuvre has vanished, along with her place in mainstream film history.
Who should play her: Cate Blanchett
Anna Politkovskaya
Who is she: The heroic exploits of journalists—from All The President's Men to Spotlight—are catnip for Hollywood. In the past two decades, there's perhaps been no more heroic journalist than Anna Politkovskaya, who was a reporter for the independent Russian newspaper Novaya Gazeta when she was gunned down in 2006 after years of fearless campaigning against Russia's many human rights violations in Chechnya. An exploration of the dangers journalists face in Putin's Russia seems especially vital, as Trump's presidency looms, and the American media stares down a murky future.
Who should play her: Jodie Foster
Dr. Dorothy Irene Height
Who is she: As a lifelong civil rights warrior, Height not only fought for racial justice but also advocated for gender equality on behalf of African-American women, who felt the weight of oppression twofold. As the president of the National Council for Negro Women, Height championed education and fought against things like unemployment, literacy, and drug abuse in the African-American community. Today, her name is mentioned in the same breath as civil rights giants like Martin Luther King Jr., a man who has been immortalized on screen countless of times, most recently in Ava DuVernay's Selma. Come to think of it, DuVernay would be the ideal candidate to bring Height's story to life. Make it happen, Hollywood. 
Who should play her: Angela Bassett
Jerrie Cobb
Who is she: NASA has a long, shameful history of discriminating against women, but none more so than Cobb, the record-setting aviator who in 1960 passed her astronaut training tests with flying colors in her quest to become the first woman in outer space. But despite being more qualified than her male counterparts, NASA's patriarchal decision makers stifled Cobb's dream of making history and offered her a consulting job instead. Cobb lobbied President John F. Kennedy to resume her training but to no avail. She spent the next three decades working as a missionary pilot helping the people of the Amazon jungle. Hers is a decades-spanning saga with Oscar written all over it.
Who should play her: Jennifer Lawrence