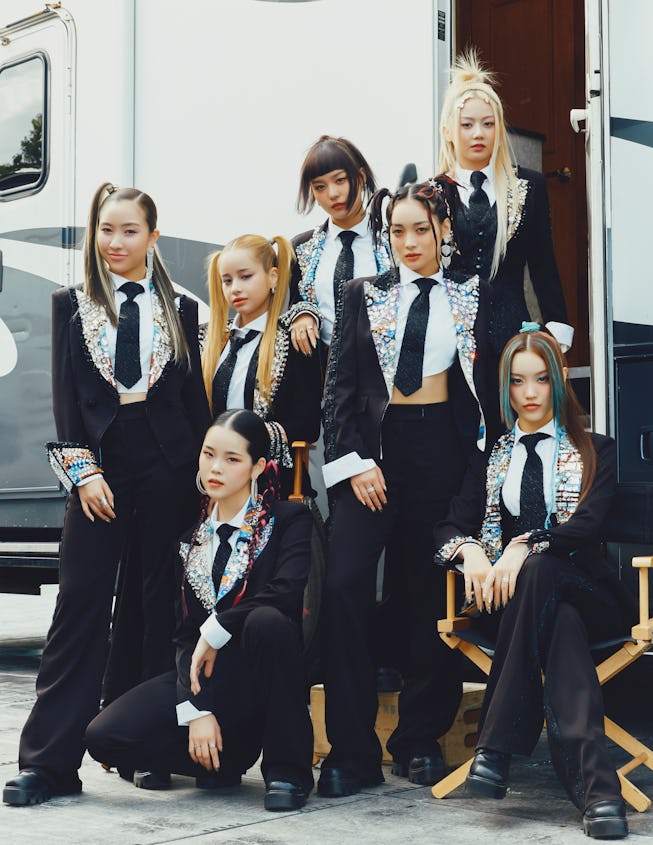 Getting Ready With XG For Their First US Performance
The Xtraordinary Girls talk pre-show rituals, favorite perfumes, and their personal style.
Underneath a Lisa Frank sky, girl group XG wonders, "Baby, if I give it my all, will it pay off?/ Working overtime, no days off/ All these shooting stars in the dark, make a wish." The scene, from the music video of their January single "Shooting Star," gives insight into the joys and sorrows of a septet who are now seeing their wildest dreams come true.
Since their debut in March 2022, XG — short for Xtraordinary Girls — have been setting their own standard for what they call a "global" group. Ranging from 21 to 17 years old, Jurin, Chisa, Harvey, Hinata, Juria, Maya, and Cocona were born in Japan but trained for five years in South Korea under newfound label XGALX, founded by producer and former K-pop group DMTN member, (Simon) JAKOPS. All of XG's official singles have been recorded in English, but they also perform in Japanese and Korean, as well as hold promotional activities in both countries. Last year, they went viral on TikTok with the rap show-off 'GALZ XYPHER,' and just a week ago they performed live in Japan for the first time at KCON Japan 2023.
This past Sunday, the group also made their U.S. live performance debut. Dressed in sleek black suits adorned with sparkling jewels, they stomped onto the 88rising stage at Head in The Clouds Festival in Forest Hills, New York, and made it their own. Exuding charisma beyond their years, XG brought their small but flawless discography — the minimalistic "Tippy Toes," the self-empowering "Mascara," and R&B jams "Shooting Star" and "Left Right," — to life that evening alongside covers of N.O.R.E's "Nothin'" by Jurin and Cocona, Justin Bieber's "Peaches" by Chisa, Hinata, and Juria, and a new cypher from Harvey and Maya.
It seems like all of XG's hard work is indeed paying off. Before reaching this new career milestone, XG took NYLON behind the scenes at the festival where they dished about their backstage rituals and superstitions, personal styles, and the kind of concepts they want to try next.
Congrats on your first U.S. performance! How are you feeling right now?
Chisa: We're great!
Maya: We are very excited. Very honored to be able to perform tomorrow. And hopefully we're gonna have some time to watch the other amazing artists perform, we've been looking up to all of them.
Let's talk about your preparations for HITC. What are some surprises fans can expect from your stage?
Jurin: This is going to be a special stage. It will include the songs we have already released so far, but there's going to be new ones as well, so it's going to be exciting.
Maya: New ones!
What is your backstage routine? What do you do while you're waiting to perform?
Chisa: We do a lot of things backstage. Whenever we have a shooting or a performance, we try to get up early, and before we get makeup done, we try to get some caffeine to wake us up. And also, we pat our bodies, so that [we] don't get puffy. We also stretch our muscles and do warm ups for our throats.
Maya: Before we go on stage, we have this ritual as a team. We gather our hands together, form a circle, and say "へその緒" [hesonoo]. Oh, and for the coffee, we drink Americano so that we don't get swollen or bloated.
What does "へその緒" mean?
Maya: It's this Japanese word that basically means we're all connected. So that's why we put our hands together, like, "We're all connected, we're all the same, we're all family. Let's go."
Do you have any superstitions before going on stage?
Juria: Maybe this is my personal superstition, but what I do is keep my bag zipped, so that I can keep my fortune inside it.
Jurin: We normally have different preferences for perfumes, but when we have an important stage, we try to wear the same perfume.
Which perfume are you going to wear tomorrow?
Maya: We haven't decided yet. We recently used Jurin's and Chisa's perfumes. Which one was it?
Jurin: Bvlgari.
Maya: Yeah, so tomorrow we're going to decide. [Laughs.]
How would you define each of your personal styles?
Cocona: My favorite style is hip hop. That's what I wear to raise my spirits.
Maya: I personally like to mix things up according to how I feel that day. I either like to wear Y2K, hip hop style, or more tight clothes.
Jurin: I've always loved New Yorkers' style, cool style with sunglasses, and all that. I also like to wear patterns with chic, cool boots.
Hinata: Generally I like a more rough style, and I also learn from mangas and try to copy their fashion.
Chisa: I like many different genres, but basically I like simple, cool, and elegant. And recently I'm into L.A. style as well.
Juria: I basically like hip hop and chic, simple styles, but these days I've also been liking cute and Y2K styles.
Harvey: I can't skateboard myself, but I've always liked skateboarders' fashion style. And I also like to wear fluffy, baggy pants so that I can dance at any moment I like.
Who is the member that cares the most about fashion?
[They all point in unison at Jurin.]
Maya: She gives us so much good advice, I love it. Like, "So, for this outfit, these sunglasses might be different," or "You should change your top," you know? All these little details, she's our personal stylist. [Laughs.]
Is there any other member that you would like to have a similar style to?
Jurin: I would say everybody is different in our group, but we influence each other all the time. So, one time we [might be] into black, other times we get really colorful. It's mysterious, but we influence one another.
Since you talked about being inspired by each other, do you also get inspired by any fashion trends these days?
Jurin: As you can see from our song "Left Right," we're pretty much inspired by fashion from the '90s, especially from [girl group] TLC. They have always been our fashion icons, so we learn from their style and we make it our own way — XG style.
Are there any other celebrities that are fashion icons to you?
Jurin: Aaliyah.
Maya: Lauryn Hill, Rihanna… Rihanna is definitely one. [All the members nod in agreement.]
What are your makeup essentials?
Chisa: Mascara. Mascara is so important.
Harvey: Yes, mascara.
Chisa: And blush, because it brightens up your expressions and the entire face.
Jurin: One other thing I try to incorporate in my makeup in order to highlight my face is the eyeliner. Even if I don't use any eyeshadow, just applying a little bit of eyeliner makes a huge difference, especially if it's colored.
Hinata: I also use mascara and glitter eyeshadow, and I like to overline my lips with lipstick.
What kind of visual concept do you want to try for XG's next releases?
Jurin: We want to do something like a rock concept, with leather jackets, something strong and really gothic.
Is there any fashion or makeup style that you hope you never have to try?
Juria: There is nothing that we want to avoid, we want to take on any challenges.
Maya: I feel like even though we're scared or don't feel comfortable, at the end of the day, we're going to try to do it well.