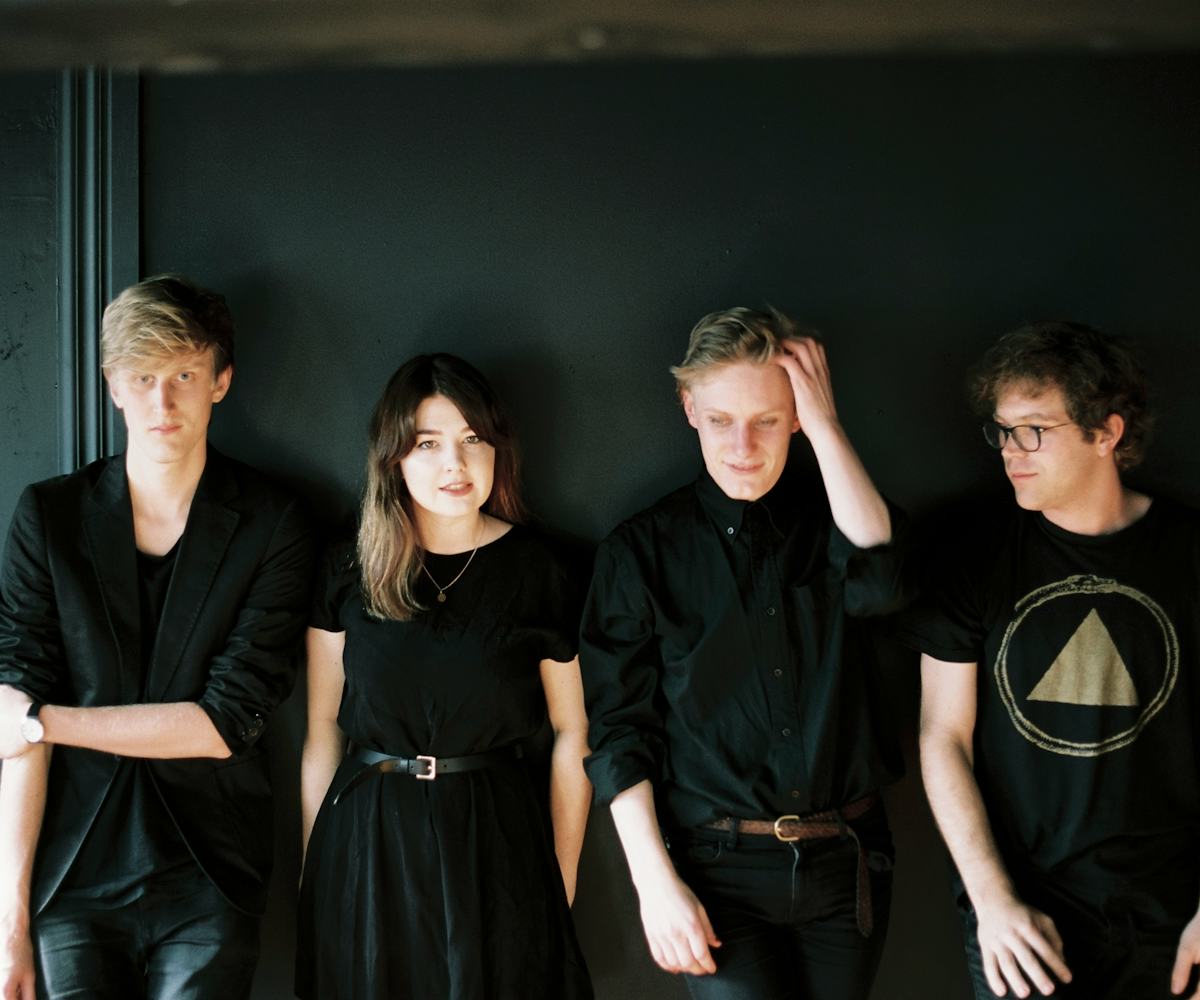 Photo courtesy of Yumi Zouma
Let Your Worries Float Away To The Sound Of Yumi Zouma
Get to know the chill New Zealanders
New Zealand-based band Yumi Zouma is about to embark on their first solo tour with their debut album. Despite these two firsts, they're far from unprepared. With their first EP, Yumi Zouma attracted the attention of Australian musician Chet Faker and had the opportunity to tour with him across North America and Australia, and then played two EPs to massive audiences in support of Lorde. It may be their first solo tour, but they sure are ready to dive in.
While their music has always been dreamy, their forthcoming album, Yoncalla, is transcendent. All of the songs conjure up feelings of getaway, and could make even the most dull airport security lines seem sweetly mysterious. It doesn't seem like a far stretch to say this wanderlust emotion is distilled within their sound because of the distance they cross with their music—the members of Yumi Zouma live on the opposite sides of the world. Despite the distance, Yoncalla carves out a distinct spot for them in the music scene; the band now sounds fully formed and grown. 
Prior to the release of their new single "Short Truth," we had the chance to chat with members Christie Simpson, Charlie Ryder, and Josh Burgess. Listen to the song while the conversation unfolds, below.
How did you all meet each other? How did the band come to be?
Josh Burgess:
Christchurch [New Zeland] is a small place; we all ended up crossing paths and collaborating in other bands. Charlie and I then left for New York and Paris respectively and then began writing music via sharing files over the Internet. That was the real birth of Yumi Zouma.
Charlie Ryder:
I know I definitely met Josh in high school at a band competition in Auckland about nine years ago, I think I met Sam in a music store in Christchurch about eight years ago, and I think I met Christie at an all-ages venue about six years ago, but I'm not completely sure—they were all such transcendental experiences. Like Josh said, the band came to be after we started emailing songs to each other overseas, and then Jeff from Cascine decided to release the EP, and people actually liked it! If no one had cared, Yumi Zouma probably wouldn't have been a band. It would've just been that one EP, but stuff got so crazy after that first release, we kind of had to grow up very quickly—our first shows were pretty much our first band practices.
Christie Simpson:
I met Josh and Charlie when I was asked to sing backing vocals in a band these two played in ages ago—after they saw me singing "Rhiannon" by Fleetwood Mac at an all-ages show!
When you think of the perfect place to play Yoncalla, what do you picture?
JB:
A party with all our friends, their friends, and our families. 
CR:
Swimming in a stream in the middle of summer, or somewhere on our upcoming album release tours!
CS:
A warm night, windows open, sun setting—or like Charlie said, swimming in one of the bays in the harbor near our hometown in the middle of New Zealand summer. Heavenly. Or maybe Paris in springtime by the Seine. I haven't quite decided.
Yoncalla is a slight departure from your first two EPs
... Why is this? What was the inspiration behind it?
JB:
I don't think there was any conscious decision behind a change in sound. EP one and two were both written pretty early on for us—
The Brae
, for instance, was written in 2012—so I think it's a reflection of tastes changing and wanting to keep things interesting for us. While I would agree that sonically things have changed, I feel we still approach songwriting in a similar way. Lots of hooks and distinctive changes to keep people engaged. Or at least we hope! 
CR:
I think we wanted to keep moving forward with what our music sounded like, and it's an easy thing to keep going more electronic, especially when you're a band that already is really digital. Although to be honest, some of our most synthy songs are on the older EPs—songs like "Alena" had hardly any guitars on them—while I think our most guitar-heavy song is "Haji Awali" on the new album, so I don't know if any of that is true.
You are all spread apart from each other geographically, how does this shape your sound?
JB:
I think it keeps us pretty grounded and sane. We're all very different people who do different things with our time apart, and I think it's important that we have some distance to still maintain our sense of self. I have no interest in being in a band that has a collective identity that overshadows us as individuals. That sounds like a sophomore manifesto smeared in blood at art school but I think there is some truth in it. I love that we're all very different from one another.
CR:
I'm of the opposite opinion a little bit—I think being apart and writing piece by piece makes Yumi Zouma a separate entity that is kinda more than the sum of its parts, like us as solo songwriters. We can tell which parts were recorded by whom (although not so much on the new album), but when it's all put together, it's totally different music than what any of us would make individually. When we got together to record this album, we lost our sense of individual self a little bit, as we were collaborating at a way more immediate level, and I think the music has more of a life of its own because of that.
Two years into making music together, how has your vision of what the band can be expanded?
JB:
We never thought we would tour. It's still a struggle to make it happen but it's now a part of what we do. I think the biggest difference is that people listen to our music. That still really scares me. Does that change our vision? I'm not sure but it changes our relationship with things that are released. You lose ownership because it becomes a part of other people's lives. For me, that's the most exciting and exhilarating thing. 
CR:
We never expected to Yumi Zouma to become a real band. But after all that stuff happened with the first EPs and the Lorde tour, I don't think our outlook has changed much. We've used a studio for the first time on this record but, for the most part, we still record in the same way and have the same label and distribution more or less. We know we're a small band with limitations (unless something weird happens in the future), and we're not going to do an about-turn on our next album or something to try and compete with other releases. We're happy making intimate songs that some people connect with and that are personal to us. 
Do you feel that touring on the other side of the world (from New Zealand to North America) changed your work, perhaps even because of who you were touring with?
CR:
The biggest change was to go from supporting to headlining shows. It was a crazy feeling during the EP two tour when we'd headline a show somewhere completely foreign to us in the U.S. or in the UK or Japan for instance, and the room would be packed with people there just to see us, and people would queue up afterward for photos and signatures and stuff. That change kind of makes you realize that it isn't just a hobby you do for yourself in your spare time—and I think stuff like that spurred us on to do the album. 
CS:
It's so rewarding. I find I want to keep writing so we can keep touring and keep on meeting these cool people that like our music. New Zealand fans are nice but I think our most enthusiastic fans are from Japan, and we never would've known that to be so true if we hadn't toured there!
How does preparing for a headlining tour with a full, new album differ from your previous tours?
CR:
Well, most obviously, we'll have heaps of songs for the first time ever. We used to have this bizarre situation where we'd get asked to do encores at shows, and so we'd have to play some of the same songs again from the set we'd already played. Now that will never happen unless a promoter wants us to play for three hours or something. In another way, it differs because the instrumentation is a bit different, so we've had to change the gear we use and expand our set up here and there, which is fun for us.
CS:
I'm going to be away from home for so long, this time around, so the preparation is mental as well as physical. I have to get used to the idea of not seeing my friends and family for four months. I'm so excited, though—one of my favorite parts of tour preparation is finding things to wear on stage, and I think I've got it sorted. Counting down the days.