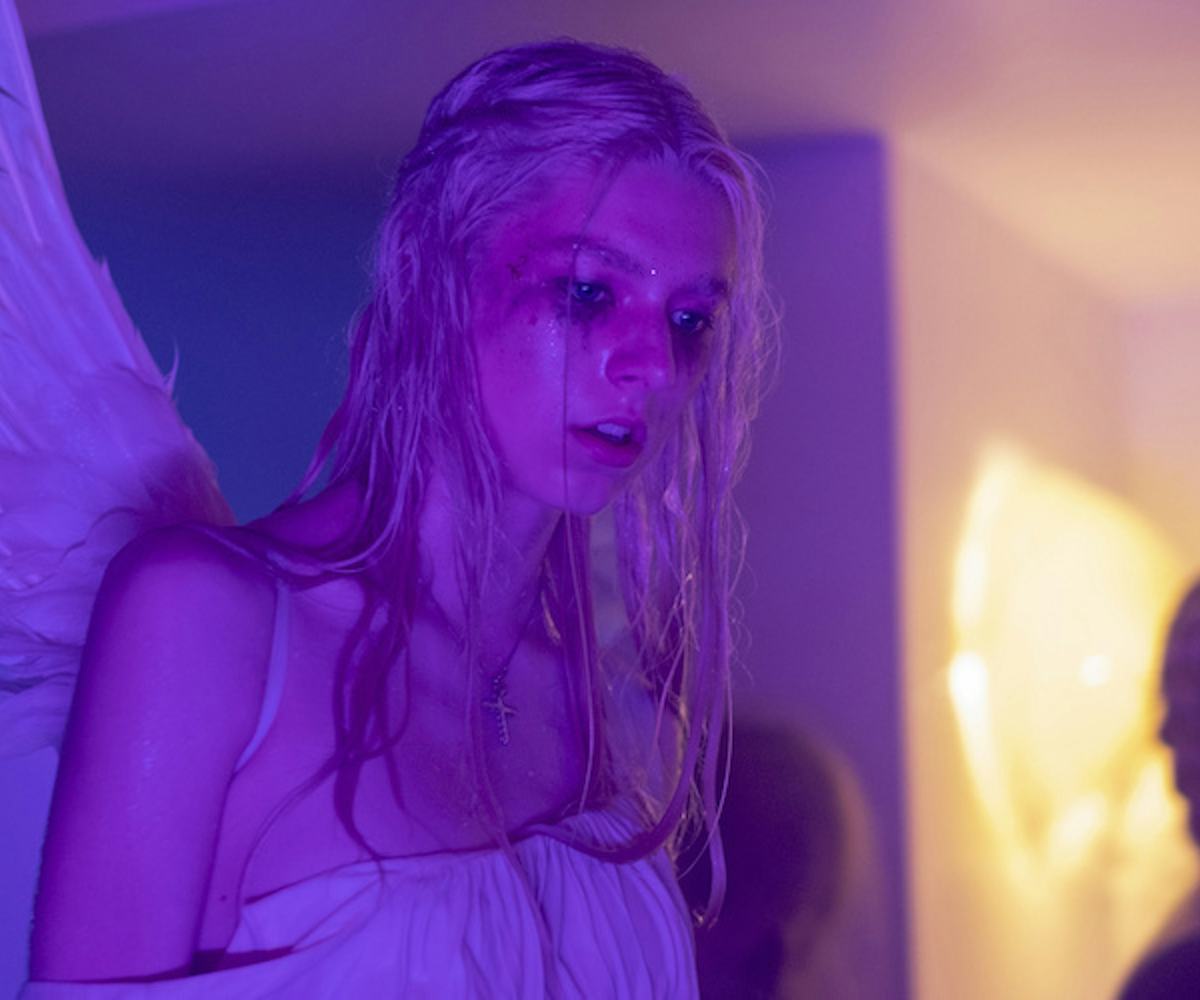 Photo courtesy of HBO
In 'Euphoria,' The Beauty Looks Are Filled With Hidden Meanings
"Glitter and rhinestones don't always mean 'fun'"
If you haven't watched Euphoria by now, we must warn you, it's not for the faint of heart. It follows the journey of Rue (Zendaya), a 17-year-old drug addict, and her friends and peers as they struggle to navigate everything from sex and drugs to mental illness and body issues. Graphic and, at times, triggering, it's a visually beautiful and brutally honest look into the lives of teens just trying to get through it all.
The show has an incredibly defined aesthetic that goes beyond lighting and editing choices, and includes the makeup worn throughout the show. Each of the character's specific looks assists in showing us who they are and what they're feeling as their individual stories unfold throughout the series. Some wear graphic neon and pastel eye looks both to go to school and to meet mysterious older men for hotel room rendezvous, while others douse their under-eyes in glittery tears while hallucinating on drugs. But what does it all mean?
"Each makeup-wearing character has an intentional palette and style meant to propel their story lines and character arcs forward," says Doniella Davy, makeup department head for the series. "Furthermore, each and every makeup look has a conscious emotional meaning behind it. Glitter and rhinestones don't always mean 'fun.'"
Being that makeup is one of the biggest forms of self-expression we have, perhaps especially during our teenage years when we're not always able to experiment with much else, the beauty looks in Euphoria are especially significant in revealing what the characters are feeling and experiencing at any given time.
Davy drew most of her inspiration from Gen Z and experimental editorial makeup looks she found on Instagram, but also from late '60s icons, such as Twiggy and Nina Simone, and '70s glam rock. The historical moments represented wild, changing, and tumultuous moments in history—making them especially relevant for today's turbulent, politically charged times.
Many of the most memorable beauty looks are those of Jules (Hunter Schafer), a teenage trans girl who is new to town, who strikes up a close relationship with Rue and falls victim to the mind games of resident violent jock Nate (Jacob Elordi). Jules almost always has a look going, and experiments with neons and pastels, graphic lines, and overall abstract looks. Davy rarely had her finished looks be polished or pretty, because, even though Jules is trans-feminine, she aims to transcend gender stereotypes and norms. Though, there's one big exception to that: Jules tries to look ultra-femme when she meets and hooks up with older men, who live publicly as heterosexual, as a means of pleasing them.
And as the season continues, you'll notice Jules' makeup—once colorful and hopeful—begins to shift in a darker direction, signifying the struggles her character is experiencing.
Davy describes another character, Maddy (Alexa Demie), a one-time pre-teen pageant queen who is in madly in love with her abusive boyfriend Nate, as someone who uses makeup as an armor and as a means of surviving each day. Maddy's rebelliousness—she's angry at her mother for squashing her pageant dreams due to "news about a pervy pageant coach"—is portrayed in the fierceness of her makeup. Her eye makeup is often over-the-top, consisting of several layers of shimmery shadows, liners, fake lashes, and adorned with rhinestones—as a throwback to her pageant days—and even embellished with studs or chains.
But there's vulnerability at the heart of all that fierceness, says Davy: "So, there's this tragedy behind Maddy's armor, which is why I think her armor is so fucking elaborate."
Kat (Barbie Ferreira) has one of the most striking visual transformations throughout the series. Davy explains that Kat goes from being a "self-conscious fan-fiction-writing virgin—nothing the fuck wrong with that, in fact, that's awesome—to a much more confident, but possibly over-compensating sexualized version of herself—not to be sex-negative or anything."
Whether it's playing with smoldering smoky eyes or bold pops of color on her lids, classic red or deep opaque purple lip glosses, or even sparkly inverted crosses under her eyes for a Halloween costume, Kat's new look is tough, unpolished, and, well, pretty fucking fierce. Kat's inspiration, Davy explains, was Thora Birch from Ghost World, and her look was meant to be a total "fuck off to all things precious and subtle."
And then, of course, there is Rue, our protagonist. A tomboy and drug addict dealing with mental illness, her character isn't someone you'd typically imagine getting dolled up for a party or a night out. However, she most certainly does. Davy kept Rue's character smudgy and messy, wearing makeup only under the eyes, when she wears it at all. Davy describes Rue's look as a glittery, 1990s heroin-chic but makes clear that it's important to her not to glamorize or glorify drug abuse through makeup. "Often, the jarring way the camera cuts and lingering emotional buildups in certain scenes would make me feel like the makeup was indeed helping to captivate the audience," Davy says, "leading them into feeling Rue's experience in a unique and visually-pleasing way, while also feeling the pain and anxiety behind drug abuse."
For Rue's look in the iconic carnival episode, Davy painted gold-glitter upside-down triangles beneath her eyes, evoking a sad clown and reflecting the degree to which Rue felt out of control.
The sparkling, bedazzled, and vibrant looks on each of the characters are in stark contrast to the darkness in their lives. "All the rhinestones and glitter on Euphoria literally rip my heart in half," says Davy. "I think they symbolize something so innocent and fantastical and hopeful, and seeing what these girls are going through while wearing them both as younger versions of themselves, like Maddie and Cassie, and then seeing them as teenagers wearing them, it makes me think about how magical, painful, disappointing, and joyful growing up can be."
Davy points out that thanks to social media, today's teenagers are using makeup for expression on wider platforms than anyone else ever has. "Gen Z is completely redefining what makeup can and should be used to do: by embracing total freedom in expression and defying beauty and makeup norms," she says. "While scrolling [through Instagram], I found so many nuances, both subtle and loud, that people are expressing through their makeup. I found irony, playfulness, rebelliousness, joy, fearlessness, disorder, vulnerability, wanting to be loved, not wanting to be loved, delirium, elation, heartbreak, confusion, rebirth, surrealism, wonder, anxiety, and euphoria, of course."
Davy emphasizes: "Makeup, after all, is emotionally evocative. That's the whole point of it. It makes the wearer and the viewer feel something more than what a naked face alone can convey."
The underlying message behind all of the looks, Davy explains, is that makeup should be embraced as a form of creative expression, especially for those entering adulthood, and figuring out who they are and who they want to be. Davy says that this kind of freedom is what she tried to convey with the looks, and that, with the encouragement of the show's creator, Sam Levinson, she worked "to push through existing makeup norms, and introduce a new makeup language; a way of transcending mainstream archetypes and stereotypes and embracing a more fluid, boundary-pushing mode of self-expression."
Or, Davy says, "In other words, I am to spread the word that we should all feel free to use makeup however we damn well please."
Euphoria airs on HBO on Sundays.