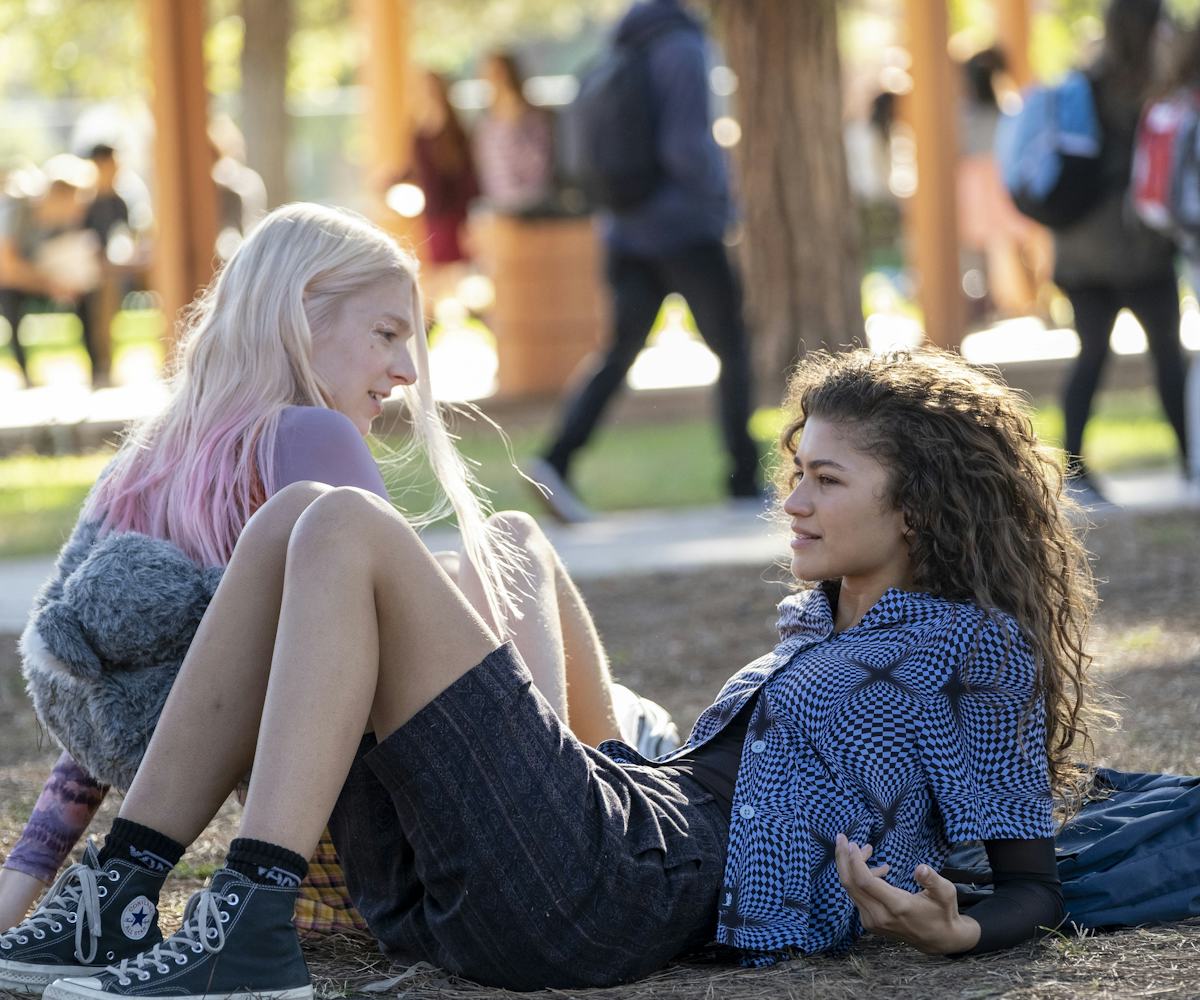 Eddy Chen/HBO
'Euphoria' Season Two Is Officially Underway
Find out everything you need to know about the show before it returns
After months of waiting and theorizing, it appears that the return of Euphoria is getting a lot closer. The hit HBO series starring Zendaya made a serious impact on pop culture when it debuted on the network last summer — catapulting rising stars like Alexa Demie, Hunter Schafer, and Barbie Ferreira up with it — and was renewed for a second season only a month after its premiere. While details are still few and far between, a recent social media post confirms that cast and crew associated with Euphoria season two are getting ready for its HBO return.
The close of season one left a lot of questions for viewers about what could possibly happen next, especially when it came to Zendaya's character Rue. While there's still no clarity, or teasers on what to even remotely expect in the new season, table reads have officially started with the full cast, and filming is set to begin soon. Speaking to Entertainment Weekly, cast member Storm Reid — who plays Gia, the younger sister of Zendaya's character — promised the wait will be worth it.
Ahead of season two's release, check out everything there is to know so far, below.
Euphoria Season Two Preparations Have Started
A premiere date for the second season of Euphoria hasn't yet been announced, but preparations are already underway. On Wednesday, March 11, the official Euphoria Twitter account shared an image of Zendaya and Angus Cloud at a table read, writing, "here we go !!!!!!!!!!!!!!" An additional photograph showed Zendaya at the table, accompanied by the caption, "season freaking two."
It's not clear whether the show has started filming, but Zendaya did say in a January interview that filming was not yet underway. "I literally cannot wait," she said of returning. "I just wanna get back to it so bad. I miss it. I can't wait to get started on season two."
The Second Season of Euphoria Will Debut In 2020
As NYLON previously reported, an HBO sizzle reel had confirmed that a second season would debut in 2020. Again, there's been no news on a confirmed release date, but with table reads underway, it's likely that we'll know more, and soon. It's expected that the second season, like the first, will include eight episodes, Thrillistreports.
Euphoria Will Add New Cast Members For Season Two
Based on a previous public casting call, it's expected that the HBO series will add some new faces to its cast. Back in January, the show put out a call on social media, and it was reportedly looking to fill five roles, Hypebeastreports. Per the social media post, crew intended to add a mischievous student named Darian, a scrappy fighter named Ray, Ami, a stripper that hated her boyfriend, and two adults, Serena, a sassy 50-year-old and a 40-year-old foster mother named Lisa.
Alexa Demie also confirmed with Elle that new characters would be coming, but said she couldn't share much else.
Your Favorite Euphoria Season One Cast Members, Including Zendaya, Are Likely Returning
The first season might have left off on a major cliffhanger — particularly when it comes to Rue —but Harpers Bazaarpoints out that all signs appear to point towards a return from our favorite characters. Ultimately, we'll have to wait and see whether this prediction comes true when the show returns, but Storm Reid did hint to Entertainment Weekly that not all is what it appeared to be.
"Our whole show is for your own interpretation, and I did see the things where people ask me if she was deceased or not, or if she had relapsed in the last episode," she said. "I feel like again, it's for your own interpretation, and the questions that you may have specifically about the eighth episode will be answered in the first couple of episodes of Season 2."
In a February 2020 interview, Reid also confirmed that table reads would be starting, and that filming was scheduled to begin with "the next couple weeks."
The Show Has A "Time Limit"
Even with the renewal of a second season, HBO president Casey Bloys, had confirmed to TV Line that "there are only so many seasons it can go." As he explained, because the characters are all in high school, it seems unlikely to expect that they could continue on in these roles forever. ""There's a time limit. There is no set plan. But I don't think you want 30-year-olds playing [high school students]," he said.