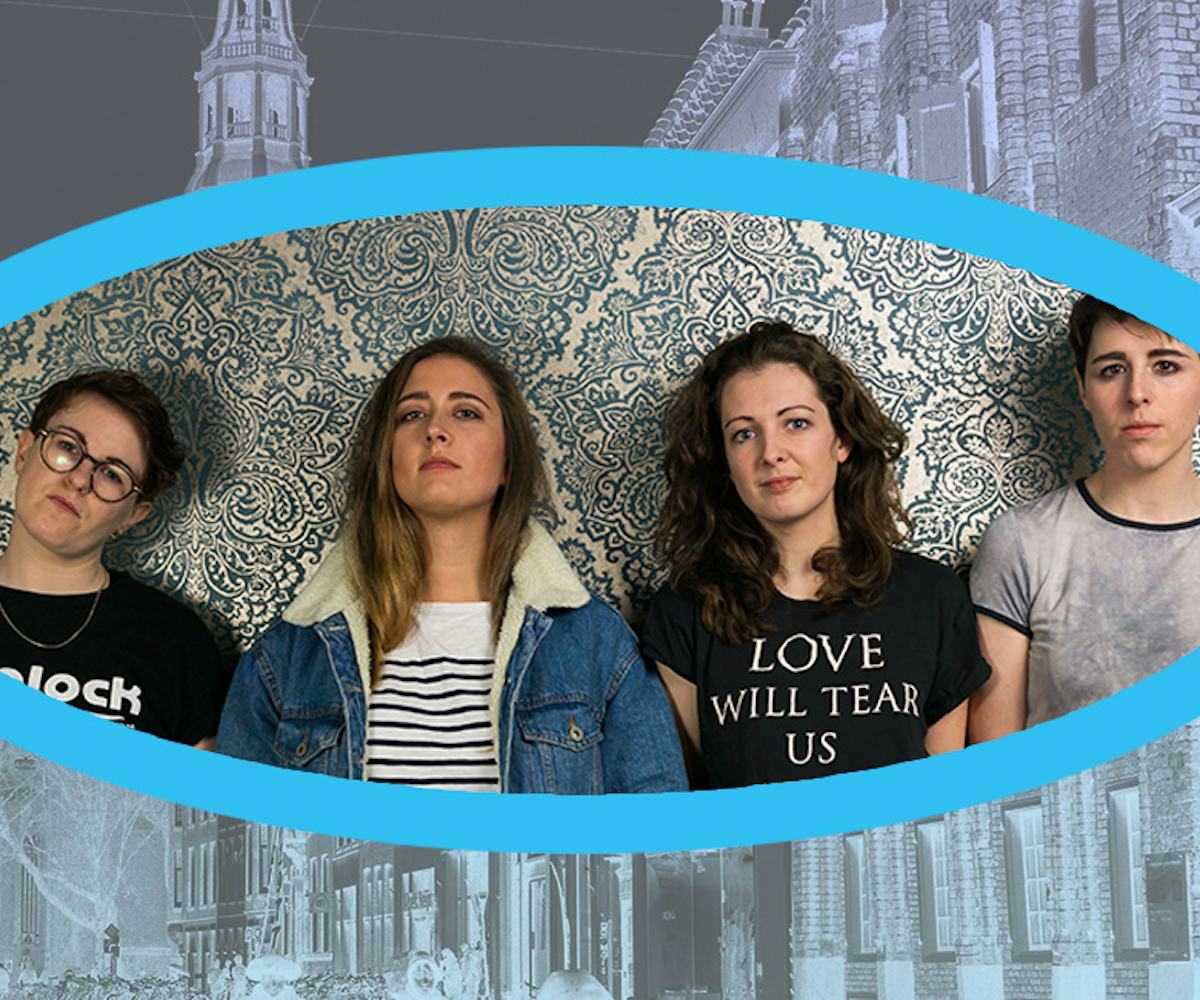 Band Photo Courtesy of Pillow Queens.
Inside Eurosonic: A Music Festival That Feels Like A Religion
Dispatches from Groningen
I seem to be spending much of my week inside churches. I don't mind this, really. If you grow up godless, you don't have any real association attached to churches, positive or negative. They're just these big, cavernous buildings that stand tall while cities change around them. They also happen to double up as pretty excellent music venues, and are in plentiful supply in the northern-Dutch city of Groningen, the location for Eurosonic—probably the most important music festival and conference outside of SXSW.
Italian songwriter Violetta Zironi quickly sound-checks in front of an amassing, attentive crowd at the Lutherse Kerk in the center of the city, a Lutheran church built at the end of the 1600s. "I want the audience to feel like they're being serenaded," she tells me earlier in the day, a picture of calm given a hectic schedule of meetings, interviews, songwriting sessions, and having to find time to pick up her band before the evening's show. "We won't really have time to warm up or chill before the gig. I'm still trying to find my headspace." Suffice to say, she finds it. Her set is beautiful, full of the kind of torch songs you weren't sure were being written anymore, with Violetta's crystal-clear voice soaring up into the rafters.
Groningen is a small city with much of the action of the festival taking place in venues clustered in its middle, a weaving tangle of seemingly exclusively beautiful streets surrounded by a canal. As well as the venues—not just churches, but theaters, rock clubs, basement bars, converted schools—bands spill out of record shops hosting in-stores, do deals at the multi-purpose Oosterport center, and shuttle between the city and a giant, Mad Max-style artist's village on the edge of town: Imagine a post-industrial warehouse space decked out with strings of lights and playing tunes.
One of the more prestigious venues is Vera, a 400-old capacity club that each year runs a poll of its regular visitors to pick the best bands to have come through its doors. These names wrap the wall of the main room: Henry Rollins in 1987, Mogwai in 1999, Villagers in 2010. The name for 2019 could easily be spiky folk-rock band Any Other from Milan, who played to a packed-out room and were being talked about in hushed tones around the city the following day. Led by songwriter Adele Nigro, there's an early Bright Eyes vibe to her songs, and her voice in particular, which trembles and peaks like it's being wrung out. Backed by keys, bass, saxophone, and probably the best live drummer I've ever seen, she delivered one of the most immediately intoxicating, invigorating sets of rock music I've seen in a long time, with most songs coming from her 2018 album Two, Geography, which I insist you listen to immediately.
If there is a common denominator to the artists at Eurosonic, then it's probably something more intangible: ambition, drive, self-assurance. Norwegian electro-pop singer Ina Wroldsen has already written a ton of songs you'll know, for pop behemoths like Pussycat Dolls, Calvin Harris, Demi Lovato, Anne-Marie, and Britney Spears. Now taking the mic herself, she's clearly a pop star in her own right, and has been keeping a few gems in her back pocket away from the prying eyes of the existing musical elite.
In a similar mold, albeit with a more textured melancholy, was Romanian singer Helen, whose latest single "Wild Roses" dropped back in November. Wearing a custom-made jumpsuit of her own design that seemed to shimmer somewhere between copper and gold under the stage lights, she danced her way through a set of synthy hooks and beats that immediately stuck in your head. When I meet her a couple of days later, it's clear her journey to that stage, and those songs, hasn't been the easiest: "I've always had a challenge with the pop industry. As I was writing for other people, I was also trying to become a pop singer, trying to make it in the industry. Because I was so different, I didn't have the so-called 'pop looks,' I've always been told, 'You're very talented, but you can't do this because you don't look like that.' I really struggled with that for a long time, I felt like I had to change who I am. Only until I decided to do this project I could free myself from all that."
We agree this is bullshit, this pre-conceived notion of what a singer should look like, or the feeling that your music alone isn't good enough, isn't the most important thing. Maybe a decade or so ago, faced with these criticisms, an artist like Helen would have been forced to compromise herself or, worse, abandon music altogether. It's a shame to think of the artists who could have been incredible but were kicked away at the first hurdle. There doesn't seem to be a lot of this going around at Eurosonic. Every band here is, essentially, out to market, showcasing themselves for major European and North American festivals, but, also, everyone seems very chill about the whole endeavor, the fact of their being here enough ballast to see them through.
One band who exudes nothing but confidence—in their music, their presence, their everything really—are Dublin four-piece Pillow Queens. Despite a ghost in the pedalboard, they smash through a short set at a packed record store on Friday afternoon, having only arrived in town a couple hours earlier. It's their first time playing outside of the U.K. or Ireland, having only played their first gig a couple of years ago, a fundraiser for a dog rehoming charity that sold out. When talking about how they got together, lead guitarist Cathy McGuinness mentions they weren't expecting huge things, before singer Sarah Corcoran interjects: "I was!" The other members, drummer Rachel Lyons and singer Pamela Connolly, describe Sarah as "the power force of the band," but you can tell there's a very natural, balanced chemistry between all four, not least in the harmony vocals that help make their sound so distinctive. "It's the first band I've been completely creatively comfortable in," Pamela says, "I've definitely been in bands before where it's just like being around your brothers or sisters or whatever, but this is the first band where I'm comfortable to try and make mistakes, try again, and put myself out there a little bit."
Later that night, just after midnight, the band take the stage at Minerva, an art school on the west of town, the same place Chvrches played when they hit Eurosonic back in 2013. No ghosts in the pedalboards anymore, they play as if they're in a stadium, turned up loud and singing to the back of the room. There are 15 bands in total from Ireland over for the Festival, and a few are present here, lending some national pride and moral support. It's an incredible set, from a band whose debut album (currently in the works, hopefully to be released this year) is sure to be gorgeous, but the support in the room from fellow musicians—something that's true of every show I've seen at the Festival—is telling. Something about how a rising tide raises all boats, maybe, or just a general nervous, electric excitement that there's still so much good stuff to get nervous, electrically excited about.