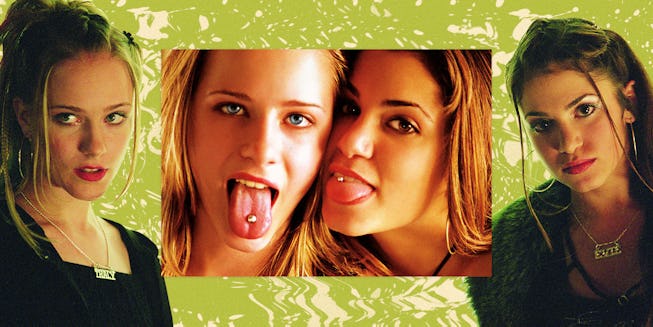 20th Century Fox/Kobal/Shutterstock & Snap Stills/Shutterstock
An Ode To 'Thirteen' And Early 2000s "Bad Girl" Style
Evan Rachel Wood's look was risqué Avril Lavigne-meets-Hot Topic
No film captures the strange fashion moment of the early aughts quite like Thirteen. Directed by Catherine Hardwicke, who'd go on to direct the first Twilight film, and co-written with her young star Nikki Reed,the filmis a gritty, somewhat sensationalistic tale of teenage friendship that burns with a frightening ferocity—and, as is so often the case in teen films, Thirteen's fashion looks are essential to the characters' social world.
Tracy, played by Evan Rachel Wood, begins the film as a prim, smart middle school girl but soon falls in with Evie (Reed), a free spirit who projects undeniable "bad girl" energy. Before too long, the two are inseparable—most of their time is spent shoplifting, sneaking out, doing drugs, drinking, partying, and saying how much they love each other. It's a cautionary tale—it's no spoiler to reveal that things don't end well—but Hardwicke has an eye for all the specific flourishes of teen girlhood, which feels subversive when mixed with her aggressive, kinetic camerawork. Reed and Wood are charismatic, and, watching the film as a non-teen, one feels a strong desire to protect them (and perhaps a bit of skepticism regarding just how crazy things get).
Tracy and Evie's friendship is rooted in fashion. They begin by complementing one another's accessories; scenes in which they go shopping with stolen money and get illicit piercings serve as pivotal moments. Tracy quickly transitions from simple hoodies and backpacks (and a friendship with a shy, pre-fame Vanessa Hudgens) to a wardrobe that suggests a more risqué Avril Lavigne or perhaps a drug-fuelled shopping spree at Hot Topic.
Now that we're in a new decade, there's been some talk about bringing back styles that are nearly 20 years old. While the fashions of Thirteen might hold some nostalgic appeal for those of us in our 20s and 30s, the majority of it is far too garish for everyday wear. There are more low-rise boot cut jeans than you can count, and this awful style is not due for a comeback despite what some style articles may be trying to tell you.
These jeans are often accessorized with a chunky belt. Other popular throwback trends of today—hoop earrings, tiny sunglasses, and childlike jelly bracelets—are also frequently spotted. The outfits are self-consciously sexy (there's always at least an inch of midriff showing) but have a cutesy girly-punk edge thanks to the playful accessory game. It's all very intentionally "not a girl, not yet a woman," to quote Britney Spears, that great scholar of the era.
In one of the film's most infamous moments, Tracy taunts her mother by swaying around and repeating the phrase "no bra, no panties." It's deeply uncomfortable to watch, and the costumes that are "slutty" by design have an ineffable power. The worst fashion flourish in Thirteen is the exposed thong. Tracy spots it on Evie, and soon enough, it's one of the many provocative looks she appropriates. While the sundry crop tops of the film are back in style (plenty of the more casually tinged garments here look very Brandy Melville), the awkward thong and low-rise jean look is best left in 2003.
The shoes in Thirteen have been making a comeback for the past few years. You can probably buy the chunky sneakers that Tracy and Evie shoplift right this minute.
Thirteen's costuming is a way of life. Tracy's wardrobe emboldens her, and the way her and Evie's outfits coordinate signifies the power of their friendship. They dress alike because they feed off each other's energies, and revealing, age-inappropriate clothes give them one of their many transgressive thrills.
Chopped-up, pinned-together shirts are a punkish reminder of how easily teens can make their styles into a collage of influences. Thirteen may be a frustrating film in some ways, but it also serves as a potent reminder of just how essential fashion can be for teen girls. Every outfit, questionable as it may be, is a bid at freedom, at trying to be cool and grown-up. We know Tracy and Evie won't be dressing in skimpy tops and low-rise jeans forever, but in the moment such looks feel like the most important thing in the world to them.