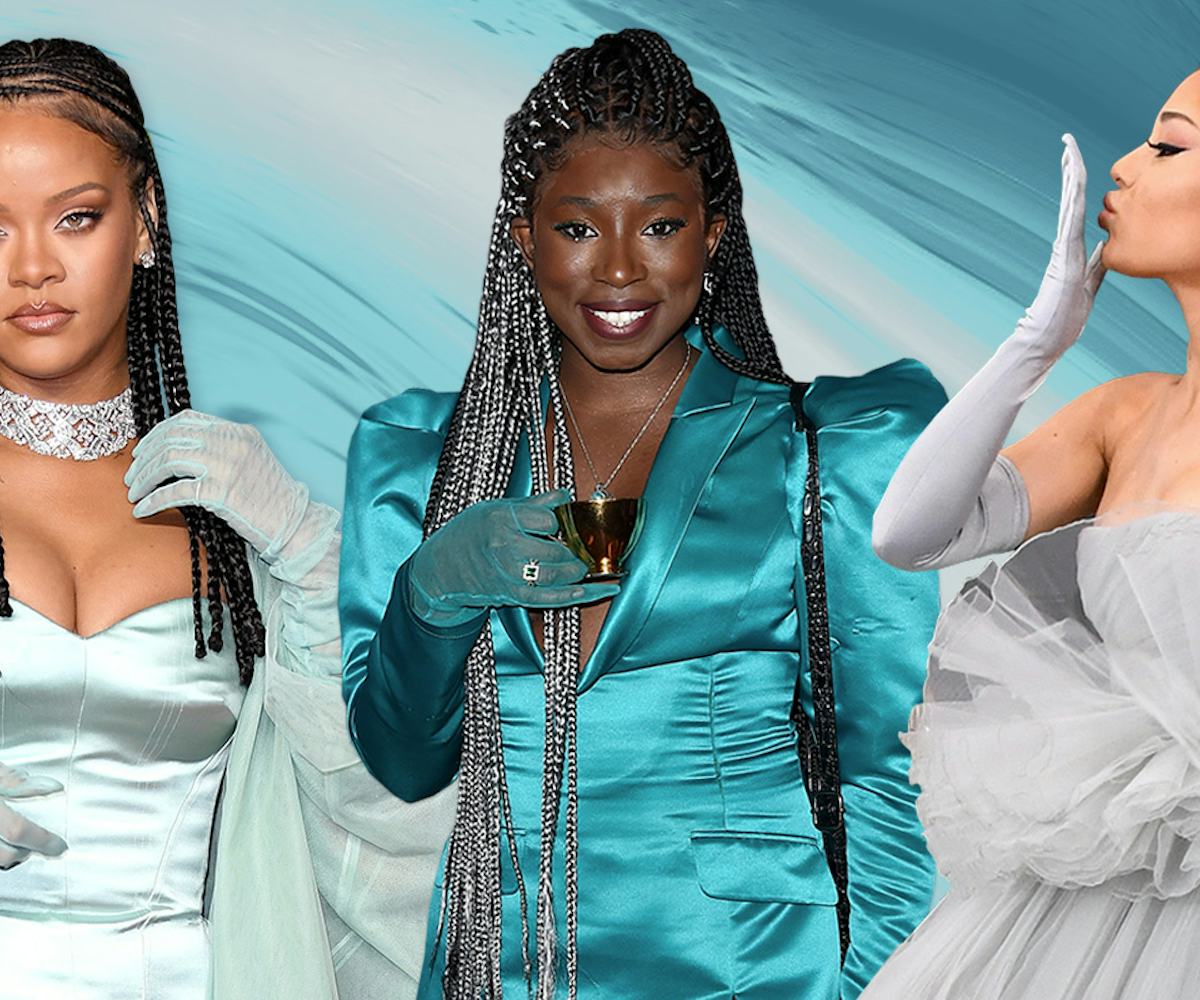 Photos by Karwai Tang/WireImage; Axelle/Bauer-Griffin/FilmMagic; and Jon Kopaloff/FilmMagic
Long Evening Gloves Are The Red Carpet's Hottest Accessory For 2020
We're all about over-the-top glamour
With awards season in full swing, celebrities are having fun with dressing up for some of this year's biggest events, from the most recent Grammy Awards to the highly anticipated Oscars. After looking at all of our favorite looks, one thing is clear: long evening gloves are becoming a big red carpet trend.
Ariana Grande accented her Giambattista Valli ballroom gown with matching past-the-elbow gloves at the 2020 Grammys. Misty Copeland opted for her own pair, too, in a sheer-but-striking green hue to complement her printed Raisa Vanessa dress. Before the awards ceremony, Teamarr wore a pair of gloves that perfectly accented her Harry Halim dress, as well as her iconic gilded teacup, which, in case you're wondering, is named "Timothea Sinclair" (with a silent "H").
Beyond the Grammys, we've seen Zoë Kravitz channel Audrey Hepburn at the SAG Awards, pairing a peachy Oscar de la Renta column gown with sleek white gloves. Janet Mock opted for the same accessory, but adorned with crystals, at the Critics' Choice Awards in an all-turquoise couture ensemble by Valentino.
You can even track the rise of the red carpet-ready evening glove to 2018, when Kendall Jenner arrived at the Met Gala in an Off-White jumpsuit with long, sheer gloves. In 2019, Rihanna attended The Fashion Awards in London dressed in her very own "seafoam Fenty" ensemble, complete with matching gloves, to accept the Urban Luxe award for her LVMH-owned brand.
And it looks like the red carpet trend will have plenty more evening-glove moments through 2020, thanks to the couture runway shows that took place in Paris earlier in January. Collections from Valentino and Jean Paul Gaultier boasted plenty of looks adorned with the popular garment.
Sara Idacavage, a fashion historian and instructor at Parsons School of Design, tells NYLON that gloves have often been associated with the concepts of gender and social class. "To be able to wear a pair of long, white gloves — and to keep them clean — meant that the wearer was probably wealthy enough to have other people do all of their work for them, thus becoming associated with the upper class," she explains. "According to some scholars, gloves also had erotic connotations in the Victorian Era, and it's possible that these connotations still exist today."
Evening gloves have had their comeback before, as Idacavage recalls their most prevalent reappearance in pop culture during the '80s. "They had such widespread popularity, perpetuating their associations with wealth, beauty, and power," she says. "This also makes me think of Madonna, who wore lace evening gloves for the cover of her album Like a Virgin and in the video for 'Material Girl,' which references Marilyn Monroe's pink-gloved look from the film Gentlemen Prefer Blonds."
But it was only a matter of time for the evening glove to (yet again) make its way back into today's aesthetic zeitgeist, perhaps as a response to athleisure's takeover within the fashion space. Idacavage surmises that the return of this particular accessory — which was everywhere throughout the 1800s, hit its peak at the end of the 19th century, and was sometimes spotted at high-fashion and formal events well into the 1960s — is the comeback of maximalist and over-the-top glamour, especially on the red carpet, where fantasy and escapism are inherently linked. "These accessories definitely add a dramatic element to any formal outfit," she says. Plus, we can't help but mention how much attention these ensembles can likely gain on social media.
"I think it's more about being playful on the red carpet," says Idacavage. "Perhaps feeding that innate desire that we have to dress up and 'perform' our identities through fashion."
And what's a better place to perform than on the red carpet?