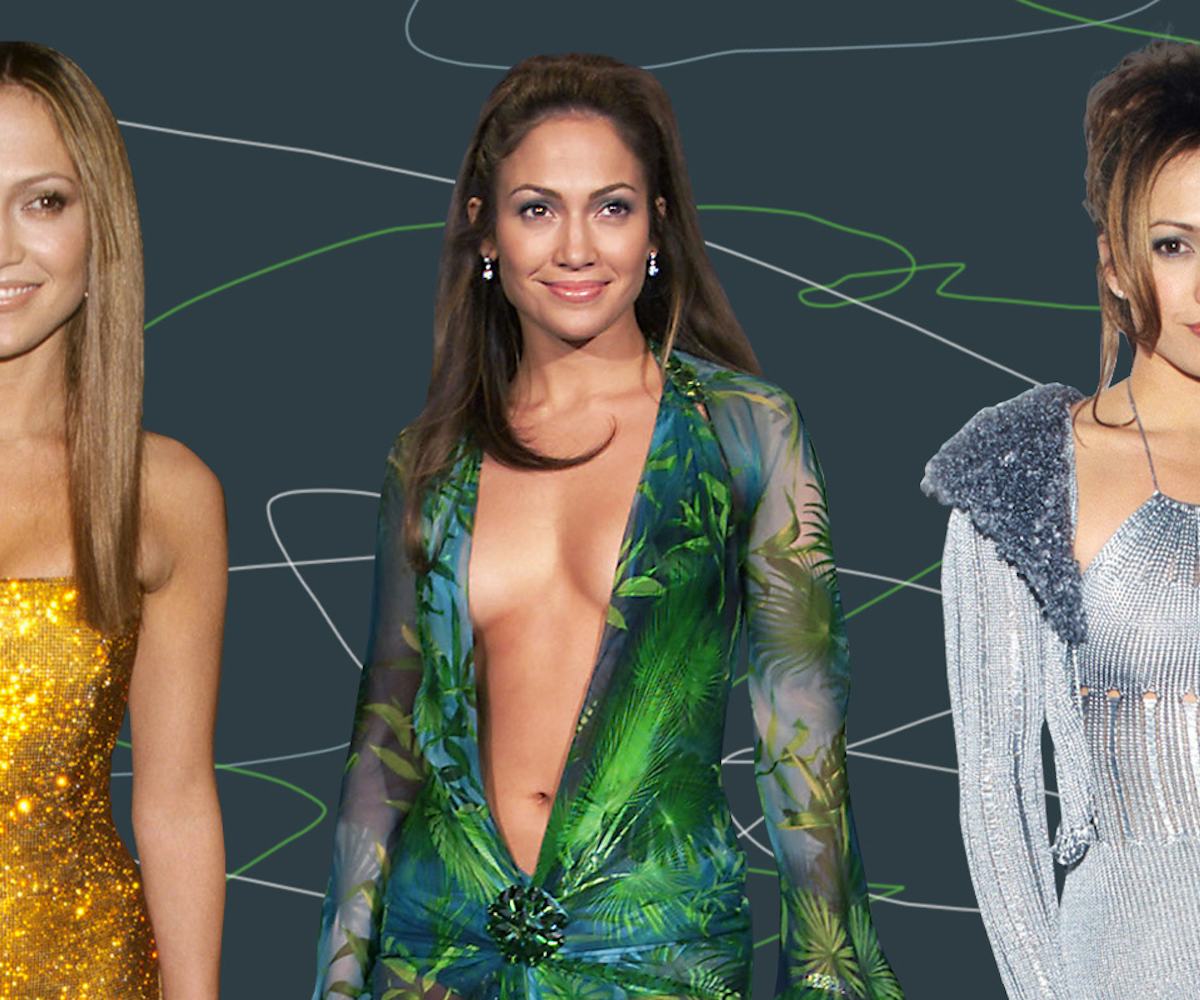 Photo by Kevin Mazur Archive/WireImage, Scott Gries/ImageDirect & Ke.Mazur/WireImage
Every Outfit Jennifer Lopez Has Worn To The Grammys
From jean shorts to *that* Versace jungle-print dress
Jennifer Lopez's 2000 Grammys dress is the gift that keeps on giving. On Wednesday, Google released a fashion trends report on the Grammys, revealing the most-searched celebrities at the awards show from 2004 to 2019, and, unsurprisingly, Jennifer Lopez was number one. Her iconic Versace jungle-print dress, which she resurrected on the runway during Milan Fashion Week last year, resulted in plenty of headlines, copycats, and the creation of Google Images. (In case you wanted even more, she stars in Versace's Spring 2020 campaign in the same dress, too.)
As Lopez later revealed, the iconic Versace moment almost didn't happen two decades ago. In an interview with Vogue, she said her stylist advised her to choose a different look since the dress had already been worn on the red carpet.
"I said, 'This is what we're going to wear,'" recalled Lopez. "I didn't think it was all that risqué, to be honest. I was more excited that it was the Grammys. I wasn't really even thinking about the dress that much. I was just glad I had something to wear."
While the Versace gown may be her most memorable Grammys look, Lopez has been serving up her style on the annual music awards show's red carpet since 1998. From mini sequined dresses and couture gowns to statement hats and denim shorts, Lopez has always known how to deliver a major Grammys red carpet moment.
Below, see all of Lopez's red carpet looks from the Grammys.
For the 2019 ceremony, Lopez wore a look from Ralph & Russo.
In 2017, she wore lavender Ralph & Russo couture.
She wore a one-shoulder, high-slit black gown from Anthony Vaccarello in 2013.
In 2011, she sparkled in a short Emilio Pucci dress.
She wore a white-and-silver Versace gown in 2010.
Way back in 2002, Lopez wore a sheer floral top over some very short, presumably denim, shorts. Oh, and hi to Chris Judd.
In 2000, she wore the iconic jungle-print Versace gown that is now known for creating Google Images.
In 1999, she wore a mini, sparkling gold dress.
For her first-ever Grammys appearance in 1998, Lopez wore a shimmering silver-blue knitted dress with butterfly-adorned heels.