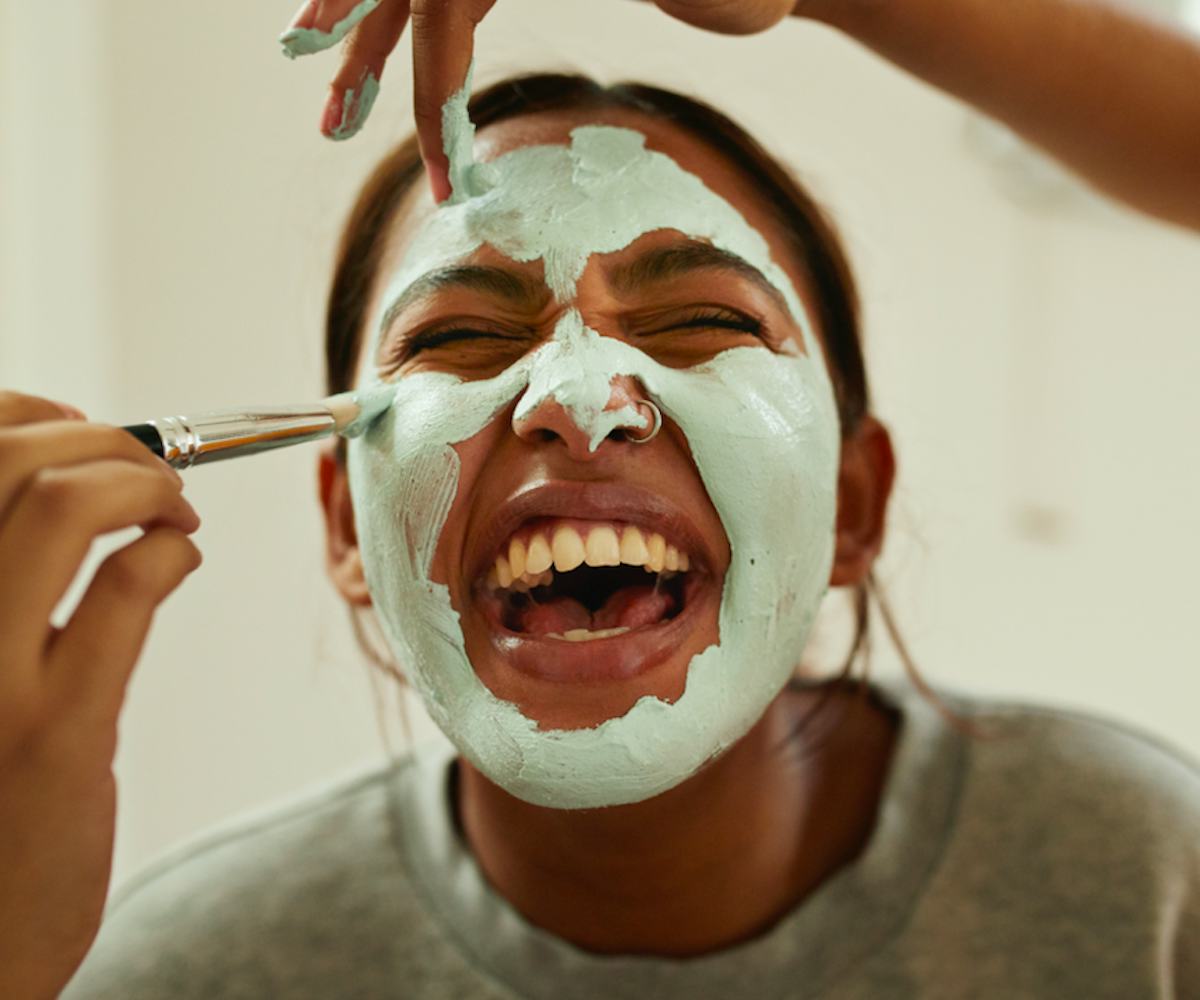 Klaus Vedfelt/Getty Images
Experts Explain How To Do The Best At-Home Facial
Treat yourself to a spa-level facial in five easy steps
In the wake of the coronavirus pandemic, social distancing efforts have hit a hard pause on regular trips to nail salons, spas, and a number of other everyday beauty services that require any sort of physical contact. But whether you're just looking to save money or are, you know, mandated to stay inside your house, now is as good a time as ever to remember that there are plenty of ways to DIY your routine beauty services — especially when it comes to effective facials at home.
Even if you don't consider yourself skin care obsessed, most experts agree that the act of getting a facial isn't ever all about the skin. "Besides making you feel good, self care rituals like facials and massages are good for our overall well being," Los Angeles-based celebrity facialist Candace Marino — whose clients include everyone from Kourtney Kardashian to Grimes — tells NYLON. "I feel that people are more active, engaged, and energized with their daily tasks when they're taking care of themselves. Since we're all experiencing forced downtime, now is the time to revamp your priority list and put self care at the top."
Sofie Pavitt, founder of Sofie Pavitt Studio and one of New York City's most sought-after facialists, shares the same sentiment, telling NYLON that while her studio is closed, her clients are missing out on not only a facial, but a "therapy session," too. Due to the current times, both experts have moved their practices online, offering virtual consultations, and even guided facials on social media. And because everyone can benefit from some extra TLC at home right now, they've shared with NYLON some tips to make the most out of the products — and newfound spare time — you might have at home. Follow along with the expert-approved steps, below.
Decide On What Products You'll Use
"The foundation of a basic facial is cleanse, exfoliate, mask, hydrate, moisturize," advises Pavitt. "The cleansing gets rid of oil and dirt and the exfoliator dissolves or rubs away dead skin, so your hydrators and moisturizers can penetrate the skin better." This means you'll want to pull out a cleanser, a mask of your choice — dependent on what you have at home, and what your skin needs — an exfoliant, serum, and moisturizer. Setting the mood with candles or drawing a bath isn't a bad idea either, according to Marino.
Set Up Your Products In Order
According to Pavitt, it's important to lay out products in the order that you're going to use them, advising that you get all of your tools, gauze, towels, and/or headbands you'll need before you start. "To have them out in sequential order makes it a more organized and relaxing experience. I tell clients to throw away magnifying mirrors if they tend to fixate on pimples and pick the skin. When we have too much time on our hands... sometimes that's a bad thing!"
Sanitize Sanitize Sanitize
Once you're set up, Marino notes it's important to then sanitize your area and wash your hands "to ensure you're not spreading germs from your products to your face. This means cleaning your products, tools and the area you're working from."
An Actual Facial, Step-By-Step
Breaking down her most standard — and still effective —facial, Pavitt lays out five simple steps. You'll want to start with a cleanse, spa style. Pavitt suggests using a muslin burp cloth to wipe the skin, and for added gentle physical exfoliation. But if you're at home with limited resources, a paper towel will do. Step two is to exfoliate, and while Pavitt prefers chemical exfoliators in her own practice, she notes that a gentle scrub here works, too. Step three? Mask! This can be any mask you have at home that suits your own skin. Step four is to hydrate, with Pavitt noting that "this could be using something like a hyaluronic acid serum to lock in moisture." Last step is to moisturize, locking in all of your good work.
Remember: Less Is More When You DIY
If you feel like you're not doing as much with an at-home facial as you're used to with a professional, it's because you're not — and that's okay. "When it comes to at-home facials, less is more," says Marino. "I don't like people using professional tools at home (like microneedling or dermarolling, lancets to remove milia, etc. They do so much more harm than good!" She goes on to note that with extractions, people tend to press too hard and scar themselves, and this is when she tends to see "catastrophes" happen. "I say if you want to incorporate tools, go for a jade or ice roller, or a gua sha," she says, noting her favorite tool is Kora Organics Heart Quartz Gua Sha.
Pavitt agrees, urging not to overdue it. "Putting 25 different products on your face when you have a lot of downtime can actually do the opposite of your intentions and over-stress the skin."