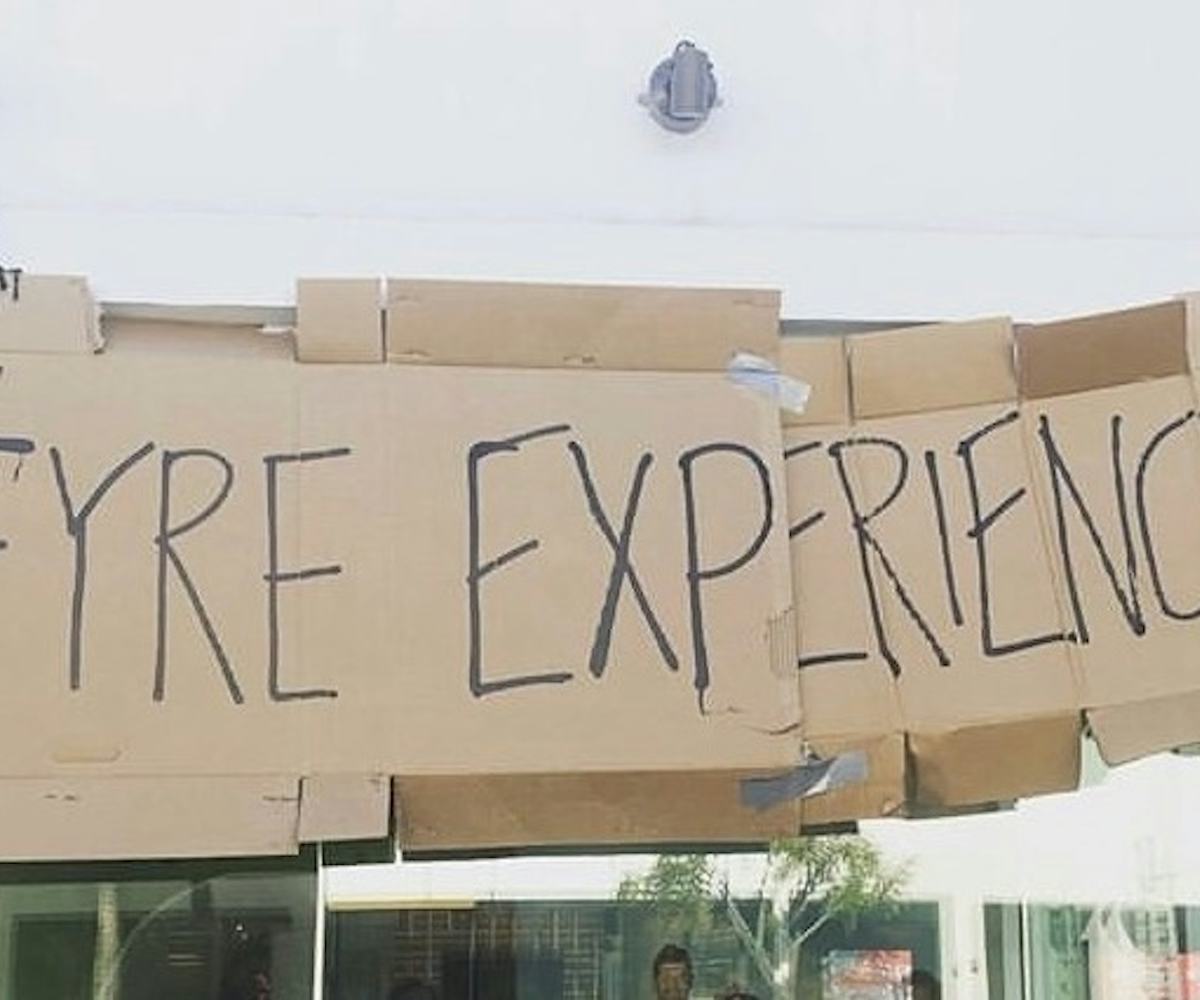 Photo via @DoubleJBird/Instagram
You Can Eat A Cheese Sandwich In A Box At This Fyre Festival "Experience" Pop-Up
And take a photo in a kiddie pool with water bottles
A new pop-up is recreating the hell that was the Fyre Festival, making even more of a mockery of the original event than the Hulu and Netflix documentaries already have.
According to Insider, The Most Famous Artist (who also goes by Matty Mo) and his company SelfieCircus are behind what he dubbed "The Fyre Experience" which takes place in what appears to be a retail space in Los Angeles. Just like the original, attendees are offered a "luxurious experience" and can opt for "VIP packages," but, again, like the original, it's all a farce.
For example, the space is identified by a sign made out of recycled cardboard boxes:
The "experience" itself seems to be an assortment of photo opportunities for attendees, with the point being to look like you were at the actual festival. Several backdrops are positioned around the space, featuring figures like Bella Hadid, who promoted the event, and its ringleader Billy McFarland. You can get a cheese sandwich in a plastic container, or take a picture in a kiddie pool filled with Evian water bottles (dubbed a "beach-front hot tub").
Though Matty Mo told Insider that the event would be open until February 3 and that he had celebrities lined up to visit, Page Six notes that this pop-up seems to already be closed (but maybe not permanently). In a since-deleted Instagram post to his private account, Matty Mo announced the news: "Due to forces outside of our control #thefyreexperience has been canceled. No one will be issued a refund. I've already left the country. See ya next time."
Sounds about right.