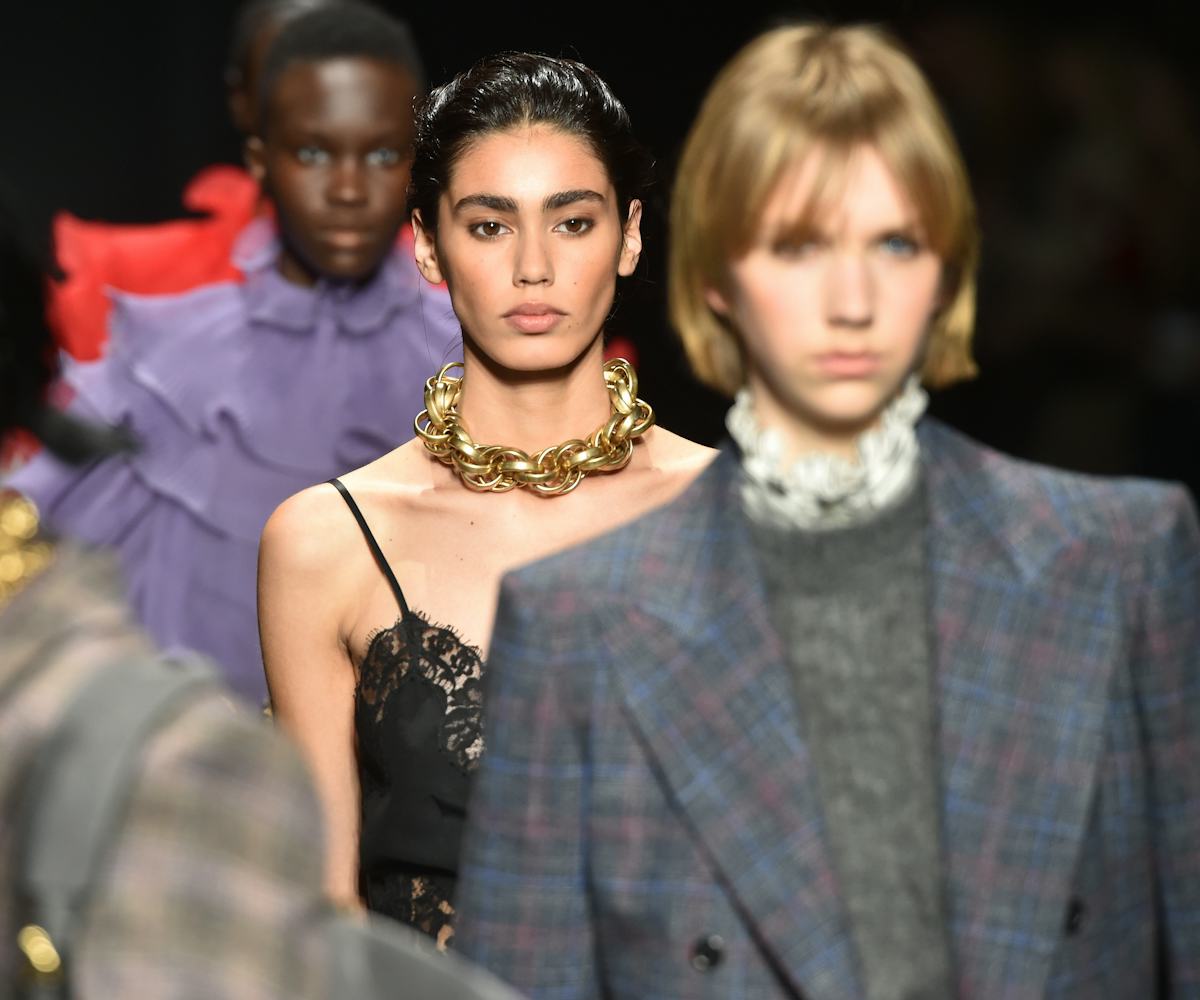 Photo by Tullio M. Puglia/Getty Images
9 Fashion Month Beauty Trends You Can Actually Try Yourself
No veteran makeup artist assistance required
Despite covering four different cities, hundreds of shows worth of new, fanciful clothes, and a surprise North West performance (!), the Fall/Winter 2020 fashion month beauty still managed to be memorable on its own. And while some of the most memorable looks were decidedly over-the-top (see: helmets made of hair and paint splatter in lieu of eyeshadow), just as many featured growing beauty trends that you can actually wear in your day-to-day — or at the very least, on a night out.
From hair to makeup to skin, longtime beauty pros like Tom Pecheux, Guido Palau, and Pat McGrath built upon some of the most promising beauty trends, each adding their own edge or evolution. They ran the gamut from classic staples like bold red lips at Marc Jacobs and Jason Wu, to throwback fads like finger waves at Chloe and MSGM, and the evolution of Euphoria eyes with two-toned pigment on the eyes at presentations like Chromat and Altuzarra. More than just being easy to test out on your own at home, trying out some of the month's biggest trends won't require anything that you probably don't already have at home: some hairspray, a favorite palette, and black eyeliner.
You may not be able to buy any of the clothes displayed on this season's runway for another six to eight months, but there's nothing holding you back from diving into the Fall/Winter 2020 fashion month beauty right now. Check out some of the most wearable, easy to DIY trends, below.
Red Power Lips
The classic shade proved its staying power over the month, with dozens of looks from each city centering the bold, red lip. Backstage at Oscar de la Renta, lead makeup artist Tom Pecheux compared the shade to the little black dress of beauty, noting that both will have a place in the world forever. "A red lipstick is very powerful, but you can dress it or undress it, and create a different personality or a different character," he told NYLON.
Slicked-Back Sleek
The wet, slicked-back hair look has been making its fair share of appearances on the runway over the last few seasons, but it was impossible to ignore for the Fall/Winter 2020 shows. The glossy comb-back style was executed in various ways — from being slicked back into a sleek ponytail or low bun to giving texture to blunt bobs and straight-back styles — that all resulted in a fluid-yet-structured look.
Two-Toned Eyes
When you're ready to graduate from the all-over-color lid looks, take things to the next level by adding a second shade, as seen on the runways of Chromat, Altuzarra, Margiela, and more. Unlike your classic shadow look with two (or more) colors, this trend is set around the idea that the shades meet but don't blend, be it a shadow or vibrant liner pigment.
Sculpted Finger Waves
A retro throwback that feels totally in line with the current more-is-more approach to beauty, the sculptural style, made popular in the '20s and '30s by actresses such as Bette Davis and Anita Page, found its way on the runways of Chloe and MSGM. According to Redken global creative director — and lead hairstylist for Chloe — Guido Palau, nailing the look requires a *lot* of hairspray. Speaking backstage with Allure, Palau noted that "layering the hairspray keeps your head shape strong so you keep a strong, sculptural appearance to the hair." If you want to get that Kaia Gerber hold, try the Redken Triple Pure 32 Hairspray used backstage.
Heavy On The (Black) Liner
Over the lid, bold on the lower lash line, or drawn all around the eye, black eyeliner (and a lot of it!) was all over the Fall/Winter 2020 runways creating full grunge glam looks. Backstage at Dior, creative and image director of Christian Dior Makeup Peter Philips told NYLON the trick to accomplishing the look was using two different formulas. "I used [liquid] eyeliner because it's easier to draw, but I didn't do a full kohl because, by the time the show starts, it will all be gone," he said. "Instead, to make the kohl smudginess, I used a waterproof pencil on the edges so that there is some movement, but not uncontrollable. There's a rawness to it."
Deep Parts
Jil Sander, Valentino, JW Anderson, Emilia Wickstead, Loewe, and more all agreed on severe deep parts in the hair for their runway shows, offering up a sleek (and relatively easy to accomplish) solution for when you want to try something new with your hair with minimal commitment.
Diffused Smokey Eye
Much like with heavy eyeliner, this eye trend leans into the grungy, punk aesthetic. Artists at shows like Max Mara and Laquan Smith used both creams and powder shadows to create smudged, unblended, and messy-but-cool eye looks in each city.
Wet Shimmer Shadow
This style marries two of the most popular eye trends of the last year: shimmer and dew. At Alice + Olivia, Maybelline lead makeup artist Erin Parsons created three looks for the show, two of which included foiling — a mix of metallic powder pigment and a wet base like primer or setting spray — for the wet take on Euphoria eyes.
Two-Strand Twists
While every kind of braid found its way onto the runways in cities this season — from the finest textures to the kinkiest coils — two-strand twists were a standout from show to show. With origins from African hairstyles, the simple twists are an easy way to switch things up.