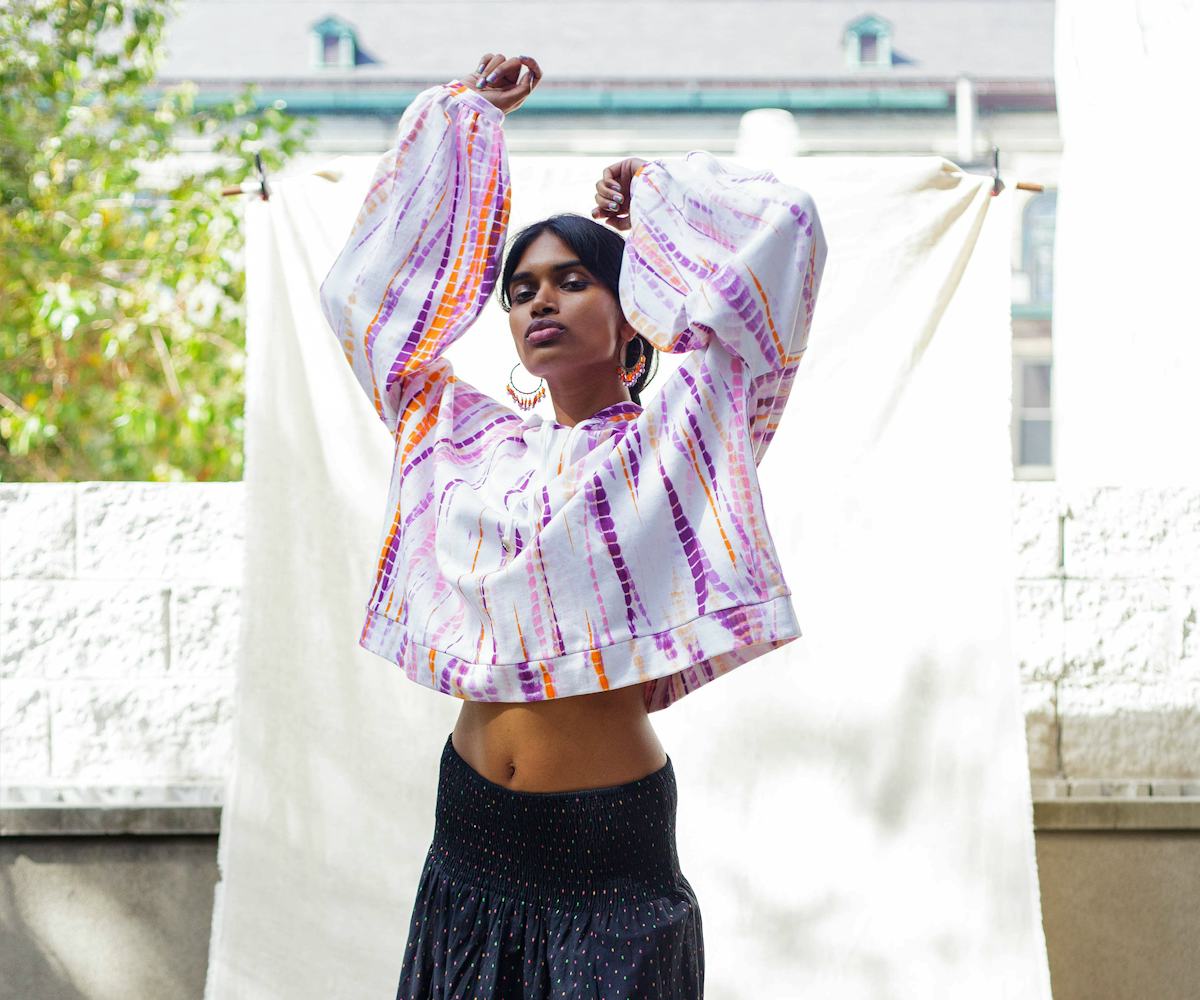 Meet Abacaxi, A Brooklyn-Based Fashion Brand With Indian-Inspired Tie-Dye Prints
Designer Sheena Sood amplifies her artistic background and her heritage's textile techniques
A line of shisha mirrors adorns the front of a green linen dress from Brooklyn-based fashion label abacaxi. The embellishment, which serendipitously sparkles as it catches the light, is a type of Rajasthani mirror work from India and an ode to designer Sheena Sood's childhood and culture.
"When I was little, my mom used to have these really cool knit sets from the '80s and '90s, and she would put this line of rhinestones down the front of the shirt and on my dresses, too," recalls Sood to NYLON. "There's something really Indian about that to me, the need to embellish stuff, so I was inspired by that. It also kind of evokes the chakra points. That was not conscious on her part at all, but I loved that little detail. She just had these ways of making South Asian style come into her style."
Shisha embroidery is just one of the many textile techniques that Sood pulls from her heritage. Within abacaxi's full debut collection for Spring 2020, which launched on Tuesday to celebrate the Indian festival holiday Holi, there's a stripe-like tie-dye pattern, also from Rajasthan, called Lehariya. ("It doesn't look like your typical tie-dye that we see in the West," she says.) A long knit tunic resembles another traditional silhouette that's usually worn over pants, while the Divya blouse, made in New Delhi, India, pays homage to the sari with a pleated crepe scarf that can be draped over the shoulder or tied into a bow. Ikat woven fabrics are mixed with metallic materials, and the loose, wide-flared bottoms with smocking are modeled after Sharara pants. "This type of pant is very trendy right now, but in India you would wear this under a tunic, traditionally," explains Sood.
Before Sood started abacaxi, she studied art and made paintings that were focused more on textiles, tie-dye, beading, and embroidery. Ultimately, that led her to fashion design. After graduating from Brown University, she moved to Brooklyn and got a job for Tracy Reese as an assistant designer. "I didn't set out to start a brand initially, but I had taken three months off to sort of reset," says Sood. "I was traveling in India because my parents were living in Bombay at the time." While in Rajasthan, she started to collect vintage patchwork embroideries, though she didn't know exactly what she was going to do with them. "I just loved them so much," she adds.
Once Sood was back in Brooklyn, she met a store owner to collaborate on a capsule of silk dresses and blouses. "I used those vintage patches, so each piece had a unique embroidery on it," she notes. Thus, the early days of abacaxi were coming into place. Sood chose the name of her brand — the Portuguese word for "pineapple" — based on a trip to Brazil, where she remembers sellers on the beach yelling the names of the fruits for sale.
"Tropical fruit has been a theme throughout my life," recalls Sood. "In addition to my mom's style growing up, I very clearly remember my first time tasting certain fruits in India." Her spring collection, titled "Fruit Nostalgia," includes a T-shirt embroidered and beaded with seven types of fruits, such as a sitafal or sugar apple, jamun (a type of plum), and amla, which is an Indian gooseberry.
Sood also has a few collaborations in the works, set to release this summer, that include natural Indigo dyeing from Bangladesh and special tie-dye pieces for the plus-size vintage shop Berriez. Abacaxi's Fall 2020 collection, which Sood debuted to buyers in Paris in March, is titled "Butterfly Effect" and interprets patterns found in nature through textile work. For that season, she'll introduce bandhani, another Rajasthani tie-dye technique that's more abstract, and embroidered quilting patterns, like corduroy stitched with a zebra motif.
"Eventually, as the company and resources grow, I would love to work with artisans not just in India but all over the world," says Sood. "But for now, my heritage is definitely a huge inspiration for the brand."