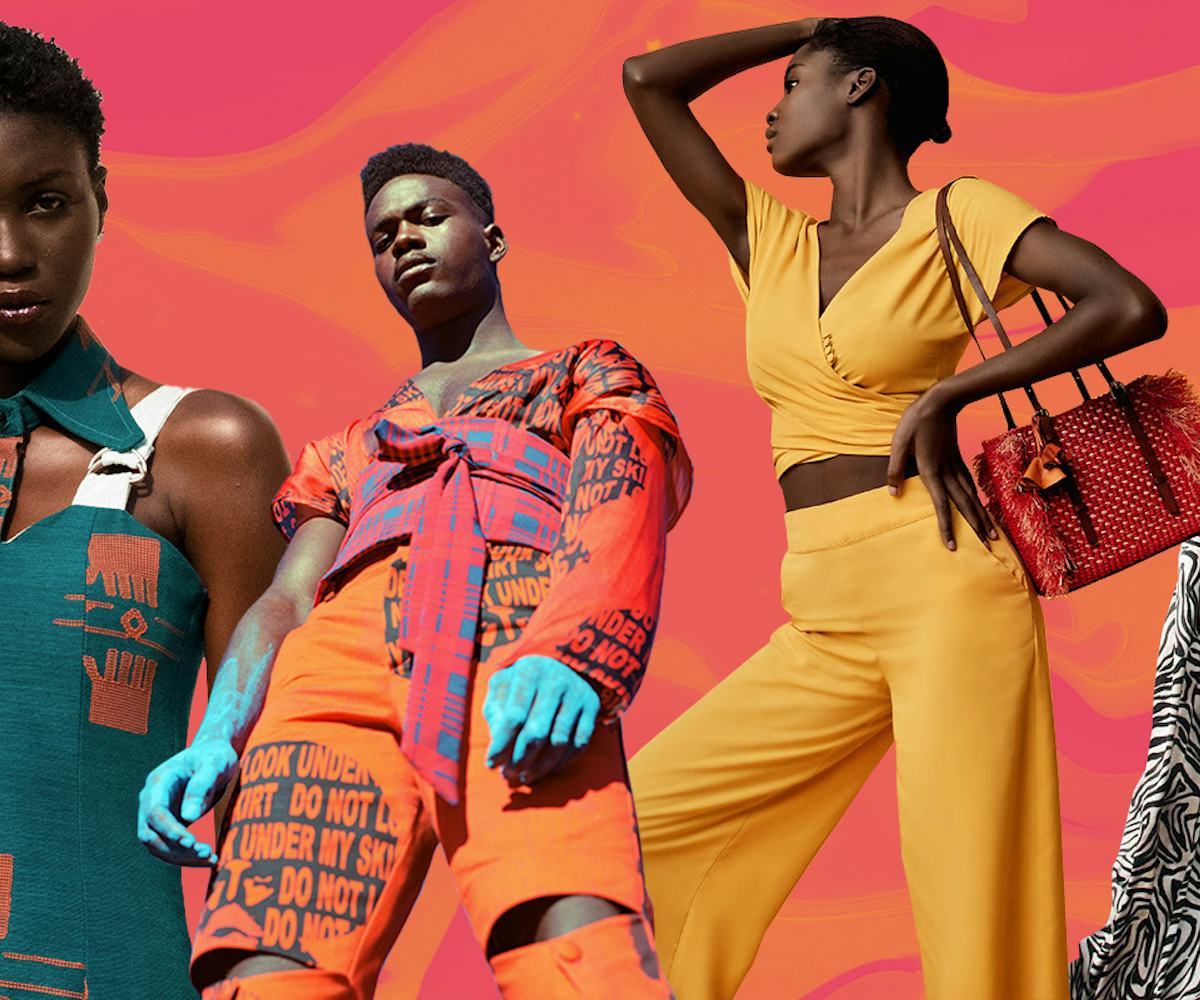 Photos Courtesy
5 African Fashion Designers You Need To Know Now
As African fashion is finally having its deserved moment in the international spotlight, here are five trailblazing designers who are leading the wave
Historically, the relationship between the global fashion industry and the African continent is one that has been undeniably problematic and fraught with disrespect, cultural exploitation, and appropriation, from the problematic history of the ankara fabric — West Africa's most identifiable fabric — to western fashion houses taking credit for the work of local African artisans and designers. However, this is quickly changing as traditional techniques, fabrics, and African fashion designers are garnering global attention.
In recent years, Lagos, which is fast becoming the continent's fashion capital, has hosted Arise Fashion Week and the Style House Files-produced Lagos Fashion Week, which have welcomed some of the world's most prominent editors and industry insiders. The former, in particular, has earned supermodel Naomi Campbell's seal of approval: After making her debut walking the Arise Fashion Week runway in 2018, Campbell returned in 2019, taking on a more curatorial role. Emerging talents across the continent have also made their way to the international stage, including Nigerian designers Adebayo Oke-Lawal and Kenneth Ize, who were both finalists for the LVMH Prize in 2014 and 2019, respectively, as well as South African designer Thebe Magugu, who won the Prize in 2019.
In today's world, African fashion is no longer seeking the approval of the global industry — it is coming into its own as a force to be reckoned with. A major catalyst in this evolution is the trailblazing young talents who have taken the charge to create revolutionary work and tell stories that break stereotypes and preserve age-old techniques, all while building a sustainable fashion business infrastructure on the continent.
NYLON caught up with five of these designers to talk about their inspirations and what the future holds for the African fashion industry. Read on for more.
Thebe Magugu
In 2019, Thebe Magugu was showered with applause as he was awarded the LVMH Prize. This well-deserved win was more significant than a celebration of one of the most promising minds in the industry, but an acknowledgement of the important work Magugu is doing in South Africa. In the three years since launching his eponymous brand, Magugu has been using fashion to shift global perceptions of his home country.
"I want my clothes to be a medium in which to express my thoughts and politics while giving its wearers a glimpse into our history, telling stories that people would've otherwise not known," Magugu tells NYLON.
Magugu's brilliance shines through in how he effortlessly yet deliberately channels South Africa's rich culture to create work that shatters western expectations of what South African fashion looks like. The results include sculptural pieces that play with corsetry and unexpected slits, like a fitted cashmere suit jacket, which falls into a wrap-style shawl, or a pleated skirt with a surprising chevron pattern that references South Africa's handiwork tradition. "I always try to prove western ideas of African fashion wrong because it is often quite dated and lazy," says Magugu. "I was raised between my culture and a globalized view, so my clothes will be my experience of Africa, which is more authentic — and not the Africa that everyone thinks it should be. I think a lot of African designers and creatives share this view: That African fashion is so much more than what it has been painted out to be."
Orange Culture
When an untrained 20-year-old Adebayo Oke-Lawal, who at the time was working in corporate finance at an oil company, founded Orange Culture in 2011, there wasn't a brand like his in Nigeria. There still isn't. Oke-Lawal's ability to incorporate bold colors and traditionally feminine silhouettes into Orange Culture's collections and pieces have pushed the brand forward to become one of the biggest names in fashion from Nigeria, as well as Africa at large.
"I want my clothes to speak from a place of liberation and freedom," says Oke-Lawal to NYLON. "My clothes are an escapism from a reality where our rights are being taken from us and stereotypes are being imposed upon us. My clothes push us to believe in differentiation and the beauty of being and expressing yourself, however you choose, no matter where you are based or from. My clothes also speak to a non-cliché story of Nigeria — my Nigeria and the Nigeria I love and want to improve."
At its core, Orange Culture is more than just a brand or line: It is a subversive movement attempting to use fashion to push at the confines of gender and masculinity in a country where unconventional modes of self-expression aren't just discouraged but also punished.
Tongoro
The music video for Beyoncé's "Spirit" for The Lion King was a visual masterpiece, complete with stunning imagery, impeccable storytelling, and hypnotic movement. It also featured some of Beyoncé's best looks to date, which included a Tongoro bespoke suit and durag. But this isn't the first time the pop star has been spotted in the brand. In 2018, she was seen wearing Tongoro a total of four times.
One glance at the brand's pieces and you can tell why it's a favorite of not just Beyoncé, but also a slew of other stylish celebrities, including Naomi Campbell, Alicia Keys, Burna Boy, and many more. Tongoro's aesthetic is very directional with vibrant patterns and billowing dramatic pieces. "I want my clothes to say, 'Iam free. I am fearless. I am proud,'" says creative director Sarah Diouf to NYLON.
After speaking with the Dakar native, you can't help but notice this business-savvy woman's plans to help build the African fashion industry. "I think African fashion is still at the stage of being an ecosystem more than an industry," says Diouf. "We still have so much work to do when it comes to structure and foundations."
Emmy Kasbit
To fully appreciate the designs of Emmanuel Okoro's brand Emmy Kasbit, founded in 2014, you need to see them up close. "The most fascinating part of my design process is the fact that I get to create custom textiles based on my inspiration for that season," Okoro tells NYLON. "I also get to create more job opportunities for the women — the artisans — that I work with because this is a craft that has been long forgotten and I'm trying my best to preserve it and take it with me wherever I go."
The fabric, which Okoro mainly uses, is called Akwete and made from a hand-weaving process native to the women of the Akwete village in eastern Nigeria. For Okoro, the creative process is more than just the novelty of working with a fabric with such a strong history, it's also about preserving these techniques and empowering the artisans, who otherwise would have no other source of livelihood, according to Okoro.
While working with this special textile, Okoro reinterprets and blends traditional artistry and modernity with a very tongue-in-cheek flair, resulting in eye-catching pieces, like a rich printed bomber jacket and a deconstructed one-sleeved akwete blazer.
AAKS
Since 2014, Akosua Afriyie-Kumi's AAKS aims to preserve the techniques behind making raffia bags that have been passed down within Ghanian tribes for generations. In order to ensure that these skills do not die out and to provide a sustainable income to the women of Northern Ghana, AAKS thrives on a design philosophy with craftsmanship as its foundation, all while improving on these age-old techniques to produce practical, modern-day designs.
"I grew up around basket bags as a child in Ghana, I used to give them as gifts and also use them for storage," recalls Afriyie-Kumi to NYLON. "I remember having a lot of 'I wish it was more like this, I wish it was more like that' moments. I wanted it softer, almost foldable, and also more colorful with a beautiful finish and detail." One of its most popular designs, the Baw Pot bag, is exemplary of this, as it comes in a variety of patterns and colors, along with updated details, like a soft linen lining and leather trim.