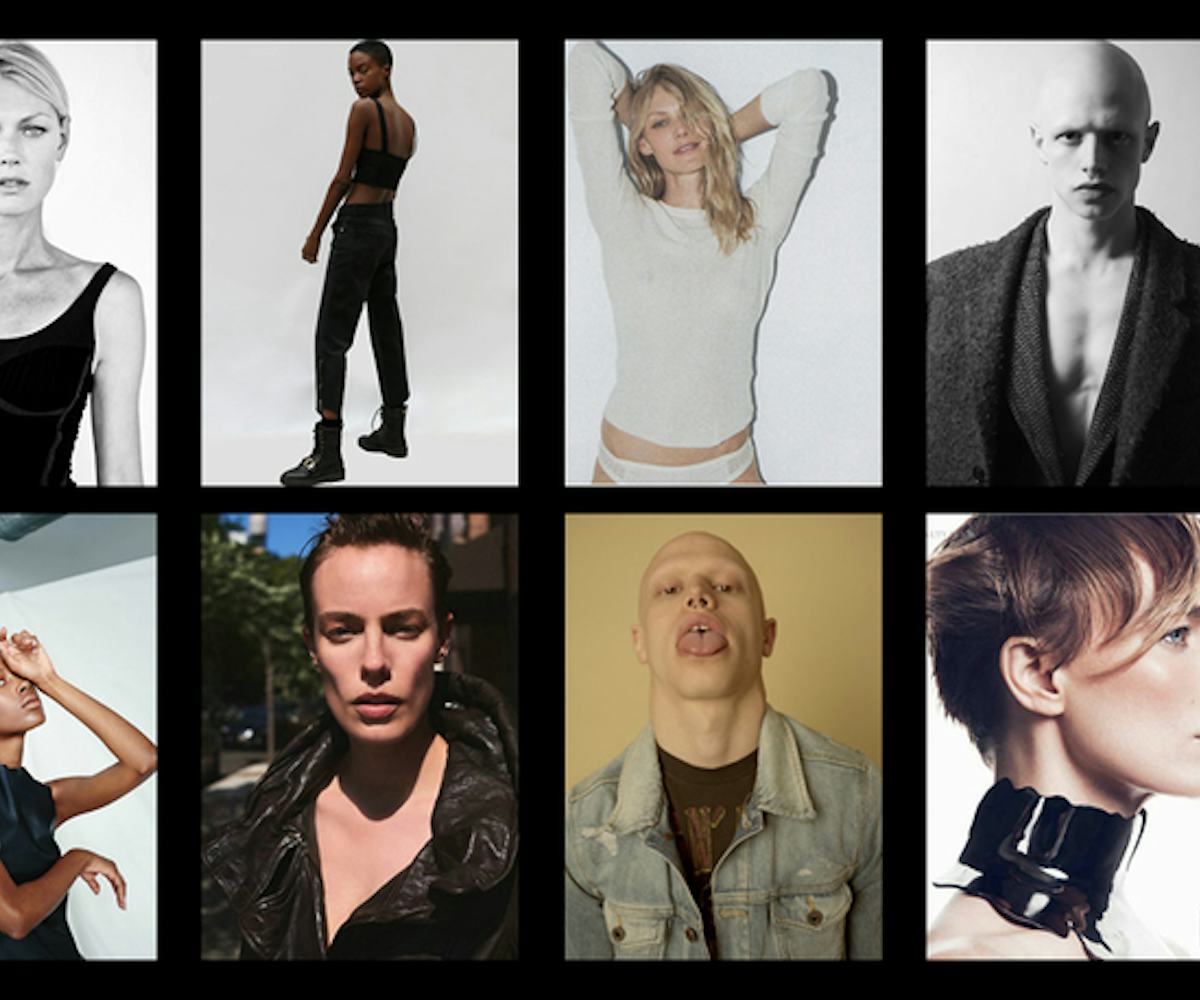 Photos courtesy of Anti Management
How Two New Agencies Are Creating A Safe Space For Young Models
Fashion might be all about glamour and beauty, but the world of modeling has a rather ugly side
Modeling is an industry built on perfection, beauty, and the never-ending chase for the next big face. So, naturally, it's also an industry rife with corruption, mistreatment, and bad practices. Every so often, stories emerge that reveal the ugly underbelly of this supposedly glamorous business. And the details are far from chic.
"I was once shooting a lookbook where the stylist, helping me dress, used this chance to feel my body much more than necessary, and continued to do so throughout the entire shoot," model Fernanda Ly revealed in March. And in another case, nearly 150 models were locked in a dark stairwell for hours at a time during a casting in February. There was also the time a Danish model was dropped from a show for having a "bloated stomach" and "bloated face" in May. Needless to say, mistreatment in the modeling industry is a tale as old as time. 
Even today, when it's encouraged to be outspoken on social media about once-taboo topics, it's difficult for models to expose the abuse they've weathered—especially if they want to continue to book profitable jobs. "Models, more than others, censor themselves in fear of losing critical jobs. As a result social media has become their soapbox, but many are still reluctant to voice their own frustrations," Models.com wrote in an exposé that answered the question, "How Should a Model Be Treated?"
While there isn't one simple answer to that complex question, there are a number of champions out there who have dedicated their careers to reforming the industry, one job at a time. There's esteemed casting director James Scully, who uses his position to promote diversity and Sara Ziff, the founder of the Model Alliance, who fights for fair treatment and equal opportunity in the industry.  
Then there are agencies, the companies that models rely on as a point of communication between the fashion brands employing them—they handle money, negotiate contracts, and generally manage the careers of these runway regulars. One would assume that the business-minded agencies would have the best intentions for their clients, but that's not always the case. Instead, agencies tend to focus on the financial interests of the agency itself.
"As the years passed and I learned more about the business, it became increasingly apparent that the scales were tipped," explained Gabriel Ruas Santos Rocha, a former agent at the erstwhile Trump Model Management who left to start his own firm this spring. 
With years of experience on the management side, Rocha left the plagued agency founded by POTUS (which had become notorious for less than ideal treatment of its models, including illegal immigration practices, blatant financial exploitation, and cramped model apartments that were "like a sweatshop") to start Anti Management. His intention was to overhaul the treatment of models, across the board, offering them a space where their careers could be fostered and their personalities could be preserved. That included addressing the way bookers treat models and improving the efficacy in which the men and women he represents get paid. 
Just a few months old, Anti Management is already garnering attention for not separating models into boards, the usual practice of dividing models into categories such as curvy, men's, new faces, and so on. That means bookers at Anti work with all types of models, across all types of jobs, from commercial print to runway shows. Further, Anti doesn't distinguish trans models from the rest; there's no label signifying their change in gender, as they simply are who they are. As Rocha puts it, he wants all of his models to be treated equally.
He offered a simple example of how this organizational setup can benefit both his models and the fashion clients. "If Tommy Hilfiger calls in today needing 15 different types of models of all ages and races, they will only need to speak with one booker, and this one booker will offer them the whole set of possibilities." 
Some of Anti's biggest faces include two Brazilian top models Shirley Mallmann and Fabiana Saba, plus Madisin Bradley and the famously androgynous Elliott Sailors. The agency has also taken chances on models that don't tick all the boxes of conventional beauty. Take Bice, for example. At only 5'8", he's far shorter than the average male model, but he also rocks an ethereal and otherworldly look, a result of alopecia universalis, an autoimmune disease which has left him entirely bald—including his eyelashes and eyebrows.
"[He] was turned away by every single modeling agency in and out of town, but Bice really showed us all how perseverance and talent stand out no matter how tall you are. Interview, Hero, Iris Covet Book, and Vogue are some of the editorials he's booked since joining us at Anti," Rocha boasted.
Rocha also encourages his talent to embrace their interests outside of modeling. Whether that's honing a DJing skill, like Eric Chong, studying at Pratt Institute, like David Pesin, or chasing a passion for cooking with cannabis, like Fabio Nunes, he wants to make sure that the Anti Management models are a well-rounded bunch who can find fulfillment in all areas of their lives. 
But Anti Management isn't the only agency making a difference. Across the pond, Linden Staub has emerged as a mother agency (the firm that exclusively sponsors models and promotes them out to booking agencies) that takes the title of mother to heart. In fact, Tara Davies and Esther Kinnear Derungs have adopted a company-wide policy of empowering women, from their London office.
"In a nutshell, we see our models as human beings, not as a business commodity. We put our models' welfare in front of our business targets, often investing in them financially and at the same time trying to keep their costs down because we do not feel it is right for a young woman to start her career with thousands of pounds' worth of debt," Kinnear Derungs told us. 
To maintain that promise, the models represented by Linden Staub are paid the day after a job is complete, regardless of when the client submits payment—which can often be months later. 
"Linden Staub models are empowered by financial independence. By knowing when they will be paid, they are able to lead more independent lives," explained Kinnear Derungs. The two co-founders also make sure to educate their models with an accounting demo, teaching them how to navigate the world of payments, fees, and taxes, providing these young professionals with vital fiscal knowledge. 
The agency was started in March 2016 with just four girls; they now represent 11 international models, including Georgie Taylor and Lydia Atchison, and have 75 new faces in development. And though they're small, the firm is mighty, having landed gigs for their girls at top brands such as Vivienne Westwood, Burberry, Gucci, Ralph Lauren, Dolce & Gabbana, and Michael Kors.
And similarly to Anti Management, they understand cultivating a model beyond her runway walk and her social media following. "Above all, we try to preach the importance of downtime, of doing things that feed your soul, not just your Instagram," Davies said. 
Though there's still plenty of reform to go, in terms of models being treated right, paid on time, and not discriminated against for their race or gender, at least a few members of the industry are stepping up. And that is one leap toward a healthier fashion industry that is pretty, inside and out.