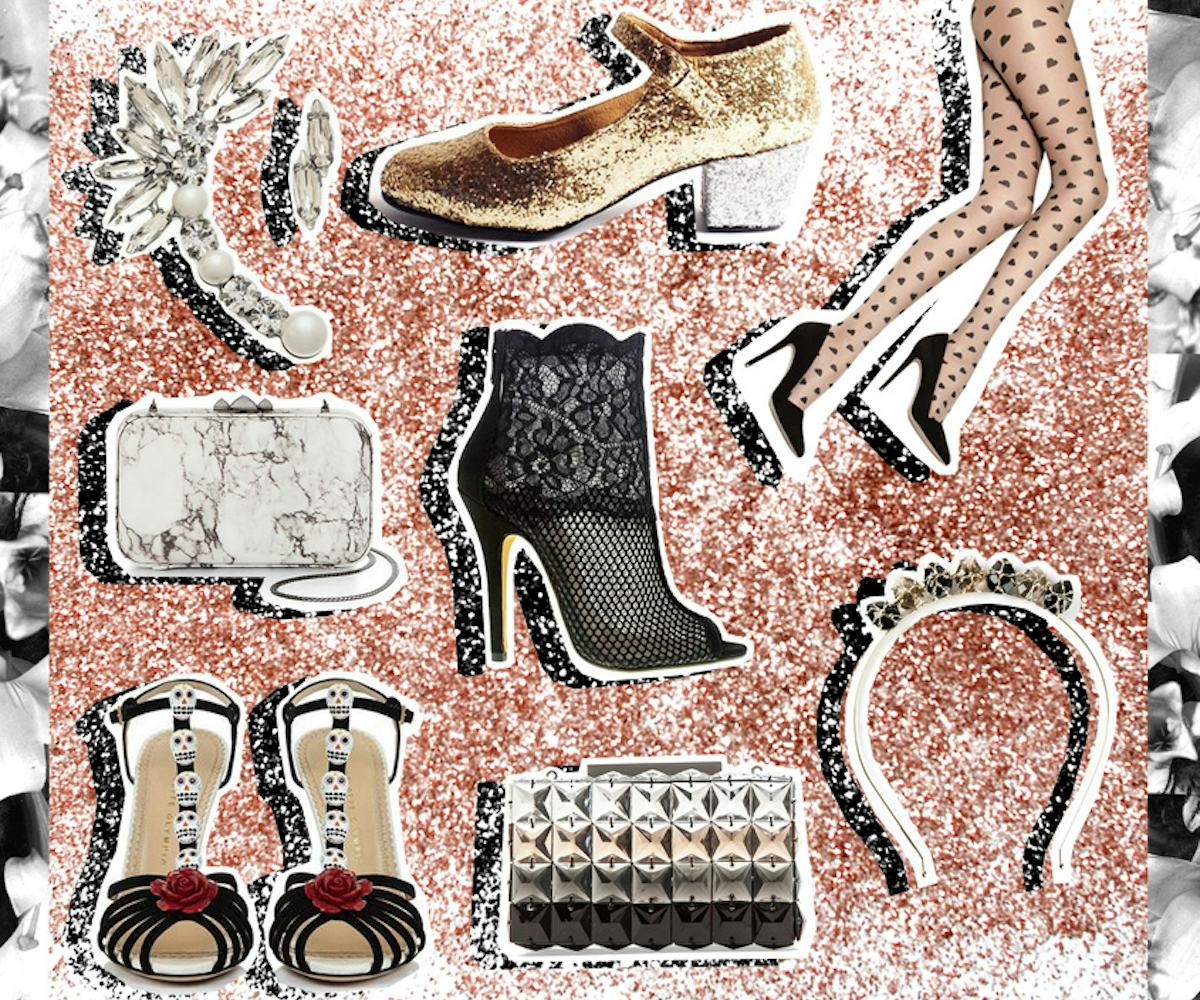 15 bold accessories for badass brides
strut, don't walk, down the aisle
The wedding industry is a powerful force. Aside from manifesting phenomena like monogrammed cocktail napkins and maid-of-honor-themed iPhone cases, it has also decreed that, on the day of your wedding, thou shalt wear ladylike shoes in soft hues, delicate diamonds and pearls around your neck, a frilly garter around your leg, and perhaps a demure cluster of rhinestones in your hair. Luckily, rules are meant to be broken.
Of course, there's absolutely not a damn thing wrong with embracing all the frills if that's what you're into. But if your everyday style involves more leather and black denim than, say, pastels and pearls, why should that be any different on your wedding day? After all, we're guessing the person you're marrying probably really digs you. Key word being "you"—not an Emily Post-approved version of yourself. (Plus, let's be honest: anyone would feel like a badass walking down the aisle in glitter pumps and a leather jacket.) 
So, in honor of fearless brides-to-be who want to let their style shine through on their big day, we rounded up a few accessories that boldly buck the bridal trends. Because if wearing studs and safety pins down the aisle is wrong, we don't want to be right.
Not your grandmother's pearls, unless your grandmother was Siouxsie Sioux. For the traditionalist with an edge, this Vivienne Westwood necklace gives classic pearls a punk-rock twist with deceptively delicate safety pins. PS: there's a bracelet and earrings, too.
Vivienne Westwood, Jordan Necklace, $475, available at viviennewestwood.com.
Step away from the pashmina. Of all the bridal toppers in the world, there is positively nothing more rad than a perfect leather jacket. This cropped number from Reformation is the ideal cut: It hits right at the waist, flattering your figure without overwhelming whatever you choose to wear underneath. Not to mention the fact that, unlike most other bridal cover-ups, you'll actually wear this one again and again.
Reformation, Locke Jacket, $398, available at thereformation.com.
You've seen one bejeweled bridal clutch, you've seen them all… right? Not if this one has its say. Embellished with pyramid-stud faux crystals, it adds just the right amount of edge (especially if you go full-badass and pair it with the above leather jacket). Hot tip: BCBG also makes similar versions in rose, silver, and gold.
BCBGMAXAZRIA, Lulu Clutch, $138, available at revolveclothing.com.
We've seen rose gold all over the wedding blogs—but not like this. This spine-tinglingly gorgeous piece of jewelry comes from Norwegian designer Bjørg Nordli-Mathisen, who crafts her pieces using rough precious stones and textured metals.
Bjørg, Rose Gold Plated After Eden Cuff, $935, available at avenue32.com.
It's a crown. With spikes. What more do we need to say, Khaleesi? While some bridal headpieces can veer into Childlike Empress territory, this piece is a flawless balance of minimalism and daring.
Gabriela Artigas, Full Tusk Crown Headband, $420, available at gabrielaartigas.com.
Clutches designed for wedding wear tend to follow a certain aesthetic: swathed in satin, encrusted in crystals, festooned in frills. Rinse and repeat. But marble-print leather with gunmetal-grey antique silver studs? Yeah, not something you'll find in a David's Bridal. Rebecca Minkoff's collection of marble-print bags already stole our hearts for spring, but for nuptials, this sleek, modern minaudière takes the cake.
Rebecca Minkoff, Vincent Minaudiere, $275, available at rebeccaminkoff.com.
How could you not fall in love with Mary Janes made of glitter? Handcrafted in Mexico, these glimmering heels are made to order with vegan leather and plenty of sparkle. Brides who plan on throwing down on the dance floor, take note: These shoes were made for dancing.
Golden Ponies, Biba Mary Janes Heels, $50, available at goldenponies.net.
Rocking a crown on your wedding day is a triumph in itself. But this stone-cold stunner from Italian designer Rosantica takes bridal headwear to a new level. Each of Rosantica's pieces is one-of-a-kind, cut and crafted by hand in their Milan workshop.
Rosantica, Embellished Hair Band, $559.76, available at farfetch.com.
Ear cuffs exude a certain over-the-top, "Mad Max"-reminiscent level of edginess. Australian designer Amber Sceats gives us an asymmetrical set with cascading crystals and pearls on one side, and simple baguettes on the other. Maximize the effect with dramatically sideswept hair or, if you really want to up the ante, an undercut.
Amber Sceats, Skyfall Ear Cuff & Stud Set, $119, available at shopbop.com.
Bridal boots? Hell yes. Hey, if the rustic set can have cowboy boots beneath their gowns, you're most certainly allowed to rock peeptoe booties. Especially when they involve sultry, lingerie-inspired touches like scalloped black lace and fishnet-style netting. Pair with bold red lips, winged eyeliner, and retro waves for Dita Von Teese-worthy glam.
Chinese Laundry, Jeopardy Mesh Bootie, $89.95, available at chineselaundry.com.
Outside of garters, wedding day leg-wear hasn't really existed since the days of the nude hose. But, if you crave a subtle, covert dash of style, a pair of funky patterned tights can be just the ticket. These cheeky Alice & Olivia tights can add a hidden touch of pin-up sass to your wedding day ensemble—and are way more fun to wear than Spanx.
Alice + Olivia, Bold Heart Tights, $48, available at prettypollyusa.com.
The slow and steady comeback of the wedding hat fills us with so much joy—and the opportunities for donning a truly standout headpiece are endless. Truly, we could spend hours sifting through pillboxes and cocktail hats: But just feast your eyes on this lovely, structured leather number from Justine Bradley-Hill, or the over-the-top plumage and veiling on Beth Morgan's "Florence," or the insane construction of this floral work of art. But with its leather, feathers, and exquisite, Artemis-esque handmade arrow, Lisa Tan Millinery's handmade beret truly took our breath away.
Lisa Tan Millinery, Elsa, $484, available at lovehats.com.
Where to even begin with Charlotte Olympia? The opportunities for fierce wedding-worthy footwear from this quirky London-based designer are endless, from pumps emblazoned with flirty red lips to spiderweb sandals to Cinderella-inspired "glass slippers". But we're partial to the Yolanda, a Dia de los Muertes-inspired pair festooned with red roses and teeny-tiny skulls. Strutting down the aisle in these puppies gives a whole new meaning to "til death do us part."
Charlotte Olympia, Yolanda, $1295, available at charlotteolympia.com.
This handsome, simple barrette manages to draw inspiration from nature without feeling like a costume piece from "A Midsummer Night's Dream." And, at four inches long, it's dramatic enough to dress up pretty much any hairstyle, making it practically foolproof (it even comes with its own video tutorial).
Pluie, Antler Barretta, $143, available at pluiehair.com.
For the needle-squeamish (or commitment-phobic), a temporary tattoo offers a way to wear your love on your sleeve without getting permanently inked. And thanks to design-centric companies like Litographs and Tattly, these things have come a long way from the days of Fruit Stripe Gum. (Note: these would also make killer bridesmaid gifts or favors for your guests.)
Ulysses, Book Tattoo, $5, available at litographs.com.