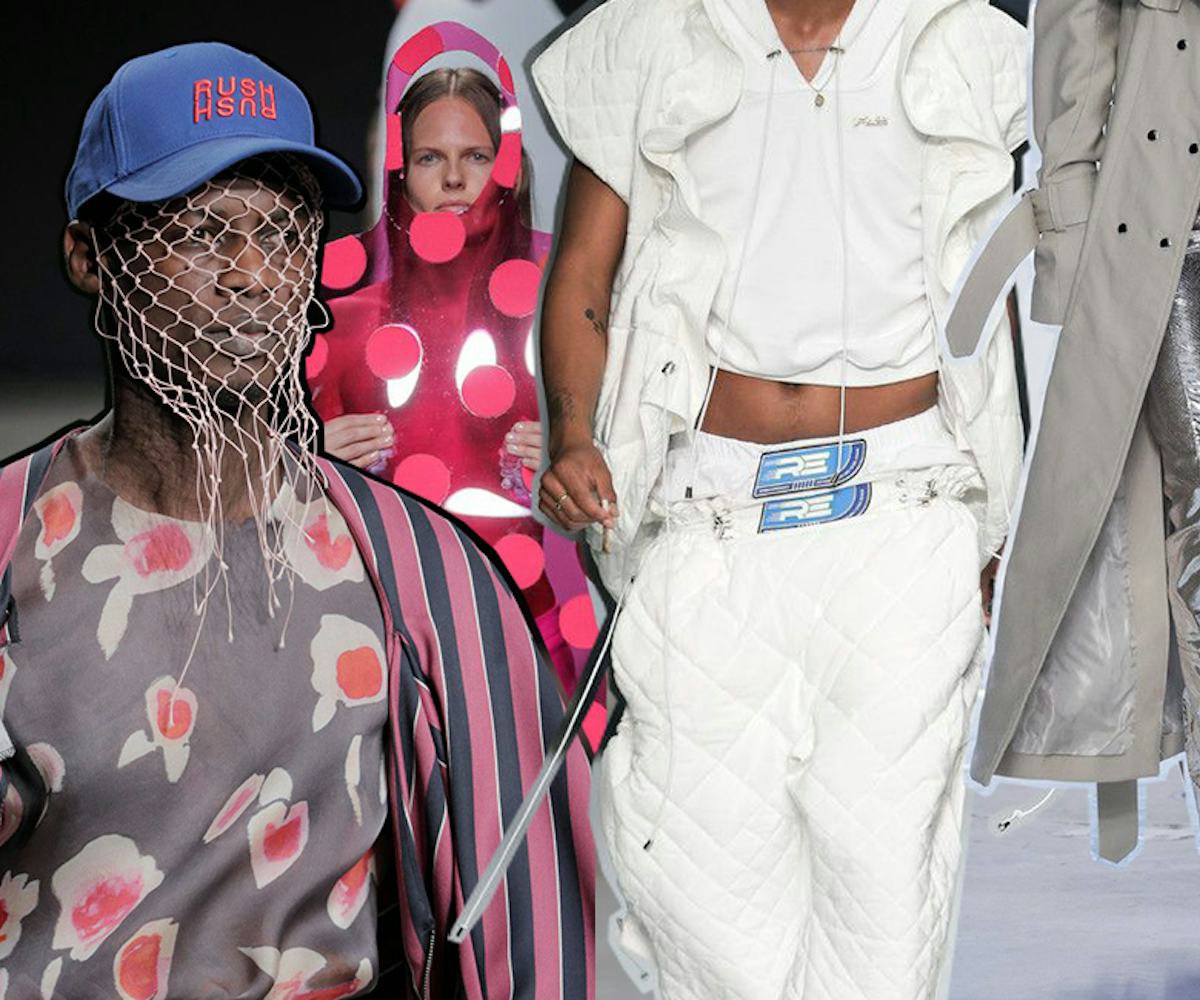 Why We're Obsessed With Amsterdam Fashion Week
My brain hurts. My eyes hurt. My soul hurts. Everything hurts. Am I even alive? Ever since I got back from Amsterdam, it's as if I'm coming down from being as high as a Mariah Carey whistle note, yet I not even once visited any of the city's many cannabis coffee shops. I can't really explain the feeling, but I do know the source of the aforementioned ultimate high, painful comedown: Mercedes-Benz Fashion Week Amsterdam.
Amsterdam's fashion week just wrapped up with a kickass bang Sunday night, courtesy of club kid cult favorite MAISON the FAUX—host to what might've been the most maniacally memorable show I've ever witnessed (and might ever witness)—but I'll get to that amazingness that broke my brain later, because: #SaveTheBestForLast. 
It was clear that I was in for a treat about three seconds into the opening show from fashion collective Leben am Haverkamp. We've all read (while simultaneously rolling our eyes at) show reviews that exaggerate (read: lie) about some designer who says they used models of every age/shape/size/color, but Leben am Haverkamp is really refreshingly committed to this. As for the clothes? Well, models were topless and wore tighty-whities and a socks-and-flip-flop combo while carrying 2-D silhouettes of zany looks down the runway. It was a weird, wacky, wonderful experience. A jet lag-curing B-12 shot if you will. So, thanks for that. Apparently, the collection was all about questioning the function of fashion. I still don't know what that means. Perhaps that clothing acts as a superhero shield, but what's behind the garment is what really matters… or something? It's up for interpretation, which, I think, is what fashion is or should be all about. You own the fashion, the fashion doesn't own you. It's how you rock it and all that jazz. 
Speaking of styling—WHOA!!—Amsterdam designers take styling to lunatic levels, and I mean that in a really good holy-help-me kind of way. I lived for HACKED by Van Slobbe Van Benthum, who makes statement pieces, while also actually making a statement. See also: They take overstock fast fashion and turn it into edgy beauty. A cool kid posse (it was perfectly cast) swagger-stomped down the runway rocking modern, millennial-approved streetwear. Each and every piece boasted unique, head-turning details that you won't find on a Forever 21 rack: threadwork embroidery, reflective tape, multicolored collages of bright fabrics, etc. It was wearable AF, albeit comfy and understandable art. Shorts are long and wide, shirts have dropped shoulders and roomy fits, dresses have dropped waists. Let's reflect on those cuckoo wide-legged trousers paired with a tucked-in windbreaker. Also, special shout-out to the sooo '90s lanyard key chains. The only thing fast about HACKED is how fast you'll be draining your bank account via their online store. It's worth it. Also, take notes Dolce & Gabbana, this is how millennials do their thing. 
New obsession alert: TRINHBECX. Models-goddesses stormed the catwalk to Lorde tunes, all the while looping through a majorly space-y maze of a set while clad in abstract and geometric athletic wears. Glossy vinyl tech fabrics, patent leather trenches/jackets/pants in thrilling colors, and big-ass B-A-N-A-N-A-S bags. At times, I felt like I was hair-whipping on the moon in Britney's "Oops!… I Did It Again" music video; TRINHBECX could've totally made that iconic red catsuit, btw. Other times, I got TLC "No Scrubs" video vixen yet cool and confident as shit vibes. There was also a bit of fierce and feminine Dion Lee-like moments. Slay me. It was all very late '90s/early aughts girl group, like a spaghetti strap bustier with a side of a slip dress-donning Kate Moss. In other words, amazing. And, one more time: THOSE. B-A-N-A-N-A-S. BAGS. 
And then there was Reconstruct! I don't know where to begin. The Manic Panic spiked hair and braids? The makeup? The bling x bandanas x Oakley sunnies? There was also a model puffing on a joint. The '90s hip-hop-meets-futuristic-inspired collection was all about the architectural and the abstract. It was sort of like if Hood By Air, Gypsy Sport, and Vetements had a threesome: DIY, punk, sexy, rebellious, fun, #need. 
Then there was an audience favorite, Botter, who you might know—they showed last year for the first time at New York Fashion Week on the V-FILES runway, and Young Thug is a fan. This collection was like a beach vacation gone wild, with hints of Christopher Shannon in its playfulness and deconstructing/fucking with classic menswear pieces. (Someone get Opening Ceremony on the phone, ASAP.) As for the accessories: A swimming pool inflatable dolphin as a hat? Why the fuck not. Electric blue netting as a veil? Yes, please. Garbage bag chokers? So down. I think this might've had something to do with all of the tragic trash in the ocean. Notice the cameos of some very American logos, like Shell (the gas station) and Kool-Aid. I see what Botter did there, and I love it. 
This is where you should prepare to lose your mind. MAISON the FAUX. It was the last show of the week, and I was super Walking Dead until I arrived to the venue to be taken to my seat by robe-clad individuals. The back of their robes read "This girl loves tanning #TANLIFE," which was appropriate considering the glowing, spaceship-like tanning beds that were scattered all over the catwalk. A Tim Burton-esque soundtrack played as the audience waited/went at it on their iPhones for the most anticipated (and best) show of the week. I was in hysterics. I could barely breathe. I wasn't alone. What I think were meant to be stewardesses with headsets frantically snapped iPhone selfies with the models as they powered down the runway (some with a stumbling-out-of-a-rave gait, others fiercely pumping in Rihanna Victoria Secret's "Phresh Out The Runway" performance style). The duds were sweet like cotton candy with a fireball bite. A pastel X popping Molly rainbow. Fluffy slippers and metallic heels and thigh-highs were worn by both male and female models. So much fantastic styling and attention to details—this includes roses in fishnets. This was like fembots throwing a lit sleepover on a spaceship. This was amazing. A kaleidoscope-filtered Instagram Ambien of a dream post. I don't know! I do know that these Amsterdam kids are the future of fashion. And that the models walked in the finale to a violin version of Britney's "Toxic" before the music was cut by a robotic voice on the loudspeaker with one last word that basically summed up Amsterdam's forward-thinking, fearless fashion week: HASHTAG. 
Botter
Botter
Botter
Botter
Botter
Das Leben
Das Leben
Das Leben
Hacked
Hacked
Hacked
Hacked
Maison
Maison
Maison
Maison
Maison
Maison
Maison
Reconstruct
Reconstruct
Reconstruct
Reconstruct
TRINHBECX
TRINHBECX
TRINHBECX
TRINHBECX
TRINHBECX
TRINHBECX