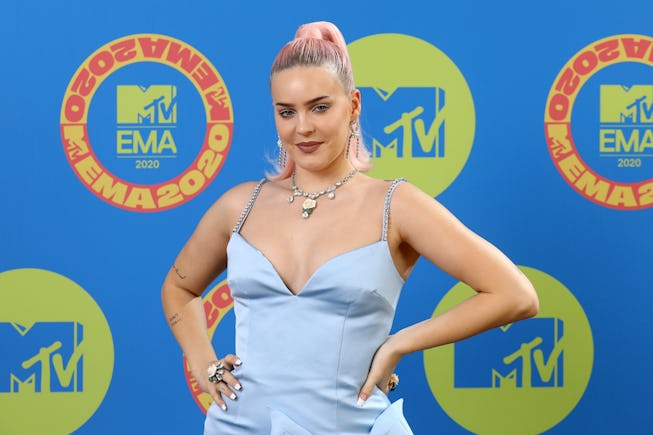 Tim P. Whitby/Getty Images Entertainment/Getty Images
Anne-Marie Shares Her Fashion Diary For The "Way Too Long" Video
Featuring '90s fashion, monochrome looks, and more.
Anne-Marie's latest song could be your new summer anthem. The British performer and new The Voice UK judge recently released "Way Too Long" with producer Nathan Dawe and rapper MoStack, and the dance track's video highlights the singer's favorite style choices, from '90s nostalgia to monochromatic looks.
"[The video] was based on being excited for what is to come," Anne-Marie tells NYLON, which follows the three collaborators having dinner, attending an outdoor BBQ, and doing all of the fun group hangs that we're hoping to do soon in a post-pandemic world.
To channel that excitement, Anne-Marie's wardrobe for the video was "very colorful," she says. "From my dream baby blue mini-dress to the all-red car journey look, and I added some Versace in there, too. I've also been wearing oversized tracksuits all through lockdown, so I thought why not?"
Anne-Marie worked with her longtime stylist Phoebe Lettice Thompson to help put together her outfits, whether by giving the singer some unexpected items to try, or gathering looks based on what's inspiring them at the moment. "I'm a tomboy so she gets me in heels. It's a good combo," says Anne-Marie. "Depending on the video treatment, we throw ideas and references into the WhatsApp group and Phoebe does her thing and pulls in the options."
A '90s baby through and through, Anne-Marie's favorite look in "Way Too Long" was what she wore in the video's first scene. The nostlagic 'fit included a cap-sleeve T-shirt dress, platform heels, colorful beaded jewelry, and finished with a hair look featuring butterfly clips.
"I just loved that era — fashion, music, culture, it was just so great," recalls Anne-Marie. "I loved the early 90's as a teen and being able to really play with fashion."
Below, see more of Anne-Marie's "Way Too Long" outfits as shares her behind-the-scenes fashion diary while filming the video alongside Dawe and MoStack.
"...and then I breathed out."Courtesy of Anne-Marie
"Mandatory mirror selfie."Courtesy of Anne-Marie
"When life gives you limes, turn it into nails."Courtesy of Anne-Marie
"Censored!"Courtesy of Anne-Marie
"I whip my hair back and forth."Courtesy of Anne-Marie
"Check mate."Courtesy of Anne-Marie
"Name a more iconic trio."Courtesy of Anne-Marie
"My crew."Courtesy of Anne-Marie