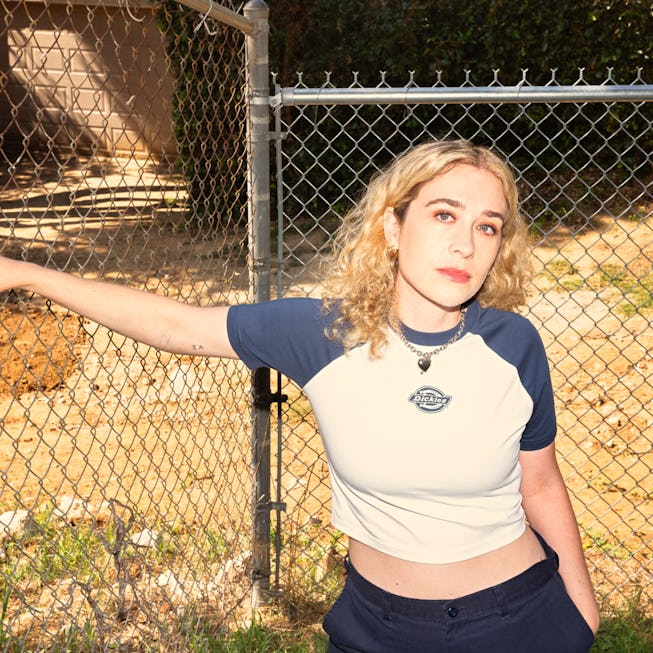 Blondshell On Dickies And Dressing "Bi Normcore"
Introducing Dickies's newest brand ambassador.
Blondshell has always loved Dickies. Growing up with street style icons like Zoe Kravitz and Kristen Stewart, the musician always sought out clothing to fit her style, which she describes as "bi normcore," an aesthetic of which Dickies are a cornerstone.
"When I was figuring out what kind of clothing I liked growing up, it was important for me to have things that fit fluctuations in my mood and gender expression," Blondshell tells NYLON. "Dickies always felt like a cool option that was able do that."
Today, Dickies announces Blondshell as the brand's newest ambassador — a fitting partnership given that she rocks the brand both on and offstage.
Ahead, NYLON caught up with Blondshell about all things Dickies, including her favorite pair of vintage pants, Dickies' recent resurgence amongst other iconic '90s and 2000s brands, and what exactly bi normcore means to her.
Courtesy of Dickies
Courtesy of Dickies
What are your favorite Dickies to wear on stage? What about off stage?
I love the classic 874 Work Pants. They're versatile and can be dressed up or down depending on what you're doing – those are must haves for me. Overalls too. I also have a pair of vintage cargos that I've been wearing at a lot of my shows. Honestly, I wear the same stuff on and off stage!
What do you love most about Dickies?
Dickies has always been a go-to brand for me because of how laid back the style is and the general culture around the clothes. I love that I can style my pieces in different ways and it always feels somewhat effortless.
Why do you think Dickies have been having a renaissance in recent years?
I think skate style in general has been having a big comeback amongst non-skaters (I am a non-skater) as well as music and TV from the 90s/2000s. Dickies is so classic, so of course, it has had a renaissance alongside other brands that became big in that era.
Can you talk about "bi normcore"? What are some of your favorite "bi normcore" pieces?
Okay, so for me "bi normcore" basically means I'm not doing anything crazy with my clothes, but I like things that feel classic and slightly elevated. As a kid, I was always looking at Zoe Kravitz's street style, Kristen Stewart's street style, etc. I like old denim, nice shoes and vintage tees. I also like to show my masculinity in what I'm wearing, which is something I lean into a lot with Dickies. Dickies pants all day for this style.