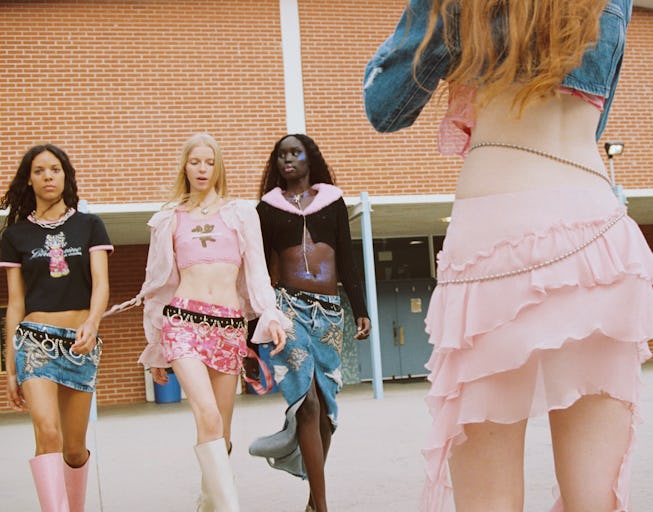 BLUMARINE by MARC JACOBS
Blumarine and Heaven by Marc Jacobs Have Teamed Up For A New Y2K Collection
The iconic Italian brand is bringing you a whole new way to go back in time.
Over the past couple of years, the Y2K revival has thrown Italian fashion house Blumarine back into a full-on resurgence, with the likes of pop idol Dua Lipa often wearing head-to-toe looks from the brand. Now, Blumarine is bringing us "Italian flair meets American streetwear" with a new special capsule collection with Heaven by Marc Jacobs, released today, July 7.
The Blumarine by Marc Jacobs capsule combines some of the best-selling items across both brands, including pink camo print pieces, and embroidered denim tops, jackets, and skirts. The entire collection consists of 11 pieces that can be mixed and matched to create full looks. "Each piece of the capsule is a gem and truly reflects today's spirit, balancing ease and coolness in the most feminine and lighthearted way," Nicola Brognano, Blumarine creative director, said in a press release from both the brands.
Ava Nirui, Heaven by Marc Jacobs creative director, says there are "so many parallels" between Blumarine and Marc Jacobs "then and now". "In my teen and college years, I fell in love with the Blumarine brand and aesthetic — it was the ultimate in feminine, aspirational fashion to me," she says. "I remember lusting after Blumarine advertisements. There was something very powerful about the way the brand depicted women, and I felt instantly moved by these images."
Nirui says the new drop "makes total sense" and it seems that fans of both trending brands agree. After posting the photos from the collection — taken by Petra Collins and styled by Lotta Volkova — yesterday on Instagram, people are already plotting their purchases for the upcoming Barbie movie. "Ok now I know what I'm wearing to go watch Barbie," commented one fan.
The Blumarine by Marc Jacobs new special capsule collection is available now on the Marc Jacobs website and Blumarine website.