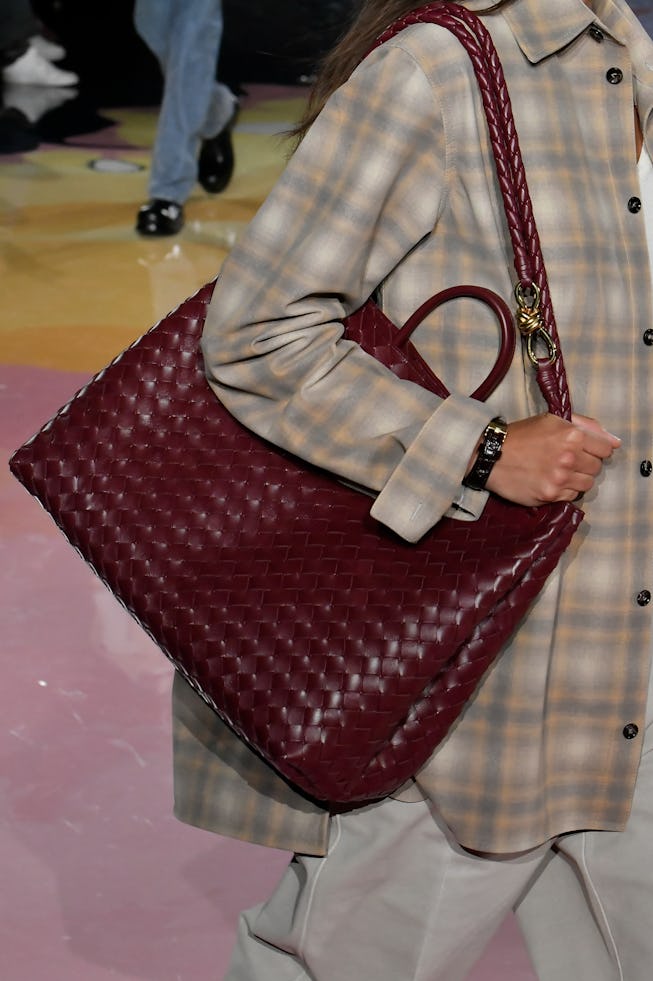 Victor VIRGILE/Gamma-Rapho/Getty Images
Bottega Veneta Just Dropped The Next It Bag For Spring
When Bottega Veneta revealed the Spring/Summer 2023 collection at their September show at Milan Fashion Week, people immediately took to Twitter to praise the show and in particular the leather craftsmanship. "My husband will be wearing Bottega Veneta ss23 or he won't be my husband," Tweeted one user. While Kate Moss' all-leather ensemble which was printed to look like a plaid button-down and jeans was the talk of the internet at the time, others praised the new bags. With exciting new shapes and rich colors, fashion fans everywhere couldn't wait to know when they could get their own.
Starting February 7, you can officially shop one of Bottega Veneta's most coveted bags from Matthieu Blazy's Summer 23 collection—the Andiamo. According to the brand, the new carry-all was named after "the sensation of movement" and meant to be as elegant as it is functional. With "andiamo" meaning "let's go" in Italian, the new design is the perfect grab-and-go bag for all your spring and summer essentials.
The Andiamo is a structural and clean lined rectangular tote with rounded corners, given an elevated effect by luxurious soft paper calf leather and the texture of Bottega's signature intrecciato (braided) technique. The bag can be worn over your shoulder or can be held using the the top handle for versatility. The metal hook also has subtle brass detailing to add a sculptural effect to this classic. The bag is currently available in small, medium, and large sizes in seven chic colors, including Glacier (a very light teal), Fondant (dark brown), Barolo (a rich maroon), Travertine (beige green), Inkwell (dark blue), Ice Cream (light pale yellow) and White.
Every year a few bags emerge among the many as the it-bags of the season. Bottega's Andiamo has all the makings of becoming one for spring 2023 as it's chic, wearable, and actually practical. Available worldwide from February 7, prepare to see this carry all on the arms of celebrities for everything from errand runs to picnic days. With room for sunglasses, sunscreen, snacks, keys, and your wallet, let the countdown begin to the type of "let's go" days that the warmer season brings.