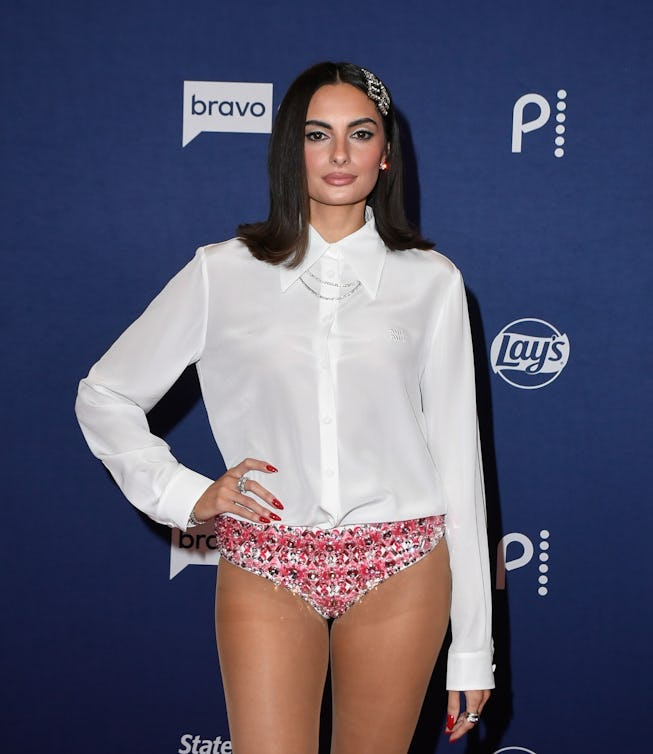 No One Wore Pants This Weekend
The underwear-as-pants trend is still in full effect, especially at BravoCon.
Last fall, Bella Hadid sent shock waves across the internet by eating a slice of pizza while roaming the streets of New York in tight white boxer briefs and a leather jacket. It appeared that the days of short shorts had been replaced by no shorts, and the underwear-as-pants trend was in full effect. Since then, we've witnessed a meteoric rise in pantlessness — from the Miu Miu's Fall 2023 runway to Kylie Jenner in Loewe briefs at Paris Fashion Week this year. Over the weekend, the now-annual fall pantless tradition continued at BravoCon.
While the underwear-as-pants agenda has been fed to us in steady doses since last fall, this weekend may have been the ultimate peak. At BravoCon in Las Vegas, The Real Housewives of New York City's Erin Lichy arrived on Saturday in shiny, high-waisted "pants," with a loose blue button-up shirt tucked into the dress underwear. Cutting off at the top of her thigh, paired with black tights and heels, the reality TV star officially took the trend to new heights.
Lichy wasn't the only star to arrive at BravoCon pantless. The same day, Summer House star Paige DeSorbo arrived with a white button-up shirt and $5,600 sequin pink underwear by Miu Miu. She paired the pantless look with sheer tights, platform heels, sparkly hair clips, and metallic eyeshadow.
This weekend may have proved that the key to pulling off the pantless trend seems to be pairing it with something unexpected. While Bella Hadid reached for a leather jacket, Lichy and DeSorbo both chose a formal shirt to bring the divisive trend to the red carpet. With actress Rachel Zegler also going pantless this weekend — in a moss green Sergio Hudson number with a turtleneck and leather jacket — this season is quickly becoming the most pantless fall in recent history.