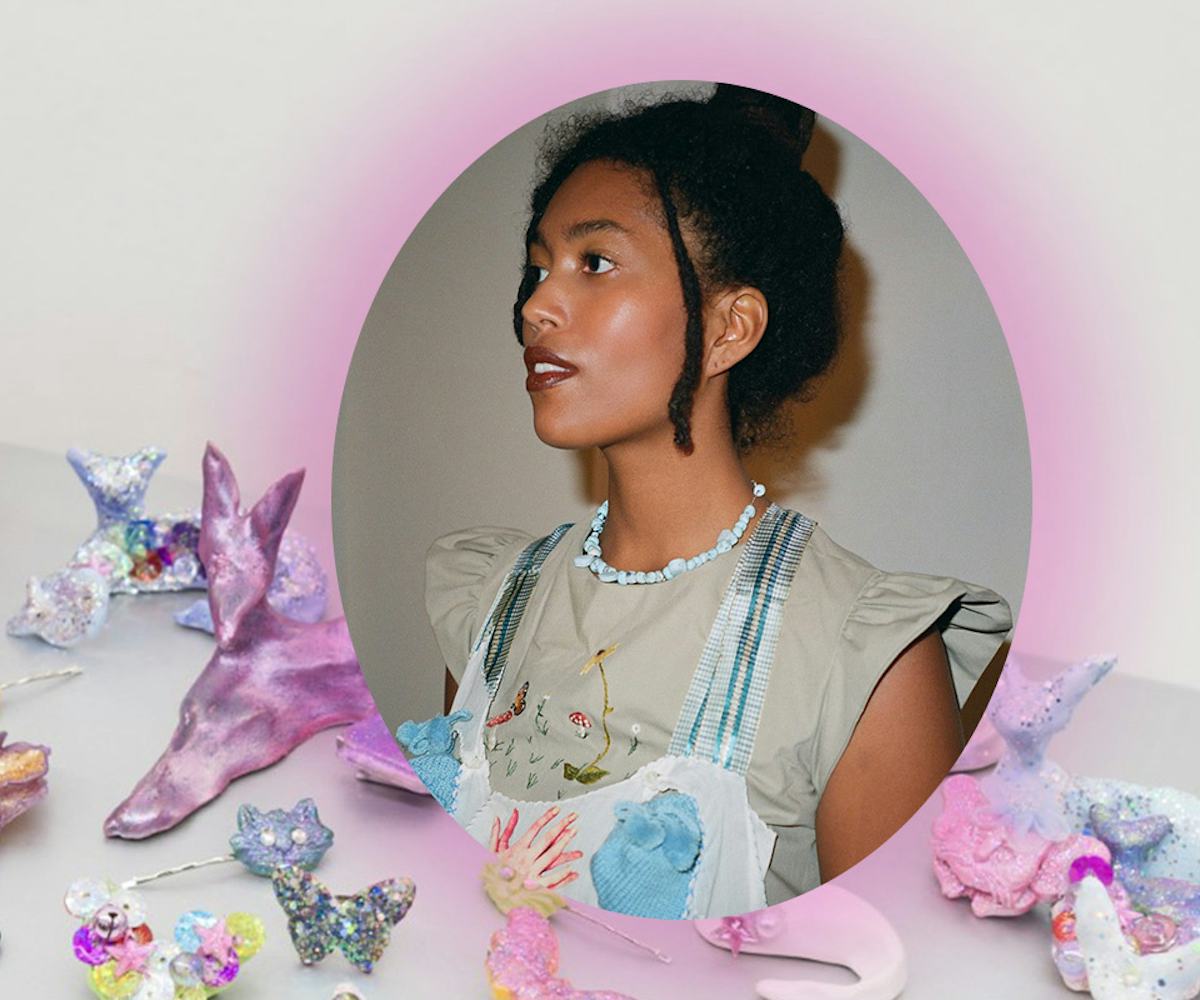 Photos by Christian DeFonte
9 Designers Carried By Cafe Forgot, New York's Quirkiest Pop-Up Shop
We spoke to the concept store's founders about the brands they've recently discovered
One New York City pop-up has quickly become the go-to destination for quirky pieces from emerging fashion designers. Founded by Vita Haas and Lucy Weisner, Cafe Forgot has had several short-lived store iterations around the city but in December, they opened its longest yet: a one-year residency in the heart of Manhattan's Alphabet City.
The shopping concept started when the duo met in high school and socialized together in the school's fashion club. Ever since then, the goal for both women had always been to open a shop; and they knew enough other creatives, who were making unique products without many platforms to sell on, to tap for offerings. The natural result was to open Cafe Forgot, the name of which was inspired by an Essie nail polish.
"We wanted to have this sort of temporary, fleeting space and create this magical element about it," says Haas. "We're trying to keep that alive with this extended shop, too. We're going to be opening and closing and having different shops within this year-long space."
Inside Cafe Forgot, you'll find everything from jeans with PVC butt pockets that look like curtained windows (you've likely seen them on Instagram as they've been endlessly regrammed) to playful acrylic rings with heart-shaped charms. The more unconventional, the better seems to be Cafe Forgot's motto. In addition to selling unexpected items you won't be able to purchase anywhere else, another thing that makes the shop stand out is that many of the pieces are completely one-of-a-kind.
"It started out really with just our closest friends that made things," explains Weisner. Now, the duo sources brands from around the world, mostly on Instagram. "You just, like, get deep into Instagram and you find the most beautiful things," says Haas.
Here, read through some of Cafe Forgot's favorite brands they've recently discovered.
Ali Bonfils
"We met Ali Bonfils when she came by our Tribeca shop a year ago with her older sister Lulu Bonfils, who had recently been our model," says Haas. "When she visited us again at our shop in August, she was wearing a necklace we really admired. When we asked where it was from, she told us she had made it, and had been inspired to start making her own jewelry after she visited Cafe Forgot." Based in Brooklyn, Bonfils uses Sculpey, a type of polymer clay, along with repurposed gems, beads, and charms, to make necklaces that are equally inspired by Victorian aesthetics and friendship bracelets.
Rebekah Bide
"Our friend Maya Laner, who has performed her music at our Larrie [Gallery] New York City shop, introduced us to Rebekah Bide," says Weisner. "We love Rebekah's work and were immediately drawn to her gilded pillboxes." Bide is Australian but is currently living in London and creates a range of objects, from the aforementioned pillboxes to chunky metal necklaces made of recycled silver and supersized earrings from gold polymer clay. Employing archaic techniques such as gilding, Bide's pieces have a chic-medieval feel.
Garbage Core
Based in Milan, Garbage Core designer Giuditta Tanzi takes upcycling to the next level. Tanzi sources secondhand clothing from outdoor markets, friends, and family — and turns each piece into a one-of-a-kind item. Think: crafty patchwork T-shirts or knits fused together. "Garbage Core reached out to us on Instagram," says Weisner. "We love her delicate pieces and pastel colors. She is the first Italian designer we've worked with."
Flower Names
Using natural dyes as the inspiration, Flower Names works with thrifted fabrics to make one-of-a-kind tube tops with flared ends that resemble what a real-life fairy might wear. Baltimore-based designer Jasmine "Jazzy" Cindy sews and dyes everything by hand. She also switches up the colors seasonally, with some colorways entirely one-of-a-kind. "I first met Jazzy in high school through Susannah Cutler, who is now also a Cafe Forgot designer," says Haas. "I've been following her on Instagram for several years. She has always been an amazing visual artist, and when she started making clothes, I reached out about contributing to our shop."
All Is A Gentle Spring
Handmade in Melbourne, Australia, All Is A Gentle Spring is the clothing line inspired by historical costumes. For example, empire waist dresses with puffed sleeves, or edgy corsets (worn by none other than Rowan Blanchard). All Is A Gentle Spring offers non-seasonal collections and often uses recycled fabrics while collaborating with artists and friends. "I originally found the brand on Instagram because I saw someone reposted this really beautiful corset," says Haas. "The corsets are like real corsets — they're super intense! — and everything is very well-made. I also love when we have international designers."
Zepherina
Supersized puffed-sleeve tops printed in gingham and papery thin silk slip dresses are just two of Zepherina's signatures. Renea LaRiviere founded the brand in 2018 (an ode to her grandmother by the same name), and takes inspiration from vintage family photos, which she sometimes posts on Instagram, as well as heirlooms. Her pieces are constructed out of premium textiles and often have unique details. "It's so much about fantasy and narrative," says Weisner. "She takes inspiration from objects she finds around her grandmother's house. She also makes a lot of her own prints and textiles."
Teva Livne
A designer who really nails the handmade feel that Cafe Forgot exudes, Teva Livne creates colorful, glittery cats and butterflies out of clay and paint. Primarily a visual artist and painter, Livne designs pieces that come in the form of sculptures, hair clips, earrings, and charms. "She makes these cat charms, and I just love cats," says Haas. "Her charms are so beautiful. They're supposed to be really magical, and I really feel that they bring a magical vibe to our space."
Piera Bochner
Based in Brooklyn, Piera Bochner has some of the most interesting candles you might ever encounter. Her colorful, oddly shaped pieces (cast from organic objects like bumpy gourds and bitter melons) serve more as pieces of art than candles. Bochner's designs stem from a love of wax as a material and a desire to investigate how wicks, wax, and flames can travel down unconventional paths. Burn one, and watch the shape change into something new. "Piera has been a really close, old friend of ours," says Weisner. "I felt so struck by her candles. Her romanesco candles are such a desired form."
Hanan Sharifa
Also based in Brooklyn, Hanan Sharifa works with used denim, mesh, jersey, and satin to create her wearable works of art, which are often printed with textural patterns. In Arabic, hanan means "tender" or "compassionate," and as a designer, she includes her name on many of her garments in an effort to push against the idea of the English language as a global standard. Unexpected cutouts and sheer fabrics are the norm when it comes to design. "We were connected to her at a pop-up she did with the brand Tuza," explains Haas. "She makes really amazing jeans — very traditionally American but she totally reworks them with Arabic words which is so interesting."