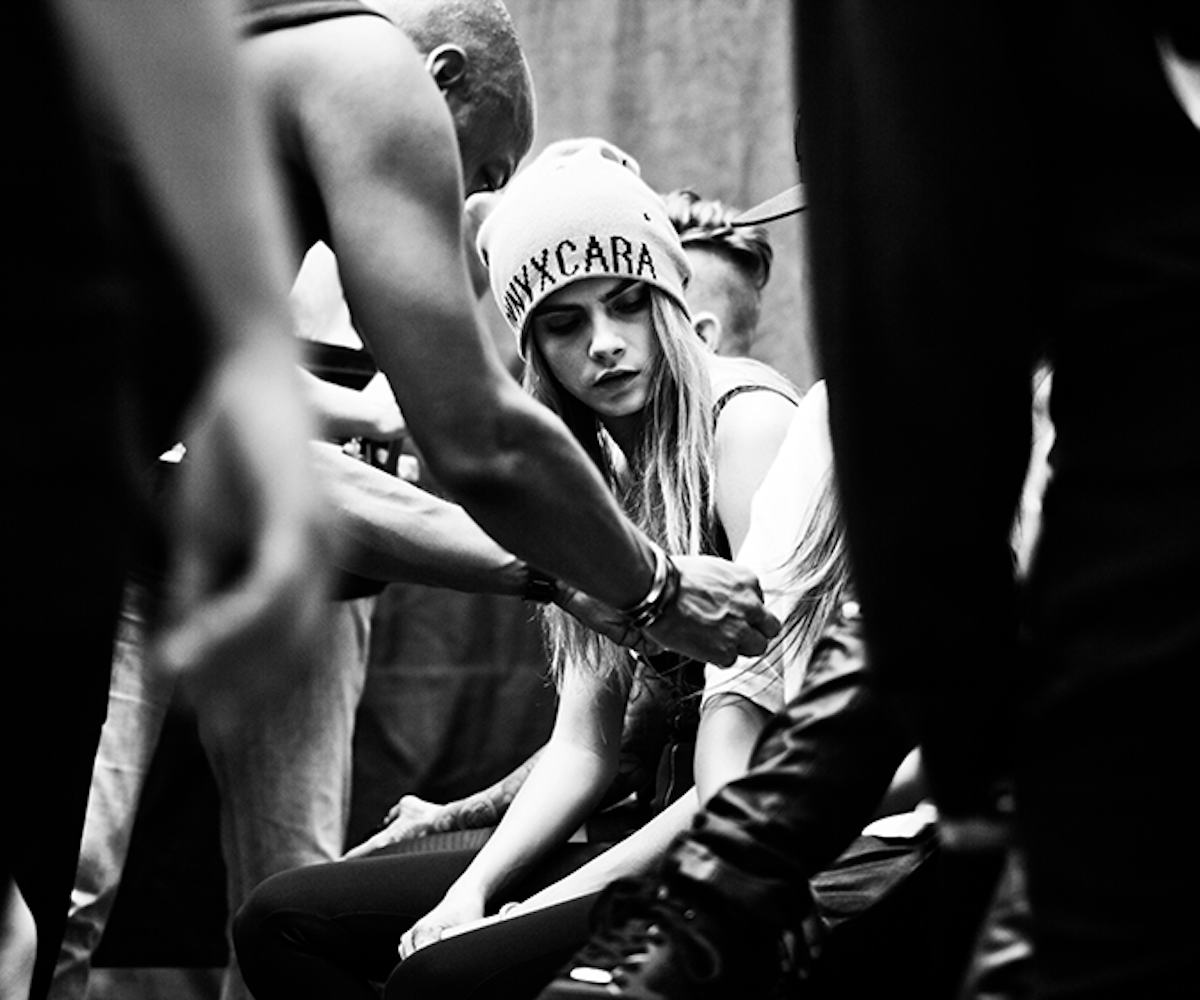 get a sneak peek at cara delevingne's dkny capsule collection
We've been watching her kill it on the runways of New York, London, and Paris Fashion Week, and strike adorably goofy poses in her new Pepe Jeans campaign. Now we're about to get our next dose of fashion's favorite It Girl cliche Cara Delevingne and her insanely cool style. For her DKNY capsule collection, we'll be holding our breath until it releases worldwide on DKNY's site, Shopbop, and Net-a-porter — which will fortunately be only 'til October 15. The 15-piece, elevated sportswear-meets-street style collection, designed by Cara herself, includes the model's signature slogan beanies, sports bras, track pants, and jumpsuits among a blazer, a moto jacket, and a parka—enought o live off year-round.  
Cara described the tomboy-ish collection as "no rules, no 'looks,' just opportunities" in the press release she wrote up herself. She described it as a bunch of "random, rough ideas," which is exactly what we'd expect from the quirkiest supermodel around. Plus, the fact that the ad campaign features six models she recruited herself via Instagram exudes street style and raw coolness more than any other campaign. Cara also mused that she remembered buying her first pair of DKNY jeans on a trip to NYC when she was 15 and how the brand has become a major symbol of the city to her.  
And speaking of the city, New York fashion lovers are especially lucky, since they'll be able to snag the collection (and some rad extras) ahead of everyone else. Bloomingdale's 59th Street location in Manhattan is offering a secret surprise for the first 25 guests who pre-shop the collection in-store October 8-10, and another 100 lucky shoppers will get an autographed poster and an exclusive tote bag at the collection's release event on October 11. But even if you're not a New Yorker, don't fret, because this collection is totally worth the wait.