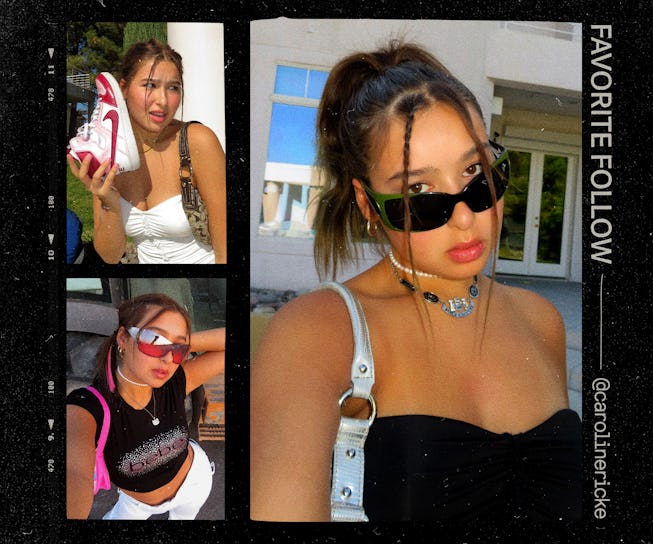 Meet Caroline Ricke, The Disney Channel-Obsessed Creator Behind "Rich Caroline"
She breaks down her online persona, style inspiration, and more for NYLON's Favorite Follow.
Welcome to Favorite Follow, a new series highlighting NYLON's favorite creators and the stories behind some of their most memorable content.
While some YouTubers build massive followings for being extremely relatable, Caroline Ricke is seeing success by doing the complete opposite. As the online persona "Rich Caroline," Ricke has grown a fan base across TikTok and YouTube for her funny parody videos that showcase her "lavish" lifestyle and "Harvard" education in the form of nostalgic Disney star monologues and early-aughts films, like Clueless and Legally Blonde.
The 21-year-old started her YouTube channel in 2018 during her freshman year of college in Ohio. "I just needed an outlet and something to do, but I also wanted to entertain people," Ricke tells NYLON over Zoom from her new apartment in Los Angeles. Her first viral hit, a fake Harvard acceptance reaction video, happened around six months into joining YouTube, when she had less than 500 subscribers. (Today, she boasts a following of 330,000 on YouTube and a whopping 2.8 million on TikTok.) She doubled down on her popular content and created "A Day in the Life of a Harvard Biomedical Engineering Student," and from there, her older videos started to get more views, too.
"Somehow a video I posted three months prior started going viral," says Ricke, referring to her "no one came to my subscriber meetup" clip, which is her most popular video with nearly 3 million views. "I posted it at the time when I had 400 subscribers, and because it started getting viral, I started getting more subscribers from it, and everyone thought it was real. And I'm like, 'No, this is obviously fake.'"
While watching a live on-campus show by YouTubers Cody Ko and Noel Miller (and just hitting 100,000 subscribers), she got recognized for the first time ever. "It really inspired me," she recalls. "[Cody and Noel] built this audience by themselves, and people like them because they're entertaining. I want to do that one day just because I like making people laugh."
That's the appeal behind Ricke. You're both laughing with her and at her while she's in on the joke. Perhaps that's why when she joined TikTok a year ago, her satire instantly took off. A few months later, she joined eight other TikTokers to form the comedy content collective called The House Nobody Asked For, which was first based in the suburbs of California then moved to Las Vegas. "I lied to my parents saying I knew a few of them, but I didn't know anyone and I just took a leap of faith," says Ricke. (The group eventually posted its final video together after six months.) "I would not have any of what I'm doing now with my career if I didn't join that house, for sure. I love everyone there. They're amazing."
Now, Ricke is wrapping up her (virtual) senior year of college while still creating content across TikTok and YouTube. She's honing her craft — a mix between scripted comedy, pun-heavy jokes, and improv — and tapping into new styles to parody, too, like reality television. Once she graduates in the spring, she hopes to get back into podcasting and designing her jewelry line, which both have been put on hold so she can focus on school.
"Once I graduate, I feel like I can do whatever I want," says Ricke. "I do want to get into acting. I feel like that would be the next step within five years. But sometimes I get overwhelmed thinking of, 'OK, where am I going to be in five or 10 years?' So I've started taking it day by day, and just seeing if I can get a video up, post a picture, or do something."
Below, Ricke shares some of her favorite social media creations and outfits, along with details on the process, inspiration, and meaning behind them.
On Her "Rich Caroline" Persona (And Getting It Mixed Up Sometimes)
"I grew up watching mostly lifestyle vloggers, beauty, all that stuff. So when I started YouTube, that's what I thought I wanted to do, but then I realized that everyone was doing that. I needed to stand out in some way, but I was a college student in the middle of Ohio. I'm not living in L.A. I'm literally just going to class and coming home every day. Nothing's really that interesting. So I created this false narrative to give the perception that I had a really cool life, even though I didn't, and it was very mundane.
"But I feel like people resonated with that, because obviously I would be lying. It was so obvious, like, 'Oh, I'm in my mansion' and I'm literally in my dorm room. So I created that persona because I'm a very sarcastic person and I wanted that rather than my day-to-day life. Even to this day, it's weird for me to even post one thing that might show people my real life. I'm like, 'I don't know if people really want to see that. I feel like they just want to see this character.' My persona is definitely the rich girl, and I'm not like that in real life. But then sometimes my friends will be like, 'Are you talking serious right now? Or is this your character? I don't know.'"
On Finding Fashion Inspiration From The Disney Channel And Real Housewives
"I didn't grow up with cable. A lot of people think I was a Disney kid from my humor and the way I dress, but I had only seen a couple Disney shows growing up. At the beginning of quarantine, I started watching Disney+ and the shows Lizzie McGuire and That's So Raven. I thought, 'Oh my gosh. Their style is amazing.' I've always been into fashion, but I really envy that era of style. So I started wearing more outfits inspired by the Disney Channel. I definitely say that my style is Disney Channel star mixed with local suburban mom. Recently, I started watching Real Housewives of Orange County, and I never was the type of girl that watched reality TV. But the style of the moms is so amazing.
"I started thrifting when I was high school, so I'll just go into a thrift store, find stuff that looks cool, and then I try to piece it together. I always say, 'I don't own ugly clothes. Therefore, it's impossible to wear an ugly outfit.'"
On Always Wearing Jewelry And Relaunching Spicy Girl
"I wear a lot of jewelry with every outfit because I feel like even if it's a plain outfit, if you wear crazy colorful jewelry, it just pulls it all together. I find funny jewelry at the thrift store. I love tacky, big jewelry. But I also make a lot of my jewelry, like the mini dice and the dominoes. I started my own jewelry business, called Spicy Girl, in college. I was making all of it by hand with drills and stuff and I would just assemble it. I designed it all, and I was doing all of that for a while, but I put it on hold because I moved out here. Within the next six months, I want to restart Spicy Girl, and the dream is to get a jewelry brand partnership, too."
On Dressing Like 2000s-Era Ashley Tisdale And Sleep-Shopping
"The horseback riding shirt is a kid's shirt that I got off Poshmark. I love little girls T-shirts, because I think the phrases on them are so cute. You wouldn't find an adult shirt that says that. The coat I got four years ago at a thrift store. I had seen it on Depop, and I wanted it so badly. And then literally a week later I went to the thrift store and I found the exact same one. I had seen a few pictures on Pinterest of Ashley Tisdale, early 2000s vibe, and she had worn one of those coats. Her style is crazy. I love it.
"The Nike sneakers are from 2004. This is so dumb, but I love pink and red together, and I literally had a dream that I got these amazing pink and red shoes. So I woke up in the middle of the night, I looked on Poshmark or Depop, found a pair, and I just ordered them. Then I forgot I ordered them because I went back to sleep. And a week later, they showed up on my doorstep, and I'm like, 'Oh, so this wasn't a dream. This just happened.'"