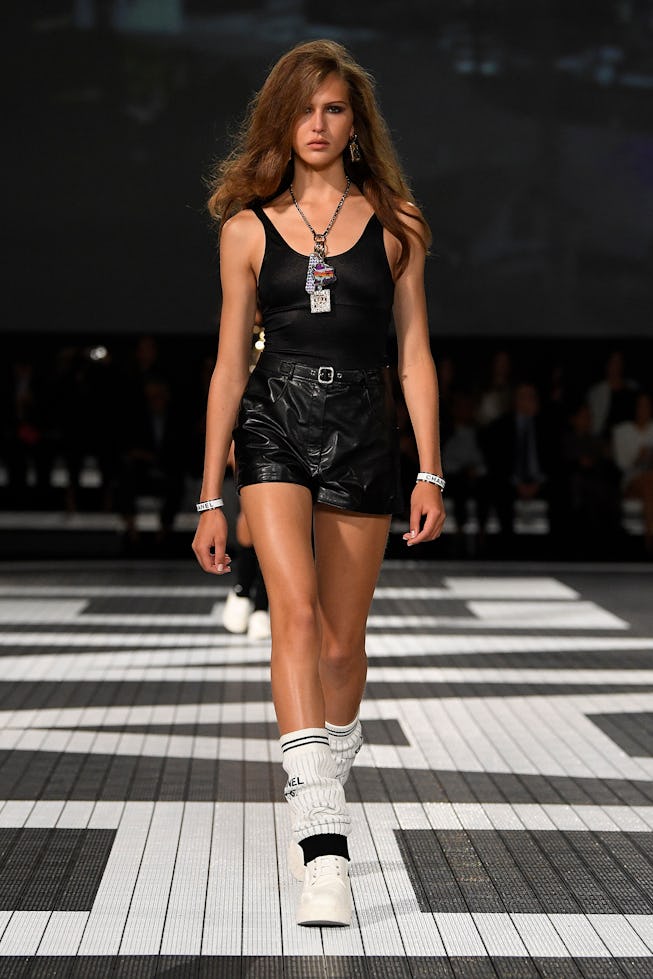 WWD/WWD/Getty Images
Light-Up Shoes Made a Comeback at Chanel's Resort Show
LA Gear, but make it high fashion.
On Tuesday night, Chanel ambassadors and friends — including Margot Robbie, Kristen Stewart, Riley Keough, Elle Fanning, and Issa Rae — came together for the brand's Cruise 2023/24 runway show. Taking place at the Paramount Studios lot in Los Angeles, the show was a tribute to "glamorous film figures with Los Angeles' active pursuits," featuring rhinestone-covered hot pants, jumpsuits, embroidered bustiers, lots of leg warmers, and little tank tops. Alongside the aerobic and roller skating-inspired looks (that could have come straight out of a Cindy Crawford workout video) were light-up heel shoes.
In the lead-up to the show, Chanel announced this particular runway presentation would be an "opportunity for the house to celebrate its connections with the City of Angels" 92 years after Gabrielle Chanel's first trip to Los Angeles and sixteen years since the storied French fashion house first hosted a cruise show in the city. It also times with the celebration of a new 30,000-square-foot Chanel store opening on Rodeo Drive.
Creative Director Virginie Viard has brought a feminine approach to Chanel since taking the helm in 2019, with the latest show having a Barbie-like youthful feel — there was even a skateboard spotted in the collection. This isn't the first time that light-up heels have walked the Chanel runway: In 2015, Karl Lagerfeld sent light-up sandals down at Paris Fashion Week, as part of his Aviation-themed collection. Chanel also did a light-up stacked heel in its Cruise 2015 collection, and flashlight-fitted shoes in the finale of its Fall couture show in 2011.
Since many of us may think of our favorite LA Gear sneakers or Heeley Wheelies instead of a high fashion moment when we hear about light up shoes, consider the Chanel Cruise 2023/24 show permission to inject childlike joy into your wardrobe. The fashion house even previewed the show with a rollerskating video — just in time for summer.