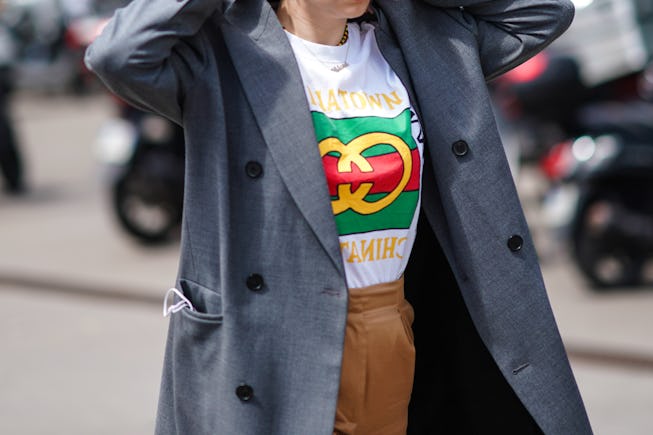 Edward Berthelot/Getty Images Entertainment/Getty Images
Streetwear Label Chinatown Market Will Be Changing Its Name
The brand released a statement on Instagram explaining its decision.
Chinatown Market has announced that it will be changing its name. The streetwear brand posted a statement to Instagram on Monday, explaining that it will let go of its name in light of the recent violence against Asian Americans.
"The Asian American community is rightfully demanding all of us think and act more honestly. We should have done this sooner but it is never too late to do the right thing," the brand's statement said. "Our name was inspired by the shops, people, and vibrance of Canal Street and Chinatown in New York but it's not our name to use."
Chinatown Market was founded in 2016 by Mike Cherman, who, it should be noted, is white. The brand has become a beloved label by streetwear enthusiasts, pop culture fans, and fashion insiders alike, releasing collabs with major names like Converse, Timberland, Cole Haan, Lacoste, and more.
In an interview with Fashionista from 2018, Cherman responded to accusations of cultural appropriation for the name Chinatown Market. "We got pushback from the beginning — by naming a brand Chinatown Market as a white male in America, it's not the right climate for anyone to start something like that," he said, claiming that he has turned down collaborations that stereotyped Chinese motifs. "I've had conversations about changing the name because I'm not here trying to make a brand based off Chinese culture, but we had gone too far for me to change it. I can knowingly say, though, we're not out here doing anything malicious. I know what's true in my heart and I'm not going to do something that's disrespectful."
In early March, the brand spoke out against the violence against the AAPI community on its Instagram page, saying, "We stand as a company to condemn all hate against the Asian community. We must continue to fight all hate, racism, and violence. We have started working with our advisor Eric Toda, a leading activist and community organizer in #stopasianhate on how our company and employees can engage in this critical work." However, the label's statement was met with criticism by Diet Prada on Instagram and a Change.org petition with at least 3,000 signatures calling for a rebrand.
The brand has not announced what its new moniker will be, saying that will reveal it in the coming months. Read its latest statement in full, below.