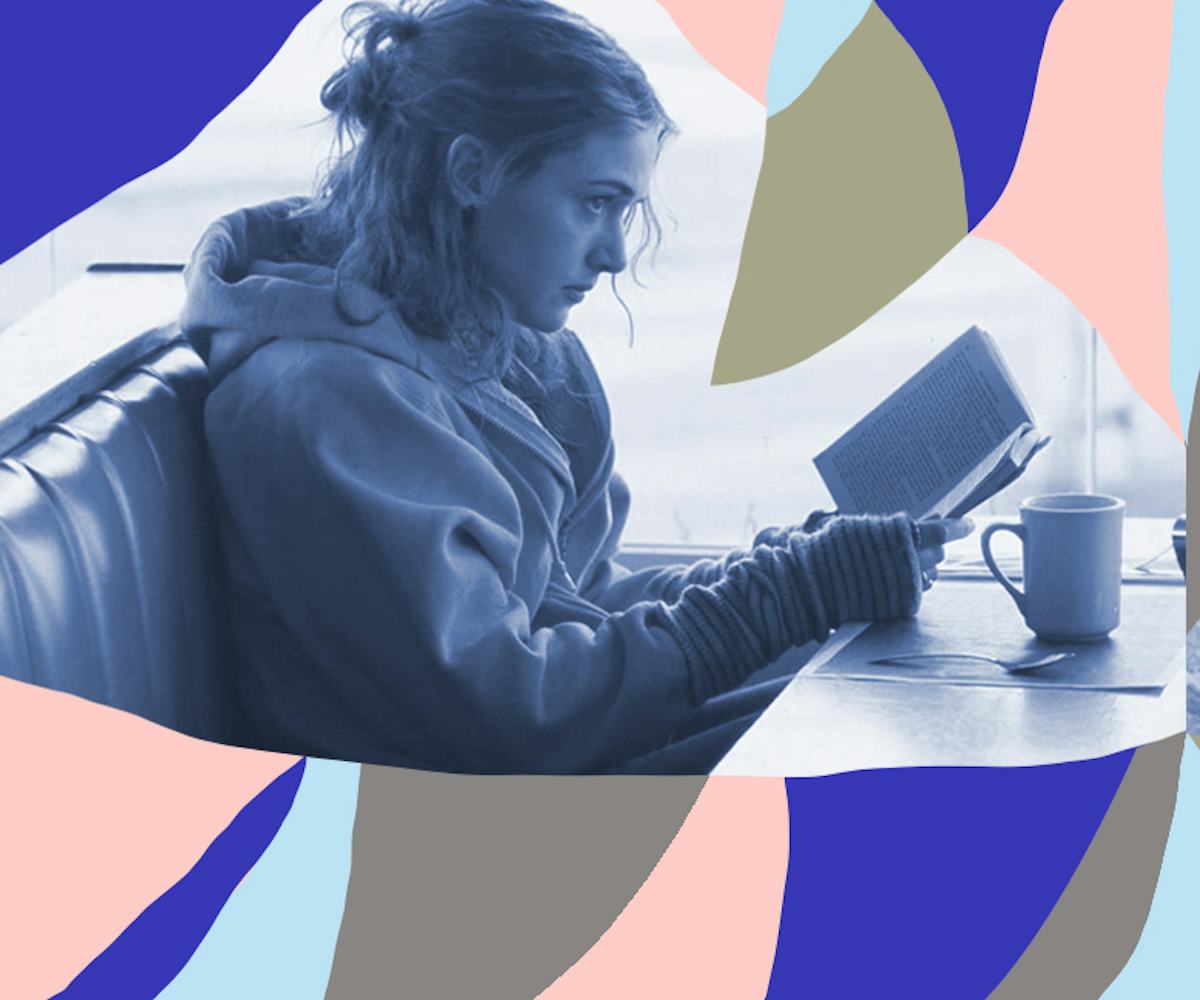 The Enduring Aesthetic Appeal Of The Blue-Haired, Wild-Hearted Clementine
From the brilliant 'Eternal Sunshine of the Spotless Mind'
The film Eternal Sunshine of the Spotless Mind may have been released in 2004, but it has all the aesthetics of something from the mid-1990s. A combination of a blue-haired Kate Winslet, oversized hoodies, and the presence of Jim Carrey make the flick feel intrinsically '90s. And with fashion's obsession with that particular era, the melancholically dark, verging on sci-fi movie has never felt more relevant, especially in terms of fashion inspiration.
From her vibrantly hued hair, styled with an eclectic barrette, to her oversized hoodies, which have never been more on-trend, Clementine (Winslet) is a perhaps unexpected, but totally on-point, fashion icon for 2018. Here, the making of Clementine's iconic style.
Vibrant Hair 101
Brightly hued hair has been a huge trend for the past couple of years—some may say it's even reached its peak—due to celebs sporting the style, plus the fact that it's easier than ever before to dye your hair at home. But there's something about Clementine's dyed hair in Eternal Sunshine of the Spotless Mind that feels perfectly undone and modern. Throughout the film, Clementine has a total of three hair colors: blue, red-orange, and green. She usually styles it in a half-up, half-down messy bun, space buns (hello, Coachella 2018), or in braided pigtails. Throughout the film, her brown roots are almost always showing, which makes the look all the more approachable. It's no surprise the likes of Marc Jacobs and Jeremy Scott have been chopping and dyeing models' hair into vibrant coifs (or wigs) on the runway for fall 2018, too.
Bring a Barrette
In one scene, Clementine is shown sitting on the floor of her apartment. At this point in time, she has orange hair styled with two simple black bobby pins covered in crystals. It's a look that's strikingly similar to the aesthetic of London-based designer Ashley Williams' pieces, which are incredibly popular on Instagram and sold in the coolest stores across the globe (Dover Street Market, for one). In another scene, Clementine wears a mini claw clip, also with crystals, as she rests her head on that of her star-crossed lover, Joel (Carrey).
The Oversized Hoodie
Vetements, Off-White, Balenciaga, and even Hermes (in the form of quilted calfskin) have been producing hoodies that sell out instantly and inspire their affordable counterparts (ranging from Urban Outfitters to collabs from the likes of Puma and adidas) to do the same for the past few seasons. It's impossible to look through street style photos and not see hoodies, whether used as a layering piece or worn on their own, especially the oversized variety. But never was there a more iconic orange hoodie moment (in fact, it's the same traffic cone orange that labels like Heron Preston have been experimenting with recently) than when Clementine wore hers on the train to Montauk, where she first meets Joel. Her blue striped sleeves peeked out from the oversized, zippered silhouette as a sort of omen to her penchant for the dynamic contrasting color scheme of orange and blue throughout the movie. In another scene, she eats a chicken wing in the same hoodie with green hair. Later, with blue hair, she wears an orange jacket with a Yves Klein blue-hued hoodie sticking out.
"Love Is…" Slogan Tee and a Good Book
When Clementine and Joel go for a hike in the woods during the fall, she wears a pair of camouflage pants and a slogan tee that's more than a little ironic considering the film's twists and turns. It reads "love is…" with two cartoon characters on a stage, one of them playing guitar. The tee goes with Clementine's overall casual, slightly grungy '90s aesthetic—again, more relevant today than ever before (and seen all over the runways.) But what's more, is that fact that throughout the movie, Clementine (whether intentional or not) uses books as an accessory. She works at Barnes & Noble, and there are two times when Clementine is seen holding a book prominently. Once when Joel goes to visit her at work, and another time when she reads a book at a restaurant in Montauk. Considering Gucci used a decorative book as an invite for its most recent Milan Fashion Week show, Loewe gave fashion show guests copies of classic novels during its Fall 2018 show, and Paris-based up-and-coming brand Koché sent models down its runway with paperback novels inside Strand bookstore for its pre-fall 2018 show, it's clear that we're not the only ones who see Clementine as the perfect style icon for right now.