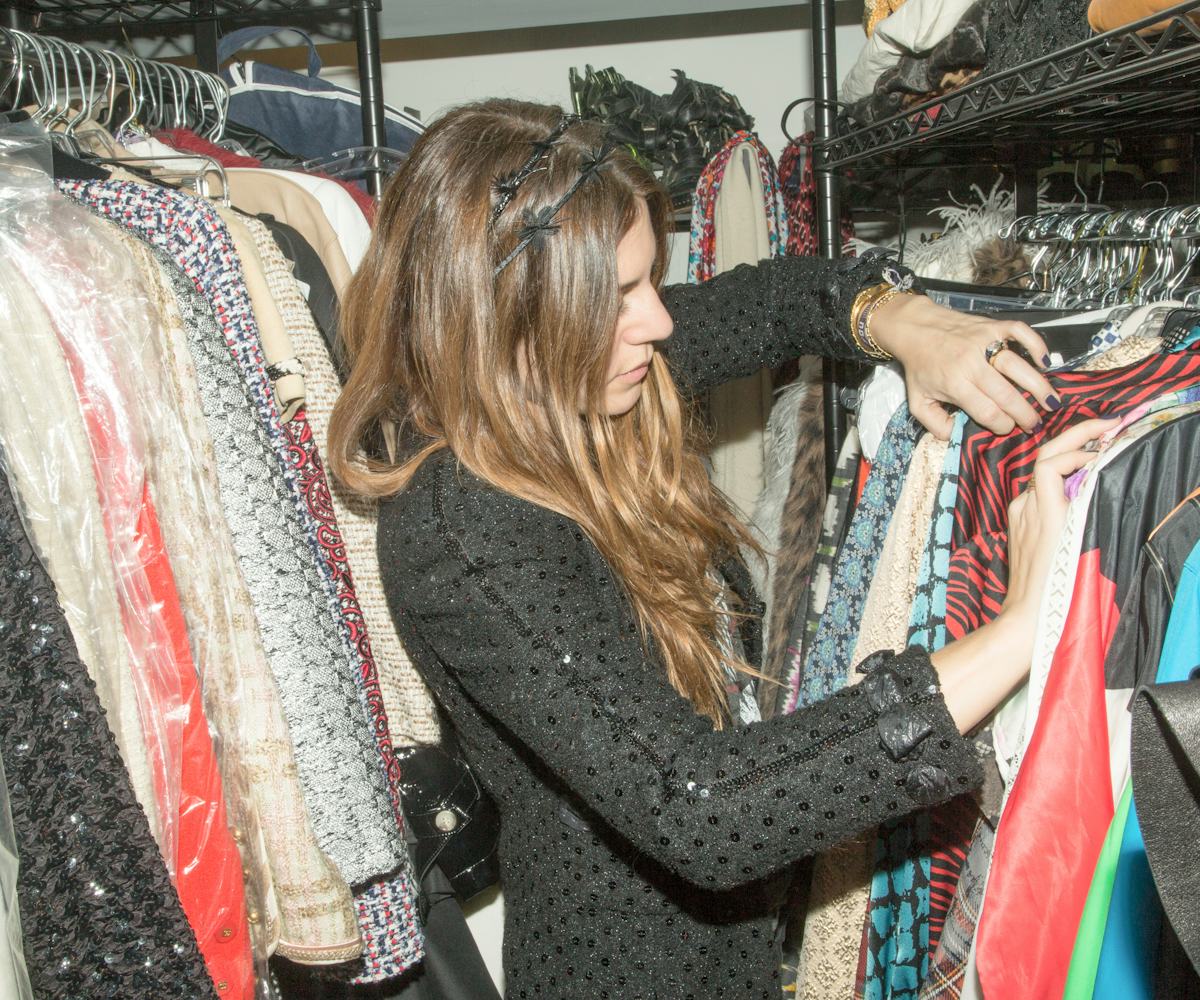 Photographed by Eric Helgas.
Take A Look Inside The Coolest Closet Ever
nylon style director dani stahl shows us her wardrobe
The following feature appears in the February 2016 issue of NYLON.
I spent most of my formative Factory Girl years living in an adorable studio apartment on 74th Street in Manhattan. Necklaces hung from hooks on nearly every stretch of wall space and shoes lined the bookshelves, giving a whole new meaning to "racks on racks." The apartment was, for all intents and purposes, one big sleep-in closet—insert obligatory Carrie Bradshaw reference here. But a little over a year ago, it came time to say goodbye to those digs and move in with my now-husband. He brought all of seven items; I transported my entire beloved closet and basically re-created it even bigger and better. Enormous black über-racks from Amazon are my weapon of choice, each organized by category in complete ordered chaos. There is, for instance, the leather jacket zone, the skirts section, a whole separate area where everything from denim to athletic wear to tees is folded into towering stacks, and even a spot dedicated entirely to Chanel. Perennial favorites from Valentino to Prada to Miu Miu also abound, as well as ample knickknacks, such as my old Mickey Mouse piggy bank and what's left of my vintage Cabbage Patch Kids collection (of course I saved my favorite Preemie doll, Cristina Lynday—yes, spelled that way). Like anyone, I get into ruts in which I'll habitually wear the same stuff, but the beauty of this mega-closet is the promise of rediscovery. The space holds my entire sartorial history (and then some)—all it takes is simple browsing to bring back memories through my outfits.
Click through the gallery to tour Dani's closet!
My Chanel collection holds a special place in my heart, complete with signature quilted bags, cassette tape clutches, a pair of amazing snow boots, and many a classic tweed jacket, most of which are '80s gems handed down from my mother.
Jackets galore! I'd like to say I love them all equally, but my fave is a brown Balenciaga moto I bought in Paris many years ago.
Can't forget my NYLON memorabilia, like these awesome books we published in the late aughts!
My sneaker stash contains the likes of Missoni and Gucci, as well as the original Air Max 95s in gradient gray and fluorescent yellow, and even a pair of mini Adidas Stan Smith shoes signed by Stan Smith himself.
Sunglasses from Dior to Céline to Illesteva are everywhere in here, as is jewelry (I'm particularly obsessed with my Oscar de la Renta costume jewelry collection).
I sometimes like to think of this closet as a 3-D scrapbook of all of the awesome things I've gathered in my adventures.