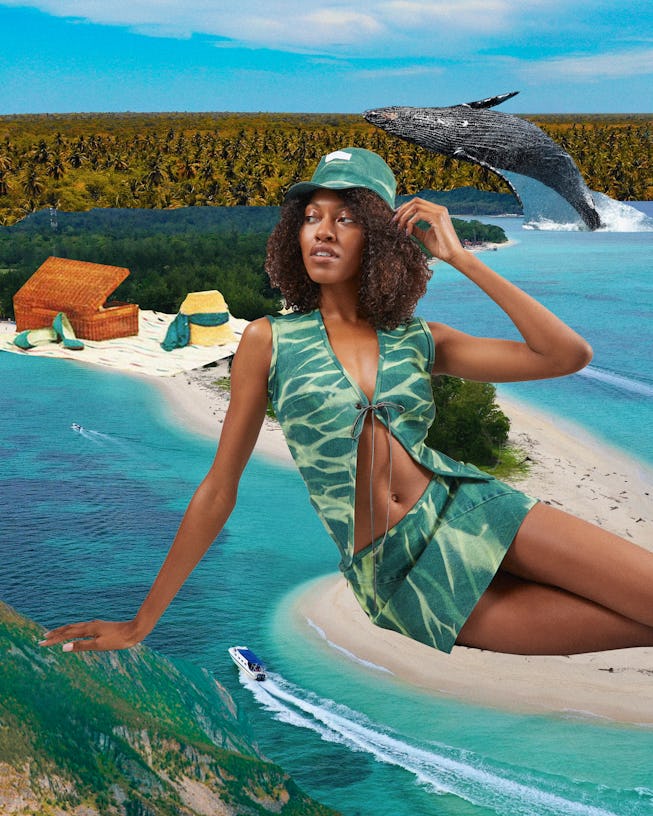 Photo by Breakfast For Dinner
Denimcratic Is Celebrating Earth Day With A Recycled Tie-Dye Collection
Ranging from butterfly tops to bucket hats.
The tie-dye wave is still at its crest, and Denimcratic's Gabriella Meyer has teamed up with fabric dye brand Rit to keep riding it. In honor of Earth Day, the two brands have released a capsule collection of tie-dye bandana and butterfly tops, micro mini skirts, bucket hats, knit tees, and a "Save Mom" T-shirt.
"In an industry where there is so much overconsumption and waste, it is more important than ever to show our dedication to sustainability this Earth Day," Jonathon Spagat, creative director of Rit Dye, said in an official statement. "Gabriella is a true original and a remarkable example of someone who is committed to reducing the environmental impacts of the fashion industry. We couldn't be more excited to partner with such an eco-conscious designer who makes some of the coolest denim and knitwear around."
If you're not familiar with Denimcratic, you've probably already seen its pieces all over Instagram, from Emma Chamberlain's multicolored scarf with a ruffled edge to Hailey Bieber's vote merch and Cardi B's crop denim puffer. Chances are we'll likely see these new tie-dye pieces worn by a famous face soon.
The Denimcratic and Rit Dye collection is made from recycled denim and knitwear and dyed with nontoxic Rit products. Sizes range from XS to XL with prices starting at $59 for the "Save Mom" tee and top off at $160 for the Green Shift Dress. Shop the full collection over on Denimcratic's website now, and see more imagery from the collab, below.