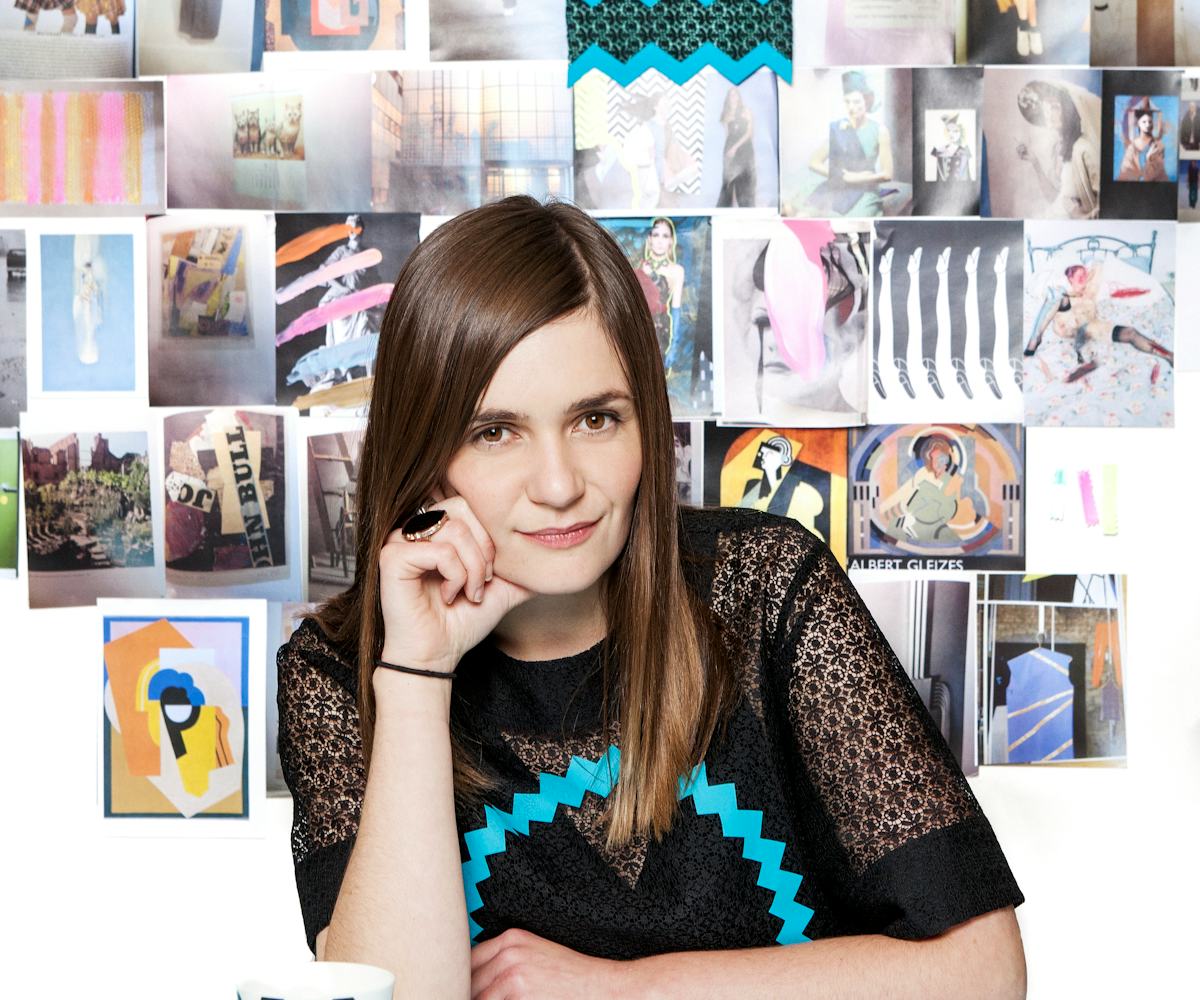 Photographed by Johnny McMillan.
Get To Know Danielle Romeril, Your New Favorite Designer
designer dispatch: danielle romeril
The following feature appears in the March 2016 issue of NYLON.
With a master's degree from The Royal College of Arts in London and a stint at Alberta Ferretti under her belt, designer Danielle Romeril launched her eponymous label in 2012 and has been steadily ascending ever since. (Let's just say she earned the British Fashion Council's NEWGEN recognition for four consecutive seasons starting in fall '14.) Here, she offers a peek inside the mind behind the line. 
Hometown: Dublin, Ireland, via Tullamore, a small, anonymous town in the Midlands 
Astrological sign: Cancer
Muse: Joan of Arc, if she liked to party and drink beers with her friends on the weekends. I'd design a 100 percent nonflammable line just for her.
Materials of choice: Transparencies and leather. I also like using traditional laces in an unpredictable way. I work almost exclusively with Italian or Japanese fabrics because they are beautiful but unusual, and their craftsmanship makes them timeless. 
Sartorial scenario: The clothes we make are like those moments late at da club when the DJ drops an unexpected, old-school indie track and it jars the atmosphere for a second until the crowd realigns and goes mad, singing along and dancing like gorgeous loons. 
Inspiration for spring '16: I fell in love with a series of photographic portraits by Jackie Nickerson of agricultural workers in Malawi, Mozambique, Zimbabwe, and
South Africa. I was drawn to the way that they layer and knot items in interesting configurations. It didn't just find its way into my collection, but also changed the way I think about clothes. 
Dream travel destination: I've become preoccupied with that Southern Gothic Americana vibe after binge-watching series one of True Detective and seeing Beasts of the Southern Wild, so I'd like to do a southern USA road trip.
Favorite spot in London: For dancing with abandon, Vogue Fabrics in Dalston. For chilling with friends, I head to Broadway Market or grab a tea on a canal boat café in East London. I eschew the gym in favor of the outdoor heated pool in London Fields, and in the winter I love to cycle to the Stepney City Farm with my boyfriend and buy game to cook up. 
Last novel you loved: Norwegian Wood by Haruki Murakami. It's fascinating to read about the 1960s from a perspective that isn't inherently Western. Sometimes it's easy to forget that the era existed outside of the French Left Bank, Woodstock, the Village in New York, and Swinging London.
Standby snack: Whatever is in reaching distance. When I'm good, that will mean an orange; when I'm bad, it's prawn cocktail crisps.