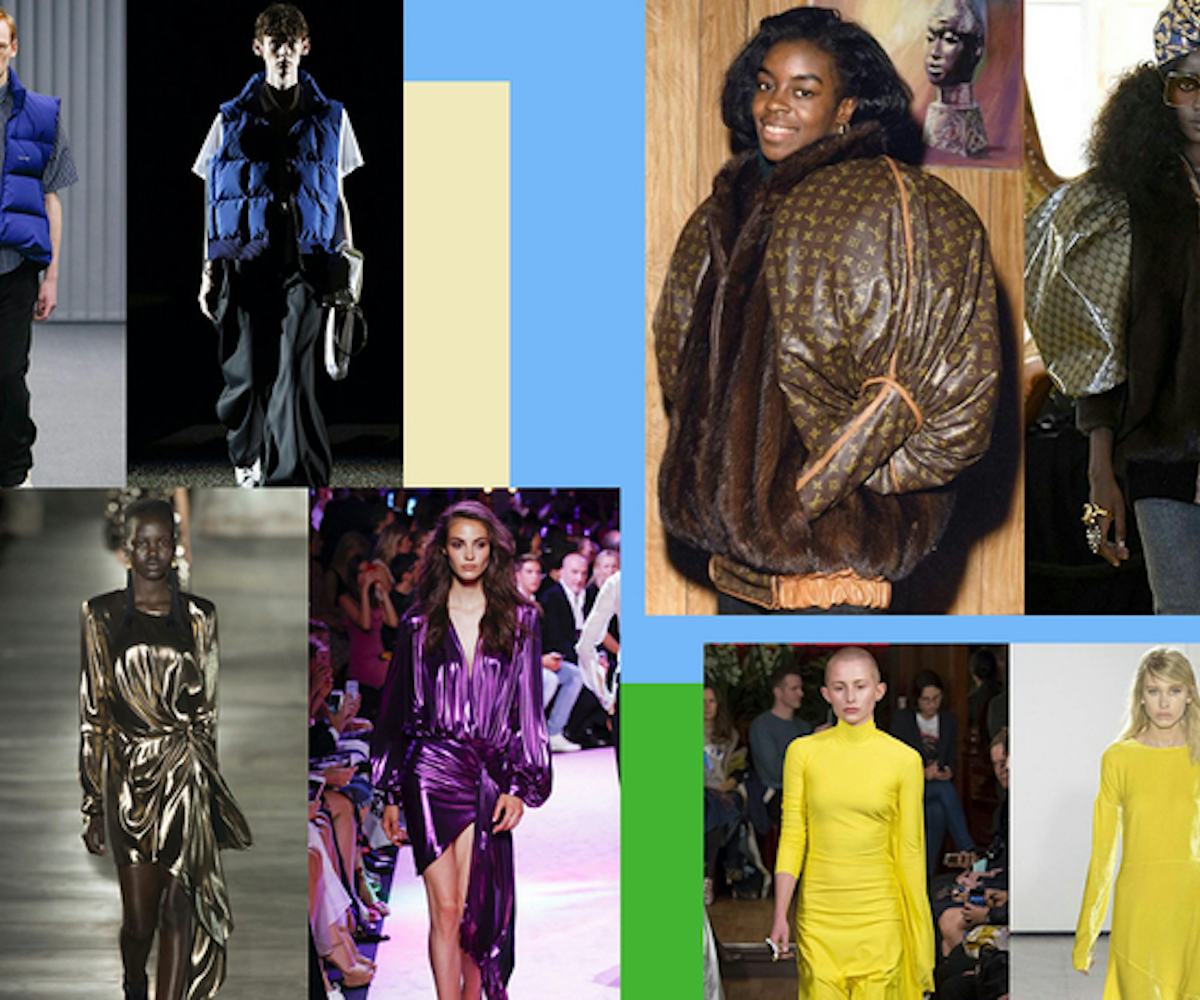 Photos via @diet_prada Instagram
Meet @Diet_Prada, Instagram's Version Of The Fashion Police
This anonymous account calls out designers for blatantly stealing from their peers
My mom always told me that imitation is the sincerest form of flattery, but if she ever somehow discovered the @Diet_Prada Instagram page, I think she'd change her mind. The anonymous account basically serves as the fashion police, calling out designers for ripping off creations of their peers, not without a touch of sass.
Take, for example, the picture of two almost identical pink capes, one tied off at the neck with a black bow from Gucci, and the other in a sheer fabric with two bows on the underarms from Reem Acra. "TFW ur mom won't buy u a designer outfit so u get ur aunt who is good at sewing to make it for you and then u have to pretend to like it @reem_acra vs @gucci," the post reads.
A scroll through the feed will show how copying is rather rampant in fashion. @Diet_Prada points out that Alexandre Vauthier has raided the Yves Saint Laurent archives, Yves Saint Laurent's Anthony Vaccarello more than borrowed from Tom Ford, and Tom Ford replicated this key Balenciaga look. It's almost like a cyclical copying motion.
The account is run by two individuals who work in the fashion industry; for the purpose of this story, they named themselves Tom and Jerry.
Having each worked various jobs in the industry for almost 10 years, they don't want to lose their positions due to overtly snarky comments and on the nose observations. But they do take advantage of the research they do for their day jobs—looking at runway shows and knowing the market—to keep tabs on who's copying whom. 
Tom has an encyclopedic memory and is able to identify the origin of a piece of clothing, based simply on its proportion or pattern. Jerry, on the other hand, is the one responsible for delivering cunning captions. And while most of their posts are their own observations, they do rely on tips to fill in the blanks.
"We get messages from fans all the time. They give us submissions, which we post. They seem really loyal, they're always tagging other friends," says Tom.
They have faced some pushback from insiders in the industry, including being blocked by the J.W. Anderson Instagram account. But they've also accrued loyal supporters, like Stefano Gabbana (who frequently comments on their posts), casting agent Ashley Brokaw, and French style icon Caroline de Maigret. 
While the account might sometimes come across as bitchy, like the mean kids of the fashion world, just know that @Diet_Prada has no intention of bullying the targets of their scrutiny. 
"It's not about being mean," Jerry insists. "If you're going to put on a show that has these obvious imitations, you should be able to deal with us calling you out on Instagram." 
Some of their posts have even served to protect the work of young designers who aren't even out of fashion school yet and don't have thousands of dollars to acquire a patent to protect their designs. Nor the time (sometimes more than two years) that it takes for one to process. 
Recently, @diet_prada honed in on the latest Viktor & Rolf couture show, which featured models wearing oversize doll heads. Two months prior, Parsons student Terrence Zhou had sent the brand his portfolio, which included a few pictures of modeling dolls, which were created in collaboration with Lizzi Shin. They look nearly identical to the ones on the runway, which didn't go unnoticed.
"To see this work show up at couture week so soon after is a nightmare for a young designer. Is it coincidence or another case of a big designer preying on the talent of someone new, since it's so often gotten away with?" @diet_prada wrote on Instagram.
"I have a lot of friends at [Central Saint Martins] who have had big companies copy their designs and made a lot of money without giving them any credit. Some companies paid to shut them up and some companies declined to comment," Zhou told WWD.  He didn't have any intention of pursuing legal action, but he found it important to speak up and draw awareness to the harmful practice of copying from young and aspiring designers.
Having a little help from the snarky masterminds behind this Instagram account will certainly help his case—and the army of young designers with brilliant ideas everywhere.