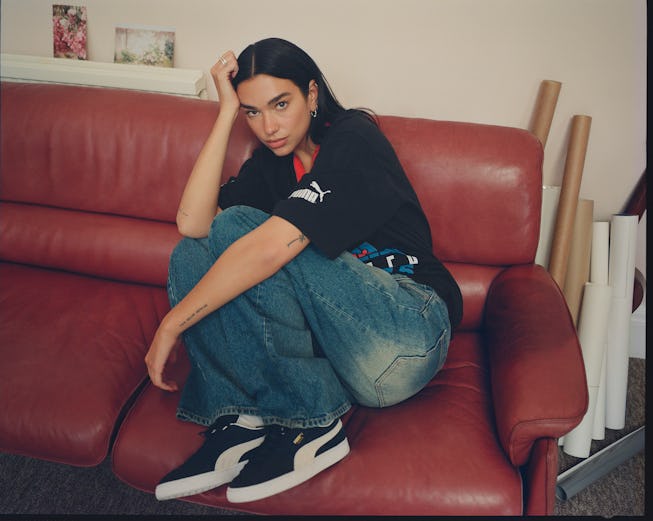 Courtesy of PUMA
Dua Lipa Wears Archival Puma In New "Forever. Classic" Lookbook (Exclusive)
The pop star looks effortlessly cool in Puma's iconic street style staples.
This morning, July 10, PUMA and brand ambassador Dua Lipa released their new "Forever. Classic" lookbook, featuring a range of pieces from the PUMA archive hand-picked by the star. "Forever. Classic" was created in collaboration with stylist Lorenzo Posocco and includes four classic looks, iconic archival pieces selected by Dua Lipa, herself, and a brand new '90s skate-inspired 180 sneakers—a chunky, retro silhouette, available in two clean color schemes.
The "Forever. Classic" lookbook features Dua Lipa sporting the new sneakers, styled with classic items like a distressed leather jacket, a logo T-shirt, a windbreaker, and a track jacket from PUMA's 1999 Pure Sports apparel line. "An expression of Dua Lipa's own unique and personal style, the lookbook's close and personal setting sees the artist kicking her feet up, and showcasing her favorite PUMA pieces in an intimate environment," the brand shared in a press release.
Dua has been a PUMA brand ambassador since 2020, when she released the PUMA x DUA LIPA Flutur collection with the brand. In this first collection, Dua helped design nostalgic rave-inspired PUMA classics, fusing vintage sport inspiration with modern fits and bright, playful colors. The pop star even walked the red carpet in a pair of the Puma x Dua Lipa Cell Dome King sneakers for the 2022 Footwear News Achievement Awards at Cipriani South Street last year in New York.
Just last week, PUMA brought back the iconic PUMA Palermo sneaker—a staple 1980s style. The release along with the "Forever. Classic" lookbook drop confirms the brand's commitment to reviving nostalgic designs and dipping into brand heritage for inspiration. PUMA's range of classic footwear and apparel is available on the PUMA website.