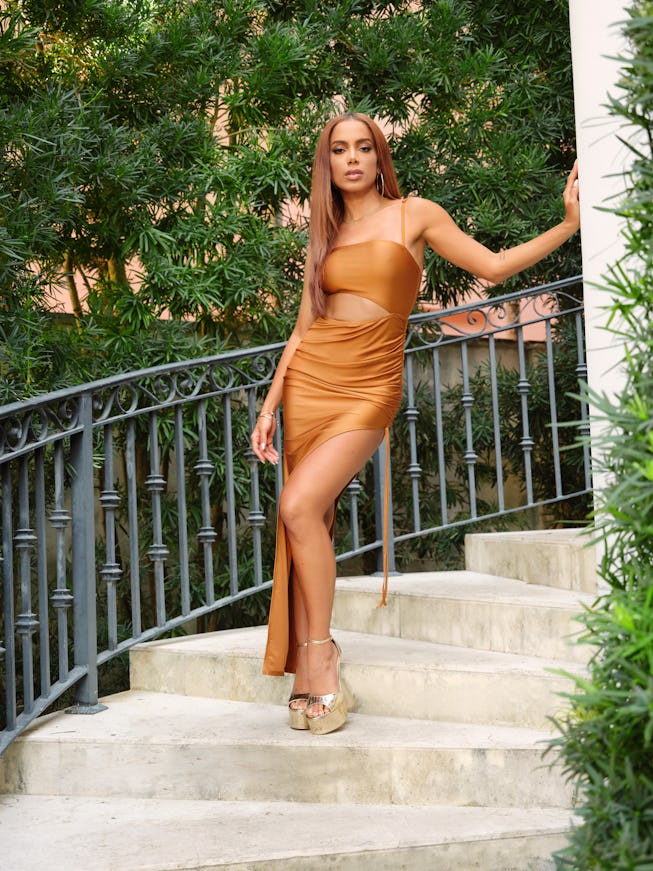 Courtesy of Shein
EvoluSHEIN x Anitta Is Shein's Latest Effort Toward Sustainability
The new collection repurposes rescued fabrics, recycled materials, and forest-safe fibers.
Last year, Shein launched evoluSHEIN, a collection under the brand umbrella, aiming to lower the impact on the planet, including creating clothing featuring 50-100% recycled polyester—a fiber obtained from plastic waste. The initative is part of the mission to offer an affordable shopping option for those still wishing to make a positive impact with their clothing purchases. Now, in partnership with global pop star Anitta, Shein has officially released the first product collaboration of the collection: evoluSHEIN x Anitta.
The new collection features styles made from recycled polyester, forest-safe viscose, and several limited-edition styles are made using rescued textiles left over by other fashion brands. This is part of Shein's commitment to source wood-derived fibers from suppliers that do not endanger vital ancient forests, decarbonization strategy, and transition away from virgin polyester. Each piece of the collection is made in keeping with the evoluSHEIN by Design Standard, which requires garments to be created with 30% preferred materials and be manufactured by suppliers that have achieved high social and environmental compliance verification.
"I am happy that Shein is taking an important step in sustainability and its overall environmental impact," Anitta said in a press release. "We all want to look great, while also respecting the planet and people." Acknowledging that working toward sustainability is a 360˚ endeavor, all items in the collection are also shipped in packaging made with recycled content.
The full collection is live now on the Shein website, and includes halter dresses, beachy two-piece sets, and cut-out tops— all fitting for a Brazilian pop star, or whoever would like to dresss like one.