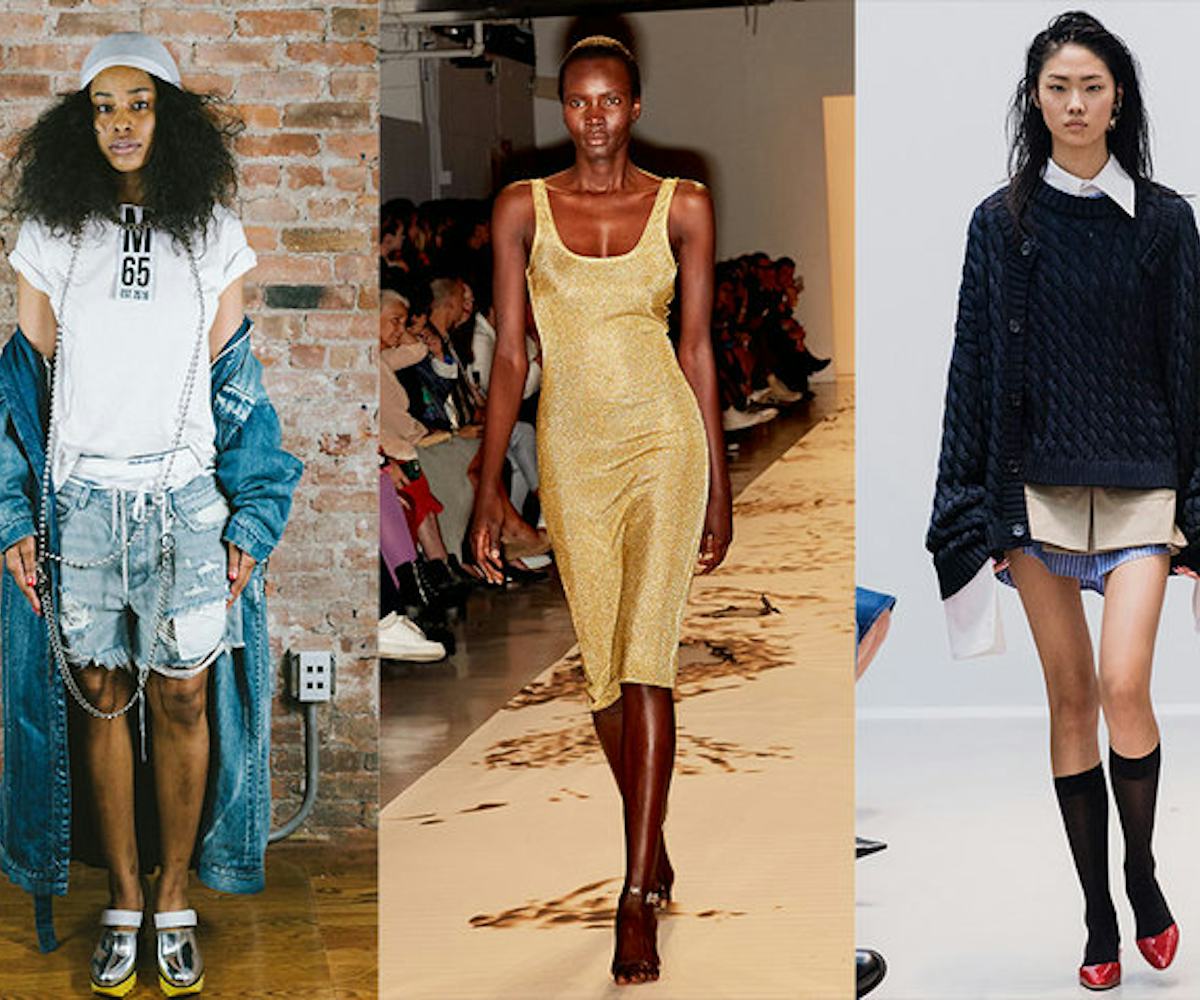 Photos courtesy of designers.
Three NYFW Newcomers You Should Know Now
Looking to impress your fashion friends with knowledge of the newest emerging designers? Or do you just want to stay up-to-date on the names to know this season?
Lucky for you, we did the dirty work and discovered three of New York's most promising talents, all of whom made their Fashion Week debuts this season. From the rainbow-hued Tumblr vibe at M65 to PRISCAVera's take on the '90s—plus the Matthew Adams Dolan denim that Rihanna is obsessed with—here are the three fashion designers you need to know, now.
Pull out your baby backpacks and locate those platform sneakers, because PRISCAVera is serving up an unfiltered version of '90s fashion—and you're going to want to accessorize accordingly. On the Spring/Summer 2018 runway, that nod to the past was delivered from head-to-toe in the form of impossibly straight flat-ironed hair, a straight-cut camisole, an iridescent green maxi skirt, and, the pièce de resistance, a pair of strappy vintage Manolo Blahnik sandals. 
Designer Prisca Vera Franchetti was inspired by a handful of details this season, including a small town in the Dolomites, Italy, and traditional dirndls from Bavaria and Austria, but she also referenced after-party pictures from fashion shows in the '90s. And that's where it all starts to come together. It's easy to imagine teenaged Kate Moss wearing a magenta slip dress that was so pigmented it almost had a blue sheen and a young Naomi Campbell slipping into the slinky gold cami dress with ties at the shoulders. 
Franchetti, who hails from Rome, launched PRISCAVera in New York just two years ago with a focus on youth culture and high-quality clothing. "The PRISCAVera woman is cultured, full of energy, and wants to be the center of attention, but not necessarily in a really loud way. It can be in a discreet way, but with this confidence," she says. Proving this point was a green T-shirt with an embroidered image of a gazelle and a zebra doing the deed. It was attention-grabbing, indeed.
 
Cheeky references aside, the best part of PRISCAVera just might be the designer's mastery of color: a juicy tangerine orange, an eye-opening shock of lime green, and the softest, almost silvery baby pink. They're pretty much the only hues we want to wear next summer.
How does a designer step out of the shadow of Rihanna after she wears his artful take on Canadian Tuxedos not once, not twice, but well over half-a-dozen times? Well, Matthew Adams Dolan is cementing his place as one of New York's most talented rising fashion stars, so that's something he doesn't really have to worry about.
Mostly known for taking luxe denim and blowing out shapes to exaggerated proportions, resulting in dragging flares and coats that could double as a jean blanket, Dolan, a Parsons graduate, used his first show at NYFW to rein it in. That is, there were skinny and straight jeans on this runway. He did prove his prowess with tailoring, delivering tent-like button-downs that seemed to taunt those worn by Wall Street types, a brown suit with a cartoon-esque shape, and voluminous, pleated khakis that actually looked cool. 
Dolan was born in Massachusetts but has lived in Japan, Switzerland, and Australia, and for someone with such an international background, he really hunkered down on Americana this season. In particular, he studied the Lo-Lifes, a Brooklyn, New York, gang in the '80s and '90s that worshiped at the altar of Ralph Lauren—members acquired his preppy designs in any way possible, legal or not. Dolan specifically looked at "how they appropriated that Ralph Lauren idea," and translated that into subversive monograms and artfully twisted cable knits and boxers as outerwear. 
If you still had any question of Dolan's staying power, consider that all of his designs are gender-neutral. As he smartly puts it, "I think it's more about clothes rather than who's wearing them."
Anthony Hendrick's fashion week debut served to prove one high school teacher wrong. 
"My teacher would tell me, 'Oh, your hood is too big' or 'Your sleeves are too long,' or 'Your armhole is too high,'" he says of his time at the High School of Fashion Industries in New York. So, for M65's second collection, the designer presented extra-long sleeves on an orange leather jacket studded with chains and deconstructed jeans tied at the waist with a string. 
Hendrick, who cut his teeth designing at DKNY Jeans International, Cloak, Kim Jones, and Heatherette, doesn't care about seasons. "That stifles my creativity," the former downtown club kid claimed. The M65 website also lists global warming as a reason why M65 doesn't cater to local climates. So go ahead, wear M65's leather-trimmed swim shorts whenever you please. 
Also setting M65 apart from the rest of the NYFW lineup was the show location: the Tumblr headquarters. Yes, Hendrick is still using the platform as a place to share his M65 inspiration alongside his favorite music of the moment. He also collaborated with Tumblr on merch, in the form of long-sleeved tie dye shirts, which a lucky few attendees were able to get their hands on. But this is all a part of a bigger dream, one that goes beyond just Fashion Week. 
"I want to have other outlets than just making clothes; I want to make M65 a lifestyle," Hendrick says. Sounds like a nice life.