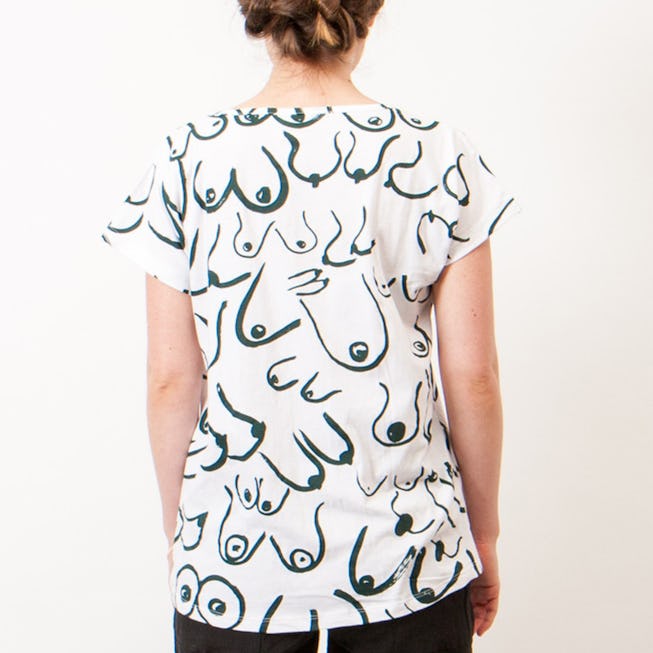 Image courtesy of Gravel and Gold
10 Coolest Feminist Shops On The Internet
The only thing better than going on a shopping spree is going on a shopping spree that also just so happens to do a lot of good for womenkind. That's why women-run businesses should become your go-tos for finding gifts, necessities, and treats for yourself. When you shop small, you help support independent business owners to help them continue what they love doing the most—supplying amazing, unique goods that oftentimes support different charities, ideologies, or individual artisans.
Shopping with a feminist frame of mind doesn't mean exclusively buying T-shirts with the phrase "girl power" emblazoned on them (although that can be a part of it). It's more so about buying ethically made and designed goods, and putting your money where your mind is. These 10 online shops are not only backed by an awesomely feminist attitude, but they also stock some of the coolest, most unique wares around.
This Los Angeles-based shop made headlines in December when Cara Delevingne copied one of its shirt designs, based on a shirt pictured in a 1975 photo by Liza Cowan, after having received an Otherwild shirt from her girlfriend Annie Clark. Controversy aside, this curated shop and community center offers everything from queer and feminist literature to small batch apothecary serums and oils to women-made ceramics, art, and clothing. It also offers graphic design services, as well as in-store tarot workshops.
The Future Is Female sweatshirt, $50, available at Otherwild.
It comes as no surprise that a Salem-based shop offering everything from spell kits to tarot cards and wellness zines has its base in a feminism. Shop founder, Erica Feldmann, originally moved to Salem, Massachusetts, to study witches and the sacred feminine at Simmons College as a graduate student, and has since used her degree to cultivate a female-friendly space both in-store and online. Alongside witchier wares, her shop sells "Government Regulated" panties, as well as "Keep the Government Out of My Vagina" tote bags.
Keep the Gov't out of my Vagina tote bags, $20, available at HausWitch.
Labeling itself as a "female-friendly sex toy boutique for every body," She Bop is a Portland-based, women-owned sex shop that prides itself not only on its merchandise but also on its commitment to sex education. With a name inspired by Cyndi Lauper's sex-positive song "She Bop," the shop offers an assortment of sex toys, menstrual products, literature, and a wide array of organic and recycled products. While the store may be female-friendly, it stresses that it's not exclusive to those who identify as women, but rather a safe space for everyone.
Seagrape Massage Oil, $15, available at She Bop.
With a mission to "encourage a culture of activism and inclusion," this T-shirt company owned by women of color makes clothes that celebrate black authors, poets, and philosophers. The shop's latest School of Thought collection is filled with sweatshirts for imaginary colleges named after black thought leaders, like Audre Lorde and Ida B. Wells. "The inspiration for this collection is the result of a very long conversation that has been happening about black representation in education," designer Donte Neal told Mashable. Along with the new collection, Philadelphia Printworks also offers queer-positive tees and a black feminist author tote.
School of Thought sweatshirt, $37.50, available at Philadelphia Printworks.
Lena Dunham's feminist newsletter, Lenny, has proved to be a powerful voice, publishing essays by the like of Jennifer Lawrence and Lauren Mayberry. While the newsletter itself takes on a more serious tone to discuss the hard facts of being a woman in the world today, the Lenny Store offers a cheekier brand of feminism. With "nude" nail wraps, it promotes body positivity in an unexpected way and a "Dismantle the Patriarchy" patch set designed by Rosehound Apparel makes a playful addition to any denim jacket.
Dismantle the Patriarchy patch set, $20, available at Lenny Store.
Publishing house Emily Books offers a different kind of subscription service than your usual beauty box. For $13.99 a month, subscribers receive a different e-book every month, typically an underappreciated memoir or novel by a woman. Its online shop also offers a wide assortment of books for those who are looking for less commitment or don't want to be surprised. Plus, when you purchase a book, you get access to the Emily Books forums—instant book club discussion.
Lolly Willowes by Sylvia Townsend Warner, $13.99, available at Emily Books.
Mayan Toledano and Julia Baylis have created an ultra-femme, body-positive feminist bubble on the Internet with It's Me and You. It's perfectly fitting that the shop has published photography series with the likes of Petra Collins and Arvida Byström. Creations like "Bad Bitch" hoop earrings and "Feminist" briefs are equal parts unapologetic and cute as hell.
Feminist Underwear, $25, available at It's Me and You.
U.K.-based shop Birdsong is fighting against sweatshops and Photoshop equally to make the clothing industry more welcoming. The women-owned shop employs women's charities who have had funding cuts to make the clothing and gives up to 85 percent of the profits back to those charities. In addition, Birdsong also hires a diverse range of models, as well as female photographers to completely avoid any male gaze. A vast array of clothing, accessories, and jewelry make this shop a complete game changer in the garment industry.
Avocado Print Organic Sweatshirt, £44 (around $63), available at Birdsong.
Both TOMS and Warby Parker gained popularity largely due to their "buy one, give one" policy, and MADI Apparel is doing just that, except with comfy bamboo underwear. Underwear is most in-demand and under-donated article of clothing, and MADI aims to provide women in need with this very crucial necessity. With an assortment of eco-friendly bamboo and lace underwear, the brand offers basics that really do give back.
The Diana Wide Lace Thong, $30, available at MADI Apparel.
This women-owned San Francisco design collective is probably most well known for its boob-printed T-shirts, pillowcases, totes, towels, and more. But it's so much more than that. While its popular boob print by Cassie McGettigan spreads body positivity, the collective as a whole also aims to empower female designers. Here you'll find cool women-designed clothing, as well as pottery, homewares, and some astrology-inspired goods.
Taurus Top in Boobs, $88, available at Gravel and Gold.