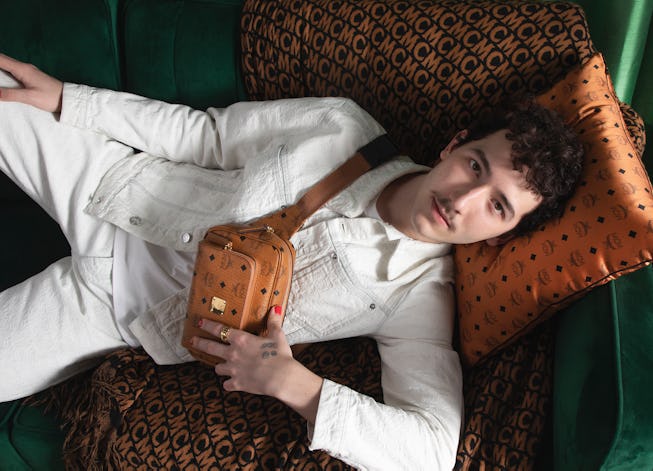 Courtesy of MCM
Frankie Jonas Lands His First Fashion Campaign
Nick, Joe, and Kevin who?
The Bonus Jonas is now the Fashion Jonas. Frankie Jonas, the youngest sibling of the Jonas Brothers, is the face of MCM's latest campaign, titled #MCMEVERYWHEREIGO, which debuted on Tuesday.
"I was really impressed with the vibe of MCM and their team for this campaign," Jonas said in an official statement. "I especially liked how they integrated video, movement, and music into the overall creative. MCM supports celebrating uniqueness but also community, which is something I can personally relate to and why this partnership is a great fit for me."
Jonas has become a fast-rising popular figure on TikTok, with some of his almost two-million followers completely oblivious to his relation to Nick, Joe, and Kevin. At one point, Nick's own TikTok account was flooded with comments asking if he was, in fact, Frankie's brother.
"That was sort of this moment of 'Oh, wait. I'm doing my own thing and it's working and it feels good and it's exciting,'" Frankie told Paper in January. "That was a big moment for me, and then I just kept making whatever I thought was funny, because suddenly there were all these people who were also enjoying it."
Now that TikTok stardom has landed Frankie an agency deal with UTA and a major fashion campaign. Watch your back, Nick.
Check out photos of Frankie in the new MCM campaign, below.