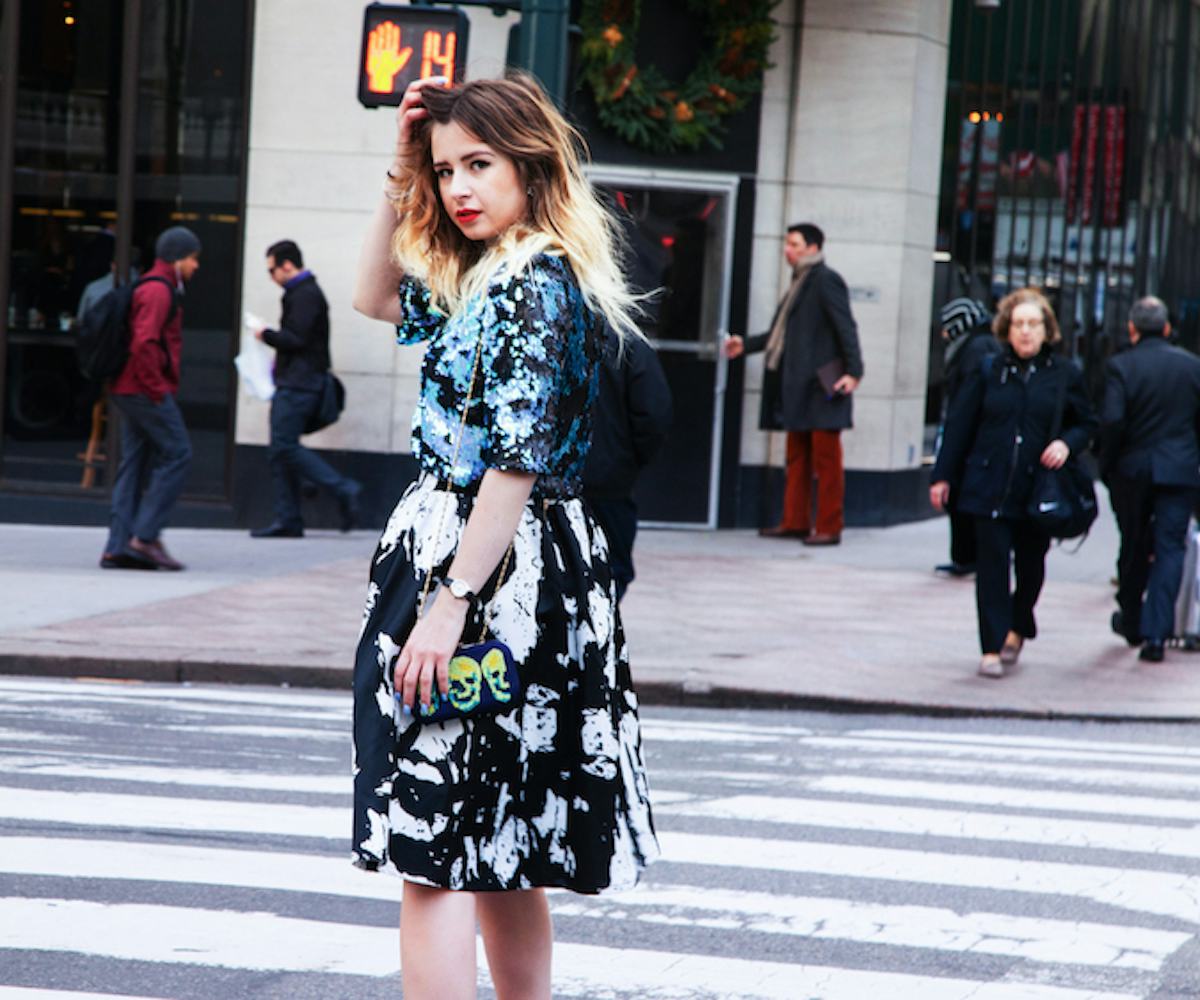 photos by suzanne darcy
what british style looks like in new york
with a little help from the nylonshop
For Monica Barleycorn, the last four months have been straight out of an episode of Gossip Girl (sans scandal and heartache). The Fashion Management student is taking a break from the London College of Fashion by spending her semester abroad at LIM College in New York City. For this Brit, life has been a constant back and forth between school, maintaining her fashion blog, exploring the coolest places Manhattan has to offer, and most importantly (to us at least) interning at the NYLONShop! With Monica's features on ASOS.com and Company Magazine, as well as her work with brands like Marc by Marc Jacobs, French Connection, and Boohoo.com, she is beyond deserving of her very own feature on NYLONshop. Monica's time in New York might be coming to a close, but she's developed a love for Manhattan—which she attributes partly to watching too much Sex and the City—that will travel with her all the way back to London.
Name: Monica Barleycorn
Occupation: Fashion Blogger/ Fashion Student
Hometown: Whitby, North Yorkshire
Current City: New York City
Blog: www.helloomonica.com
Instagram: @monicabarleycorn
1) How long have you been blogging/what are your hopes for the progression of your blog?
I started my blog a little over four years ago and have been blogging almost every week since. It started off simply as a hobby—my own little space on the internet to share my outfits and adventures. I've documented my journey from living in a tiny seaside town in the North of England to moving and starting university in London, and now living in New York City! My blog is a great place to share my thoughts and my creativity. I guess ultimately I love to be able to travel more with my blog as there is so much of the world I'm dying to explore!
2) How have you fused notes from London and New York into your personal style? What trends have you adopted while being in NYC that you will bring back to London?
I think interning at NYLON has certainly influenced me to take more risks with my style and also have more fun with the clothes I wear. But in another sense, I feel like New York has made me mature with my fashion sense and start to choose to invest in more timeless pieces rather than trend following. 
3) You've done a lot of sightseeing while being in New York—what's been the most memorable (best scenery, restaurants, hotspots)? 
Exploring New York is where I'm happiest. I love how much there is to do in and around the city – I'd never get bored! Central Park is probably my favorite place in the world – especially in the Fall— it's really breathtaking. I really like to spend the weekends brunching in Soho (Jack's Wife Freda is a MUST) and The Standard Hotel down in the Meatpacking is my top pick for rooftop cocktails with unreal city views.  
4) Favorite item in your closet right now?
I'm so obsessed with my black faux fur vest. I literally try to wear it with everything! It's so cozy!
5) What has it been like interning at NYLON? (No pressure...)
I've always loved the magazine, so I was super excited to be interning at NYLON. It has been such an amazing experience and a lot of fun. I've learned so much about the fashion industry and also made great friends and contacts.
6) Anything else we should know about you?
I love nothing more than English Breakfast Tea. 
Click through the gallery to see Monica's style and then grab the looks for yourself at 
! 
faubourg du temple: the tours varsity jacket in gold—$78. marialia: velvet babydoll dress—$86. married to the mob: blue bitch relax pouch—$25. melody ehsani: eye of the tiger necklace—$58. (available here.)
faubourg du temple: the tours varsity jacket in gold—$78. marialia: velvet babydoll dress—$86. married to the mob: blue bitch relax pouch—$25. melody ehsani: eye of the tiger necklace—$58. (available here.)
jaded london: mermaid sequin bomber jacket—$160. dorici: on flee beanie (black)—$24. melody ehsani: eye of the tiger necklace—$58. (available here.)
jaded london: mermaid sequin bomber jacket—$160. coco & breezy: atsu sunglasses—$150. (available here.)
jaded london: mermaid sequin bomber jacket—$160. local heroes: local heroes skirt—$59. dorici: on flee beanie (black)—$24. coco & breezy: atsu sunglasses—$150. (available here.)
lucy paris: qi satin skirt—$56, mixed sequin party top—$48. etre: pop art skull clutch—$60.65. (available here.)
lucy paris: qi satin skirt—$56, mixed sequin party top—$48. etre: pop art skull clutch—$60.65. (available here.)