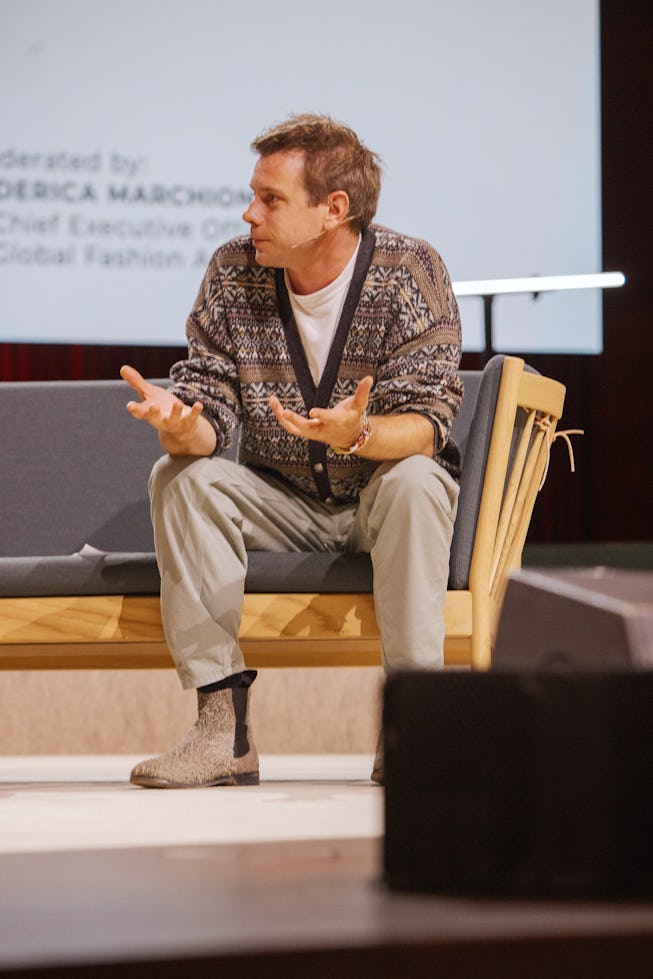 Untangling The Confusing State Of Sustainable Fashion At The Global Fashion Summit
Key takeaways and updates from designers and industry leaders at this year's Global Fashion Summit in Copenhagen.
Fashion industry leaders, designers, and sustainability experts gathered in Copenhagen for the Global Fashion Summit in the last week of June. Under the umbrella theme of turning "ambition into action", the two-day event hosted conversations with speakers like Antoine Arnault, Image and Environment at LVMH Group, Shakaila Forbes-Bell, Founder of Fashion is Psychology, and Jonathan Anderson, Creative Director and founder and Creative Director of JW Anderson & Loewe. Producer and author Samata Pattinson was the host, bringing everyone together, including multiple stages for more intimate conversations.
The fashion industry has had a so-called "sustainable awakening" in recent years, with major brands announcing environmental commitments and deadlines for improvements. However, as Pattinson said during the conference, "I love our industry, but we often mark our own homework and give ourselves A's". She references how hard it can be to keep up with what is truly happening in the world of sustainable fashion—especially considering the issues of "greenwashing" and "diversity washing" (something the group of US influencers who attended Shein's now notorious factory influencer trip is being accused of online).
Considering that the fashion industry (including the production of all clothes) contributes to around 10% of global greenhouse gas emissions and that 25% of the fabrics that enter the supply chain end up as waste, it's clear the industry has some big problems to address in the face of the climate crisis. This includes addressing overproduction, decarbonizing the supply chain, using sustainable material at scale, and implementing sustainable policy, all issues which were discussed in length at the event.
After listening to some of fashion's biggest leaders and sustainability experts over the course of two days, here's what we learned about the state of sustainable fashion today.
Roadblocks Are Created By the Current Political and Economic Landscape
Henriette Hallberg Thygesen, Executive Vice President at Maersk, mapped out the current roadblocks to sustainability including reverberations from the COVID outbreak, the global political landscape, and the climate crisis. Although acknowledging the issue as "complex", she left the discussion on a hopeful note, saying that these "disruptions and complexities are also opportunities". We need to come up with solutions that work for the world we live in (with all of its complexities) and not a hypothetical dream world.
Fashion Shows Aren't Going Anywhere
When Antoine Arnault of LVMH, and Jonathan Anderson of Loewe, took the stage to talk about luxury fashion, Arnault began by saying that "luxury products are sustainable by nature" because they are durable and repairable. However, this doesn't mean the luxury fashion world including semi annual luxury fashion shows doesn't make a dent when it comes to environmental impact. On this topic, Anderson said the fashion show is here to stay because, "it is there for the dream" which is critical to fashion. "There's a lot of quick wins, especially with shows. When you discover something, you can then implement it in your collection," Arnault says, adding that Loewe re-uses chairs from their shows throughout the brand's stores.
Global Policy is Key
As Dr. Anna R. Kelles, representing the 125th District in the New York State Assembly, put it: "The future is legislated", meaning that some uniformity on sustainability policies will be key moving forward. At the summit, GFA launched the Global Textiles Policy Forum, a platform for governments and textile industry associations from around the world to align on sustainability pathways for the industry and the global policy frameworks needed. It will also raise and amplify supply chain voices and spread the likely impact of the EU Textiles Strategy outside of the EU.
Innovation Needs to be Accessible For Maximum Impact
While there's no denying that the fashion industry has made leaps and bounds when it comes to developing sustainable innovations (hello, mushroom leather), Hillary Taymour, Creative Director at Collina Strada said that they are often still not available for smaller brands. "All this innovation that's so amazing is not available for brands like us to purchase right now," she said. Taymour also added that new innovation alone won't be the entire answer, urging people to go back to basics by using locally sourced materials and keeping everything in one house. "We need to work together as a fashion industry instead of each man for themself," she said.
Customers Care, But are Confused
At the summit, Mark Gavhure, Global Series Lead at Fashion Redressed from BBC StoryWorks, stated that 30% of young people will buy in alignment with their values but that 70% don't know how to do that. Education and awareness of sustainable practices would be helpful in guiding those who would like to become better buyers. "The intention there and the hope is there as well," he said, pointing to the fact that 60% also think that the fashion industry can one day be sustainable.
There's Untapped Potential in Community
When discussing the future of sustainable communication, fashion psychologist and author Shakira Forbes-Bell touched on the untapped potential for sustainability as a tool for connection. "People don't just buy clothes, they buy into an ideal, an identity," she said. "We want to buy our way into the current zeitgeist." Forbes-Bell said that, for young people, being sustainable can satisfy their need to belong, and that brands need to tap into that.
Less Will Always Be More
For Nicole Mclaughlin, a designer who worked with Heiko Desens, Global Creative Director of PUMA in the GFA Designer Challenge 2023, says that the future of sustainable fashion "has always been upcycling, and it always will be". She believes doing more with the product that already exists, is a faster way to sustainability than producing new materials. She also emphasized localization and repair shops and urged brands to produce slower and address their previous waste. "Why are we not addressing the issue of we have so much here? I want to see companies taking responsibility for all the clothes they've made in the past," she said. Mclaughlin also likes to keep fun and humor in the equation when creating sustainable designs. "It's the only way we can move forward and keep our sanity."