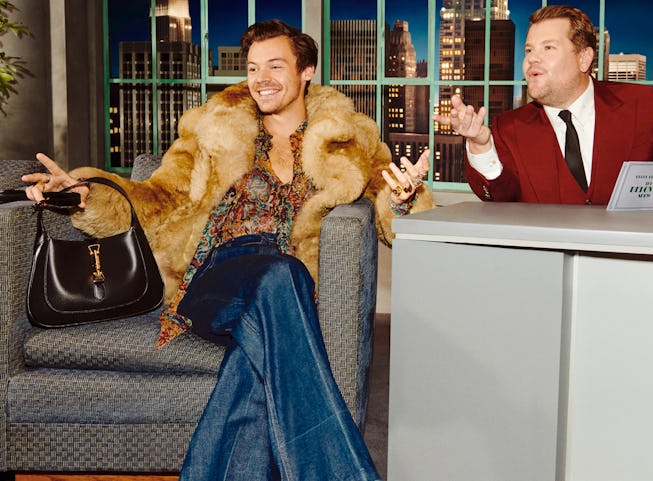 Harry Styles, Awkwafina, & More Show Off Their Gucci Handbags In A New Campaign
Tune in to 'The Beloved Talk Show.'
Gucci's latest campaign, revealed on Thursday, is putting major stars in the hot seat. Harry Styles, Awkwafina, Serena Williams, Dakota Johnson, and more guest star in The Beloved Show, a parody late-night talk show conjured up by Gucci creative director Alessandro Michele and hosted by, you guessed it, James Corden. Celebrities posed for Harmony Korine while holding Gucci's most-beloved handbags, including the Dionysus and Jackie 1961.
"We went back in time to the original TV talk shows, where the protagonist is the bag itself, the big star. Very often these creations are named after influential women who conditioned the habits and customs of many," Michele said in an official statement. "It is precisely because they have great personalities that in the industry we gave them these powerful names; and now we have them in a show and twisted with the idea that there were two stars: the bag and the actual talent. A game of cross-references between the two great protagonists."
The campaign also features videos starring each of the celebrity models, as they appear backstage and on-set for an interview with Corden. They're all toting around their own Gucci accessory, which also include the Gucci Horsebit 1955 and the GG Marmont. Like the rest of us, Michele has a special place in his heart (and perhaps closet) for his, well, beloved handbags.
"I truly love and adore my handbags. Perhaps they will always be my greatest love, my favorite accessory," he said. "It was therefore natural for me to call some of the ones I created 'Beloved.' The name comes from my own personal experience and my love for them."
Check out photos and videos of the star-studded campaign, below.