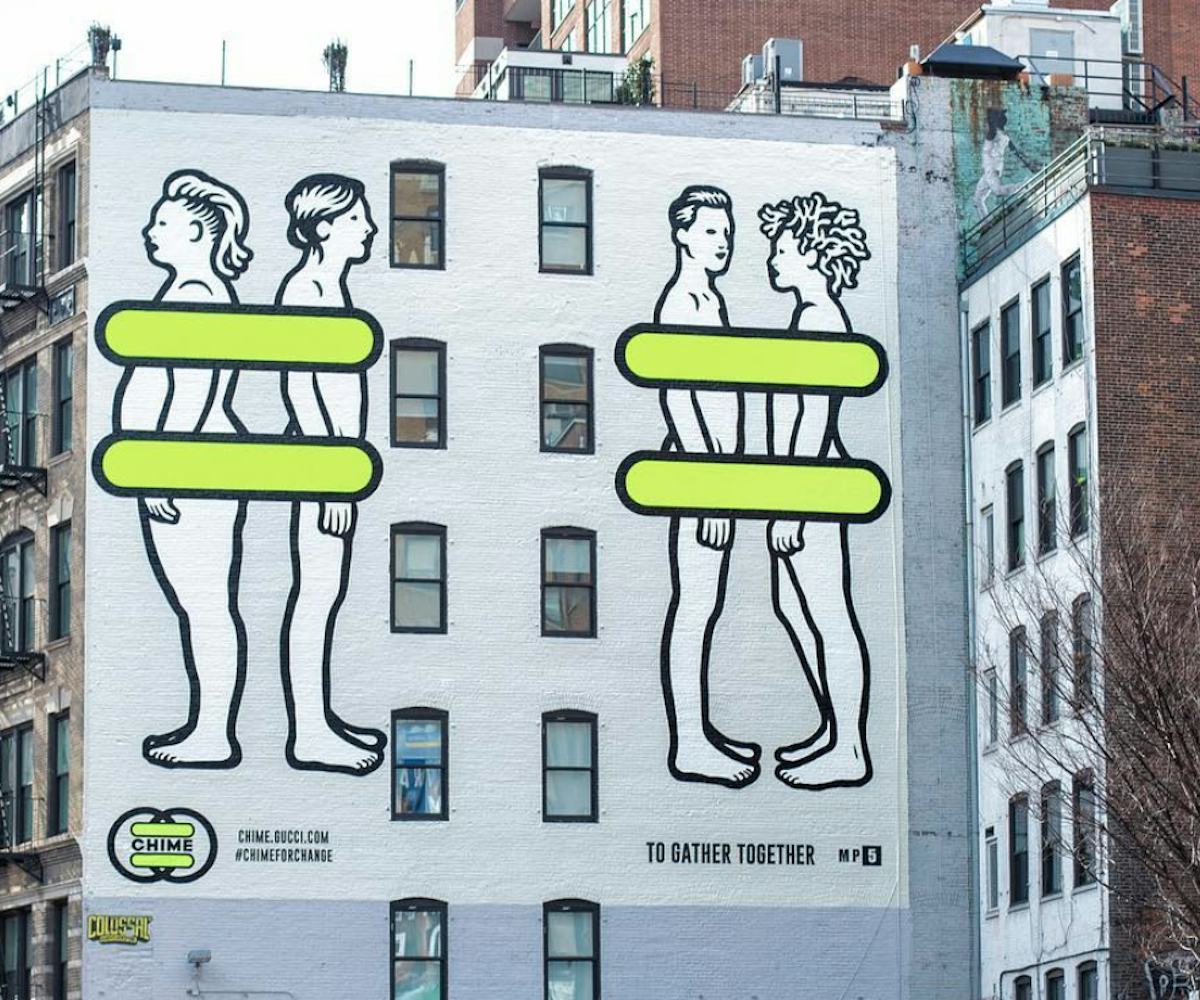 Photo via @Gucci/Instagram.
Gucci's Latest Campaign Advocates for Gender Equality In A Big Way
It includes art installations, a short film, and zines
Gucci's latest chapter of its Chime for Change campaign—which was founded in 2013 and has successfully funded more than 425 nonprofit projects—advocates for the inclusion of marginalized communities, particularly those who are gender-nonconforming.
Titled "To Gather Together," the new part of the campaign includes art installations, a short film, and zines in support of six new projects: Equality Now, Global Fund for Women, Ms. Foundation for Women, UN Women, Vital Voices, and Women Deliver. This news comes after Gucci released a report last December stating that 82 percent of Gen Z strongly agree that organizations should focus on inclusion efforts.
The mural portion of the project is a collaboration between Italian street artist MP5 and Gucci creative director Alessandro Michele. They both worked together to create Gucci ArtWalls, which features silhouettes of genderless figures that will be displayed on the streets of London, Milan, New York, Taiwan, and Hong Kong. The global art installations have been put up in tandem with the brand's short film that debuted at Sundance Film Festival called The Future is Fluid. The short, directed by Jade Jackman and Irregular Labs, represents Gen Z's curiosity, empathy, and hope as it shows an acceptance of gender fluidity.
"Every person is created equal. We all have the power to use our voices to stand up for what we believe in," Michele says in a statement about the project. "When we gather together across generations and communities, we have the opportunity to create real change. The fearlessness of this generation to express themselves gives me hope that a future of freedom and equality is possible."
On top of the murals and short film, Gucci has also collected stories and artwork from activists who are contributing to the global conversation surrounding gender equality and self-expression. The resulting zines are showcased in Gucci's Wooster Bookstore in New York City, the Gucci Garden in Florence, and select bookstores in Belgium, Finland, Israel, Italy, Ukraine, the United Kingdom, and the United States. A digital copy of the zine can also be downloaded at the Chime for Change website.
Watch the brand's short film below.