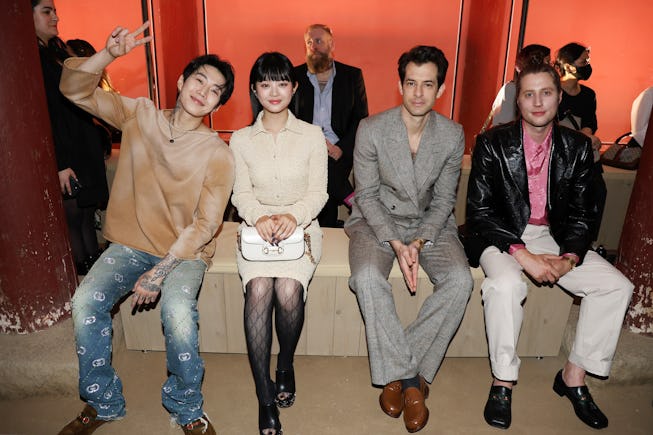 Jean Chung/Getty Images Entertainment/Getty Images
The Gucci Cruise Front Row Was A K-Pop Studded Affair
Featuring the who's who of K-pop.
If there was ever a question about Seoul, South Korea's status as one of the world's fashion capitals, Gucci officially put it to rest on Tuesday as the luxury Italian house put on its first-ever major runway show in the country.
The brand's opulent 2024 cruise collection showcase took over the ceremonial courtyard of the 14th century Gyeongbokgung Palace, located in the center of the country's capital city, Seoul, becoming the first event of its kind to do so. Models in flowing, colorful looks hybridizing the legacy brand's luxe textiles and Seoul's ongoing activewear trends walked the runway that stretched under rows of traditional red-painted arches, all while the city's futuristic skyline hung in the background.
The entire showcase highlighted the major influence the country now has on the rest of the world, and that was only further exemplified by the star-studded selection of guests that filled the front row — namely some of the biggest names in the South Korean entertainment industry and, of course, K-pop. Among them included NewJeans' Hanni, the freshly appointed ambassador and newest face of the house, soloist IU, and the who's who of K-pop's hottest groups right now, like ITZY, IVE, Aespa and more.
"The journey started in Korea 25 years ago with the opening of our first boutique in Seoul and grew throughout time," said Gucci CEO Marco Bizzarri in a press statement. "Gyeongbokgung Palace is one of those wonders of the world that made us feel an instant connection with Korean culture and the people who created it."
In that same sentiment, scroll on to see all the K-pop stars who made an appearance at the Gucci cruise show.
This article was originally published on