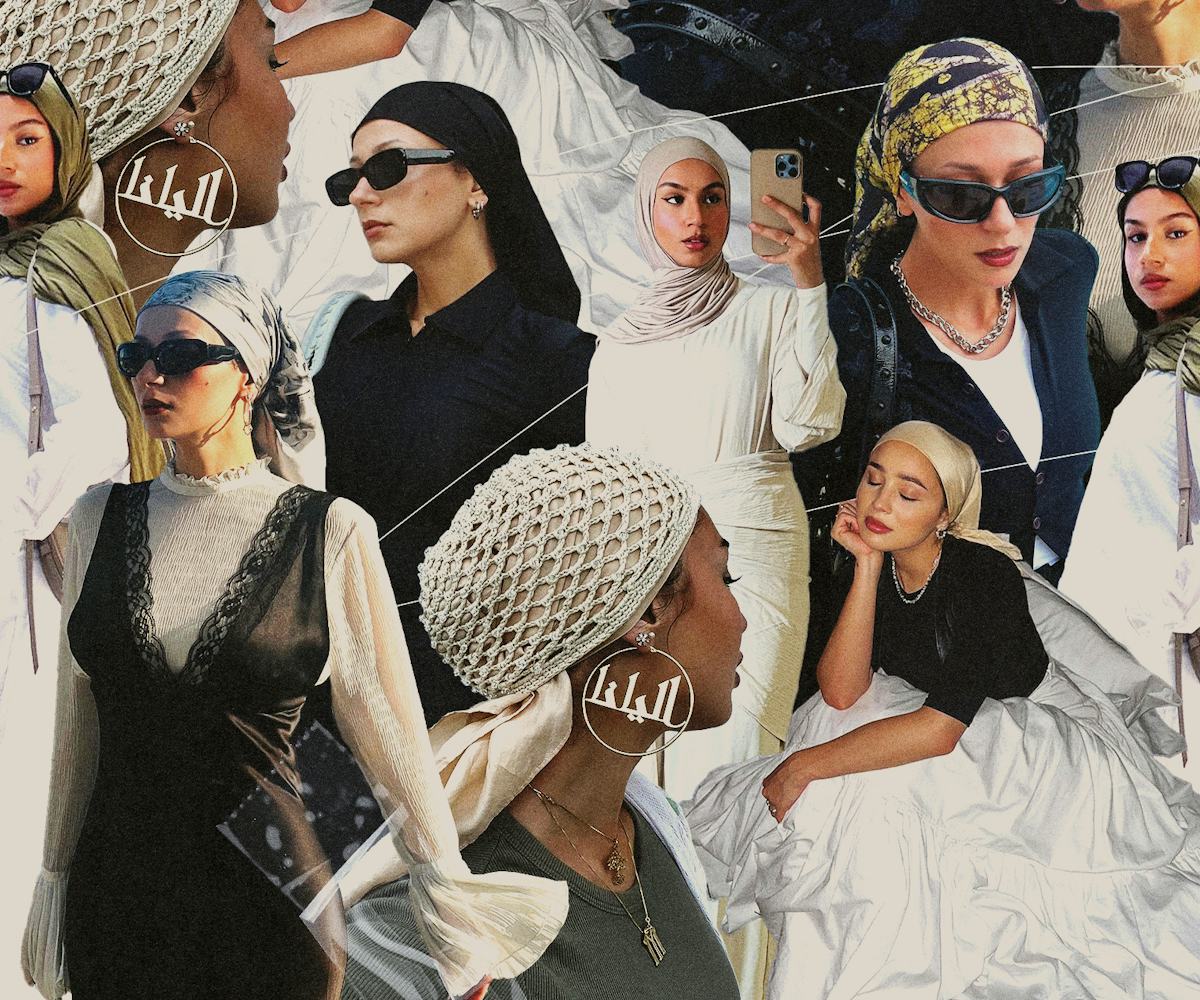 Hijabi Women Are The Blueprint For The Modest Dressing "Trend"
In the age of "quiet luxury," is turning modesty into a trend making it easier for people who dress this way every day?
Coinciding with the swift cultural rise of "quiet luxury" and "stealth wealth" — that is, dressing in understated but expensive, high-quality fashion items — 25-year-old Sofia Richie Grainge has been praised online for her "modest" personal style. Her wedding in France was dubbed this year's "royal wedding," and the star has been credited with the rise of modest fashion as an aesthetic trend. But with "cute modest dressing" tutorials going viral on TikTok, layering trends recently taking off, and brands like Paloma Wool and Jaded London releasing hooded dresses, is turning "modesty" into a trend making it easier for people who dress modestly every day?
Noor Elkhaldi, a fashion creator and host of the Arab-American Psycho podcast, says that despite there being more pieces marketed for layering available for purchase, the "modest fashion" trend hasn't necessarily resulted in it being easier for her to shop. "I love the fact that more brands are offering more layering pieces, but the pieces aren't catered to me, they're catering to some trend," Elkhaldi tells NYLON. "I'm not noticing an influx of wearable things for most people who dress modestly because there are more long-sleeve or skirt options, but they are sheer or have slits." She says this is a result of brands not consulting with hijabi women for modest pieces when it comes to elements like materials.
While it's true that Richie Grainge often posts in floor-length dresses with long sleeves, her becoming the face of "modest dressing" highlights the difference in how modest dressing is received when done by Muslim women. "It's a tale as old as time: a Hijabi layers a skirt over jeans, and it's like, 'That's so sad.' But then years later, anyone else does it, and it's like, 'Oh, wow, you're a trendsetter,'" says Elkhaldi. "I think if we can all agree that hooded tops or headscarves are cute or chic, then let's make that the baseline for everyone."
For Hager Hanawy, a modest fashion creator in Toronto, Canada, the current discussion around modest fashion is an opportunity for people to learn that modest dressing isn't limited to any one culture or religion. She does, however, think that viewing modest dressing through the lens of its current trendiness doesn't reflect it as a "deeply rooted personal choice" and reflection of values and beliefs. "As someone who dresses modestly every day, I can attest that modest dressing is a lifestyle and an integral part of my identity," she says. "It's a way of dressing that goes beyond what's fashionable at a given moment; it's a consistent and conscious decision."
Hanawy is currently finding a "wider variety of options" in the fashion industry, but those options aren't addressing her specific needs and preferences. "One common challenge is that some mainstream brands may incorporate trendy styles but still produce clothing that is too sheer or not adequately designed for modesty," she explains. "This underscores the importance of a thoughtful approach to modest fashion." Hanawy hopes that, by continuing a conversation around modest dressing, there will be a greater recognition that modest dressing is an important part of the fashion world.
Maria Alia, a freelance creative and fashion creator, says she's been tracking the rise of the "modest trend" for the past seven years, with the past couple of years being the time it's ramped up a notch. This coincides with luxury e-commerce retailer The Modist entering the scene in 2017 (closing in 2020 and then relaunching last year), as retailers like Net-a-Porter, Asos, Zara, and Matches Fashion began releasing modest collections soon after the launch. "People are putting a name to it now, which is interesting, and the people getting praised for it are people like Sofia Richie," she says. "Everyone can dress however they want and in whatever makes them comfortable, but as a hijabi who has been in the fashion space for literally a decade and my style is based around that, it's a little disheartening."
Alia says that the number of readily available pieces for her to style after starting to wear a hijab over 15 years ago has increased, especially in the past five years. This includes hooded dresses from brands like Saint Laurent, which Alia says she was excited about when first witnessing on the runway. However, this shift still comes in stark contrast to the rampant Islamophobia around the world today. "I love that you can buy more readily modest pieces and I think it looks sick," she says. "But, considering the hijab ban in France, specifically, and also many other places, it always has irked me to see the way that it's so celebrated in the fashion industry when it is unrelated to Islam." The elephant in the room is then also, of course, that there are still very few hijabi models on the runways, with Halima Aden — the first model to wear a hijab on the cover of a US magazine in 2017 — leaving the industry in 2020 after years of feeling tokenized.
When it comes to the current wave of modest dressing, Alia hopes that brands will remember that women who dress modestly are not a monolith. "I've seen modest edits or Ramadan-themed edits on places like Net-a-Porter that are just a bunch of caftans," she says. "That's not how all Muslim women dress. Give us a bit of variety." This demand also includes modest options for all budgets, not only luxury fashion price points. The change will only come when we look to hijabi women and those who dress modestly every day — instead of the "quiet luxury" peddled by celebrities — before deeming modest dressing a new trend. After all, they've been doing it for generations.