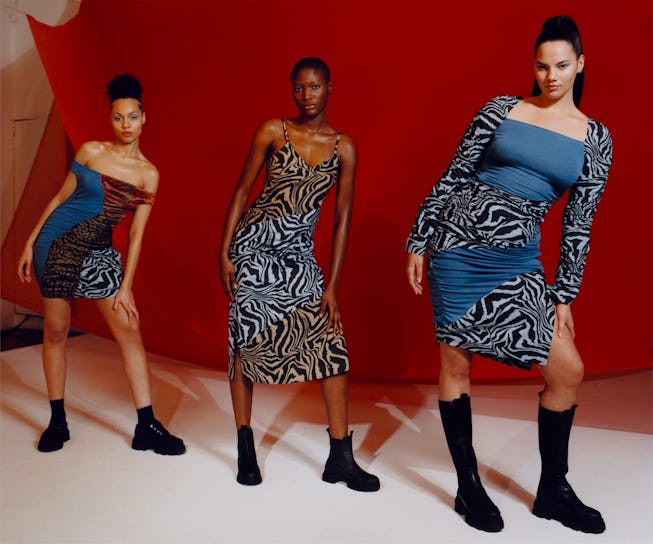 Laurence Ellis/Courtesy of Ganni
Ganni's New Collab Debuts Ahluwalia's First Foray Into Womenswear
The collection is a mashup of upcycled fabrics from the Danish brand.
Ganni is back with another collaboration. On Friday, the Danish brand revealed its latest partnership with Ahluwalia, marking the buzzy London label's first foray into womenswear.
Designer Priya Ahluwalia created a 19-piece collection using upcycled deadstock fabric from Ganni's 2020 production process, as well as reworked leftover styles that didn't happen to sell over the past year, mostly due to lockdown policies.
"When I started my research for the collection, I thought about both Ganni's and my own love of a good party," said Ahluwalia in an official statement. "I looked at photography from the U.K. garage scene, as well as photos from my own personal history and culture and wanted to create clothing that women will feel sexy and strong in whilst on the dance floor, whether at a club or at home."
The result is a post-pandemic, party-ready wardrobe made up of comfy separates, matching sets, and outerwear that all still make a statement, thanks to its cool mashup aesthetic.
"I love the unexpected patchwork patterns. It's a complete print remix," said Ditte Reffstrup, Ganni's creative director, in an official statement. "Priya's work is so forward-thinking yet it's so connected to her roots. I can't wait for our community to see this collaboration."
Ganni and Ahluwalia have plans to launch two collections this year, first with a ready-to-wear offering that will drop on Friday, April 23. Pieces will be available on Ganni's website, as well as select Ganni stores, and will range in price from $100 to $1,350. The second collection will expect to drop in the fall.
See more of Ganni and Ahluwalia's collaboration campaign, below.